Currently January 2017: What's going on this month for Life With My Littles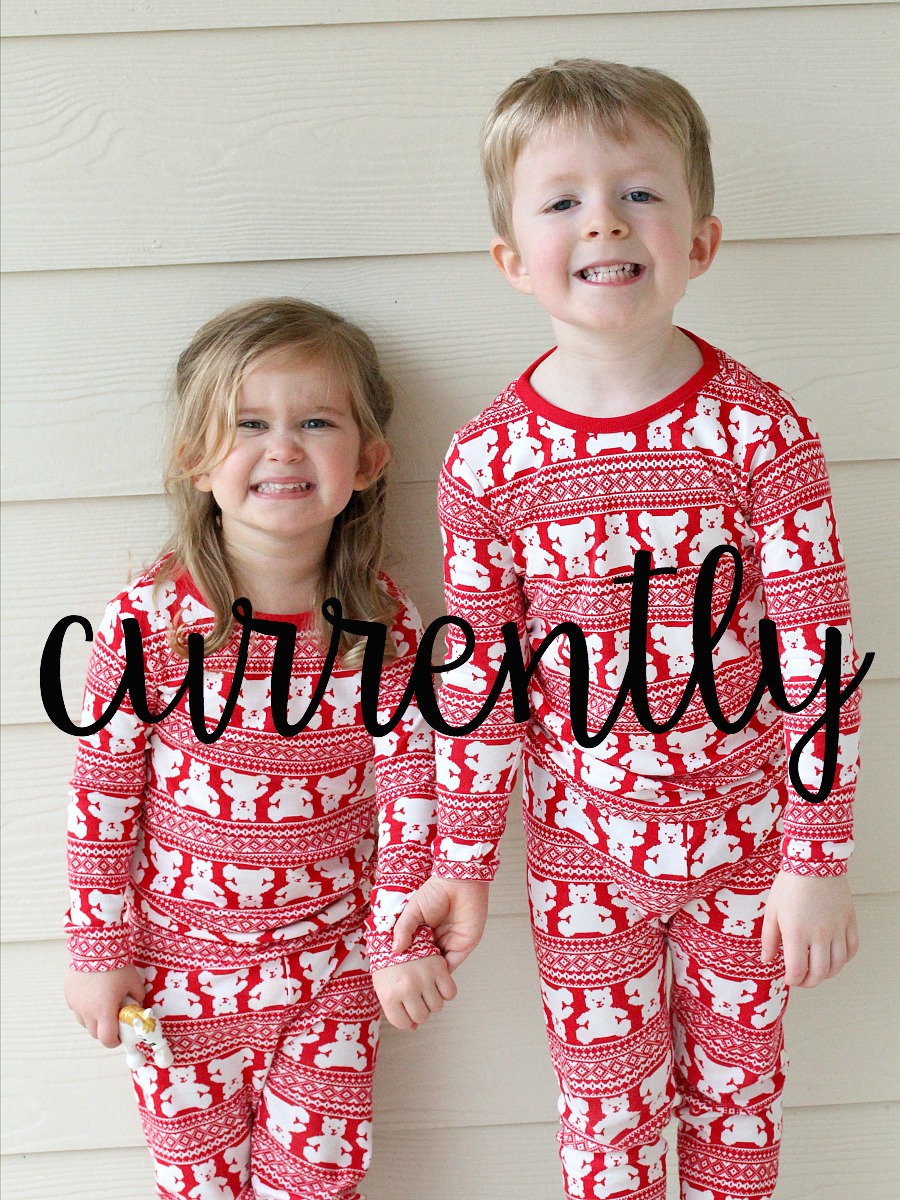 Hey there, mamas! And Happy New Year! 2016 was a year full of changes for our family, and since we're getting a new baby in a month I'm sure this year will be full of changes, too. Hopefully you noticed, but I did take two weeks off last month to spend time with my family for Christmas and to kind of recharge and prepare for the birth of our little man. My due date is February 5th, so hopefully he'll be making his appearance in the next five weeks! We have a long to-do list and I'm basically only writing about pregnancy this month, so it's going to be a busy, fun month!
We had a great December and a great Christmas at home with the kids. It was the first year completely on our own and our first year without snow. Kind of weird, but it worked out great because the littles got to spend a lot of time outside on their new Peg Perego RZR! And luckily my husband didn't have to work weekends in December so he got Christmas Eve and Christmas off! Some first year residents aren't so lucky, so we were glad to have him home.
Today for my currently post I want to kind of change it up a bit and add my goals for the year! I figured it was pointless to do two separate posts for currently and goals, so I'm combining them into one! Let's get started!
Currently
Writing my book. Since I took the last two weeks off to catch up and spend time with my family, I was lucky enough to have a good amount of time to do some writing for my book! Which has been great because I've had a hard time finding time to do it the last few months. When I decided I wanted to write a book about pregnancy, I thought it would be cool to actually write it while I was pregnant, but that has proved more challenging than I anticipated. But that's okay. The important thing is that it's coming along and I'm excited about it!
Preparing for baby! My due date is February 5th, so we are about a month away. We just moved the recliner into the nursery, got out Little J's old clothes and some other baby things we've saved, and I'm going to pack my hospital bag soon. I'm slowly working through my to do list and getting everything ready! I don't think you can ever be 100% ready for a baby, but I'm trying!
Excited for hopefully most of my varicose veins to go away after delivery. I know all of them won't go away, but hopefully my leg won't be quite as ugly and painful! I am lucky in that only one of my legs has them, but the one that does is super bad and stretches all the way from right below my knee to my foot, basically all the way around the calf and shin. As long as I don't spend too much time on my feet it doesn't hurt too bad by the end of the day, but still. I am excited for those to (hopefully) go away!
Looking for a watercolor class to take with friends. Last month I got invited to a blogger event here in Texas at one of the local Hallmark stores, and it was so fun! My favorite thing about it (besides the delicious snacks and free goodie bags) was meeting and learning a little bit about watercolor from watercolor artist Craig Lueck. He's been working at Hallmark as a watercolor artist for 34 years, so he knows his stuff! And seriously, it was amazing how simple he made it look. One of my goals for 2016 was to take a watercolor class, so I'm considering that goal accomplished. Anyway, I painted a really cool wreath (with his help!) that I am super proud of, and I really want to learn more! I'm not super artsy and watercolor seems pretty forgiving, so I'm on the hunt for a watercolor class to take! I want to do an actual in-person class and not just a video online because I for reals need all the help I can get.
Planning a lot of redecorating. I just finished my new office gallery wall, I'm working on my husband's office gallery wall, and I am finishing up the shelves in the baby's room and planning on what to do with the living room. Busy, busy!
Anticipating my husband's second week of work off. Assuming everything is nice and tight with baby, we're hoping to do a little mini vacation to the Great Wolf Lodge. If you've never been there, it's amazing and super, super fun. We got to go to the one in Kansas City two years ago and we had a really good time. Since we can't do anything too far away from home since I'll be so close to my due date, this is the perfect little mini-vacation!
Goals for 2017
I met like half of my goals for 2016, and I got close to several of them. I was about 850,000 pageviews short of hitting 5,000,000 for 2016. I also did not start my car seat safety awareness safety campaign (but to be fair, we had some unexpected things happen this year that kind of knocked me off course). But I did start writing my book, I bought a new laptop, I did a monthly update post every month, I (sort of) got on The Huffington Post, I hit 2,000 Facebook fans, and I definitely hit 1,500 Instagram followers. I sort of changed my priorities mid-year, and even though I didn't accomplish all of my goals, I am happy with what I did in 2016. So here are my goals for 2017:
Maintain income. I know that a lot of people are always looking for ways to make more money, but I am really happy with the money I make from my blog and the opportunities that I have to do what I do and get paid for it. So this year, instead of looking for new ways to make money, I'm just going to stick with what I'm doing because it's really working and I'm happy with it. I am not going to try and write for products that don't fit my blog just to make money (which I don't feel like I do anyway). Now that my husband has a job and is finally making money, too, we don't really need "more" money. So I'm just going to try and maintain the income that I'm getting.
Publish my book. This is probably my biggest goal for the year. Ideally, I want to publish it in the spring/summer, but you know how things change when babies are born so we'll see. I am including birth stories for each of my kids at the end of my book, so I can't publish it before he's born (not like I'd be ready haha). But my friend took the cover photos for me last month (and some new headshots) and I have had a lot of time to write recently, so I'm feeling good about it. And MEGA excited, too! So be on the lookout for updates about that!

Continue posting twice a week. I posted three times a week in November and December and that was great because I had a lot of seasonal posts I wanted to write, but I didn't really see a traffic increase and with baby coming, I am going to go back to two posts a week. I know a lot of blogs that get the pageviews I do have VAs who do a lot of their work, but I'm a one-mama operation over here, and I have to prioritize my time.
I know that's not a ton of goals, but I'm just happy with how things are going and instead of working hard to grow my blog, I just want to try and have steady traffic and enjoy life with three kids. I don't know how things are really going to change once baby is born, so I don't want to put pressure on myself to do things I don't want to do. But I am still devoted to my blog and will still be posting great things for ya'll 🙂
That's it for today's currently post! Next month I'm hoping I'll get to announce baby boy's birth in my currently post, but who knows when that will happen!!