Not sure what you need to workout during pregnancy? Here are some pregnancy workout essentials that are definite must-haves when staying fit during pregnancy.
This is a sponsored post. I received free product for this post, but all opinions are my own and 100% true. This post also contains affiliate links.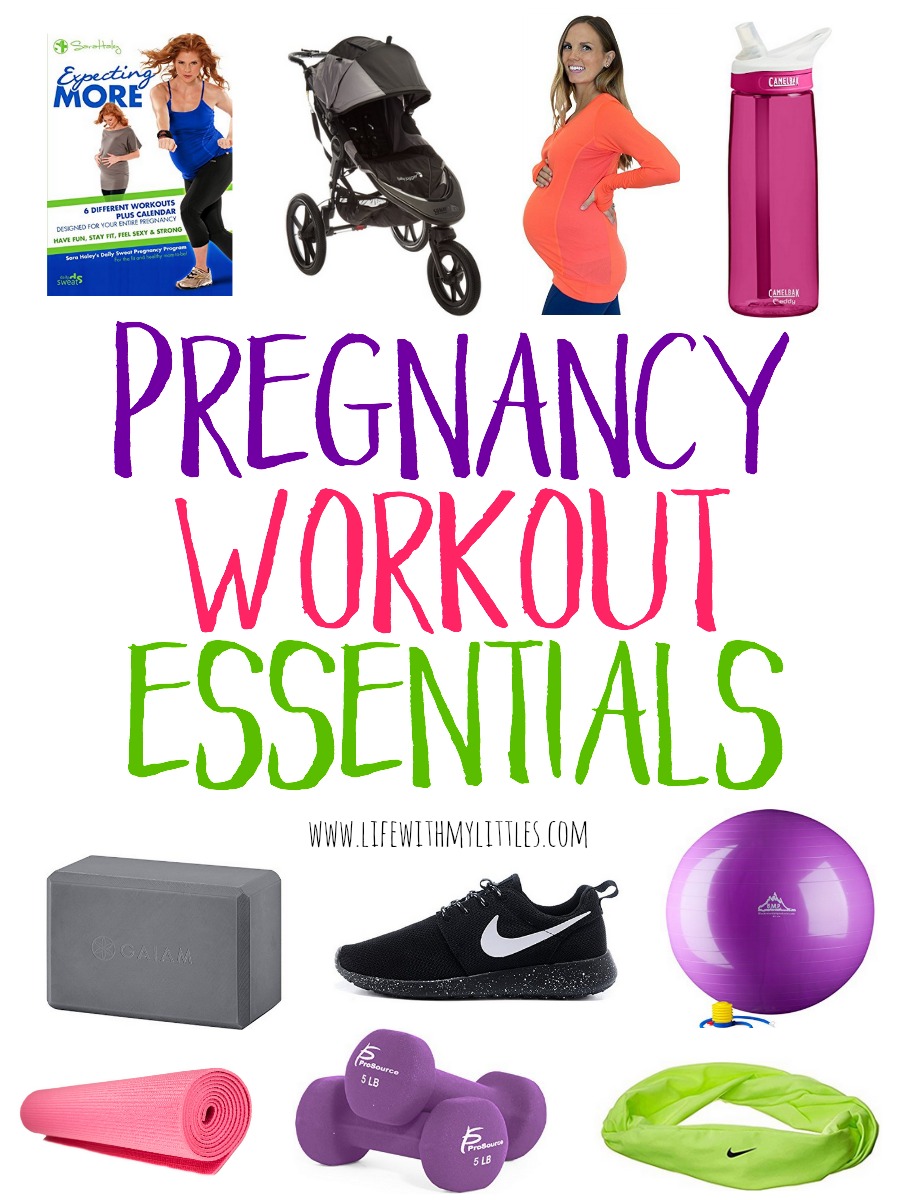 Maintaining a healthy lifestyle is incredibly important during pregnancy. Not only are you taking care of yourself, but you are also taking care of your growing baby! One of the best ways to stay healthy during pregnancy is to exercise and stay fit (even if all you can manage during the last few weeks are walks around the block!). Exercise during pregnancy can even help alleviate some of the more uncomfortable symptoms of pregnancy! I will admit that I have not been the best at a regular fitness routine this pregnancy, but over the course of my three pregnancies, I have definitely figured out things that work and things that don't. Today I thought it would be helpful to share some of my favorite pregnancy workout essentials that I have loved in the hopes that it will help motivate other pregnant mamas to stay healthy and get into a regular workout routine!
But first, I just want to make a quick note that you should never do any exercises that are too intense or that could be dangerous to your health or your baby's health. Pregnancy is not the time to lose weight, and exercising during pregnancy should just be done to maintain your health, help you have more energy, give you more endurance, and even prepare for delivery. If you have any questions on what you should or should not do, ask your doctor.
Okay, now let's get on to my pregnancy workout essentials!
A water bottle. Obviously filled with water. You for sure don't want to overheat or get dehydrated during your workout, which honestly you probably shouldn't be doing anything intense enough for that to happen anyway. But having a water bottle close by is a must. Hydrate!
Light weights. You definitely don't want to lift anything too heavy, but having some light weights to do some strength training is very helpful. I have a set of 2 lb (don't laugh) and a set of 5 lb that are perfect.
Pregnancy workout videos or a class you can go to in person. I'm a big fan of doing pregnancy workouts on YouTube because there are so many to choose from (yoga, strength, low-impact cardio), but there are also DVDs you can try (I've heard great things about Sara Haley's prenatal DVD
), and if you have a gym membership, going to an actual prenatal workout class can be very beneficial. It really helps to have some guidance in what you are doing (just like any workout). Like I said I love doing workouts in my living room, but classes are great, too! Videos and classes are definitely pregnancy workout essentials!
Mumberry Maternity Workout Shirt
.  If you've never heard of Mumberry, you are missing out. I heard about them a few months after my daughter was born and knew that during my next pregnancy, I wanted to try out one of their maternity workout shirts. What makes this workout shirt special is The Mumband®.
What is The Mumband®? It's a soft, stretchy support band built into all Mumberry apparel that provides crucial belly and back support. The unique, patent pending design cannot be found anywhere else, and it makes working out so much more comfortable and enjoyable! The Mumband® is made up of two pieces. First, a compression fabric piece that covers your belly and second, a strong elastic band that sits below your belly. It provides support, coverage, compression, and comfort, and it has been amazing, especially during the last trimester of pregnancy.
Plus, it comes in a tank top, short sleeve, or long sleeve version,  so wherever you live and in whatever season you are pregnant, there's one that's perfect for you! I've worn it for working out and a few times when we've been walking a lot and the support is amazing!!
Yoga mat. Once you hit the second trimester, laying on your back is a no-go, but it's still nice to have a yoga mat to do other things. A little cushion goes a long way, especially on your pregnant body! Mine is a very basic 3mm one
, and it's perfect.
Foam yoga block
. Okay so this might seem weird, but it really, really helps later in pregnancy, and a lot of the pregnancy workout videos I've watched have had one. They help you sit up straighter and are great especially in yoga videos.
Exercise ball
. These are great for helping you keep your abdominal muscles strong, which you're for sure going to need when it comes time for delivery. And not only is this great for working out during pregnancy, but it can also double for helping you when you're in labor! Bonus!
Hair tie or headband. This might sound like a silly thing to add to the list, but you do not want to overheat when you're working out, and pulling your hair back is a simple way you can prevent it. Of course not working out super intensely helps, too.
Jogging stroller. You definitely don't need this unless this is your second or later pregnancy, but having a jogging stroller is great for going on walks if you aren't a jogger. If you are a jogger, you can maintain your jogging as long as your doctor okays it. But the difference between having a regular stroller and a jogging stroller, even when going for a walk, is huge, and that's why I'm putting it on this list. We have the Baby Jogger Summit X3 Single Jogging Stroller
and I love it.
Comfy shoes. You don't necessarily have to have these if you are doing indoor workouts at home, but if you go to a class or go outside to workout, you for sure want some comfortable shoes. I'm at the point in pregnancy where if I don't have comfortable shoes, ESPECIALLY when I'm working out, then my feet hurt horribly at the end of the day. So get something that works for you and you can obviously enjoy wearing them once your baby is born, too!
Now that I've told you all of these awesome things to help you workout during pregnancy, get off your bum and exercise! You really have no excuse now!