Currently November 2017: What's going on this month for Life With My Littles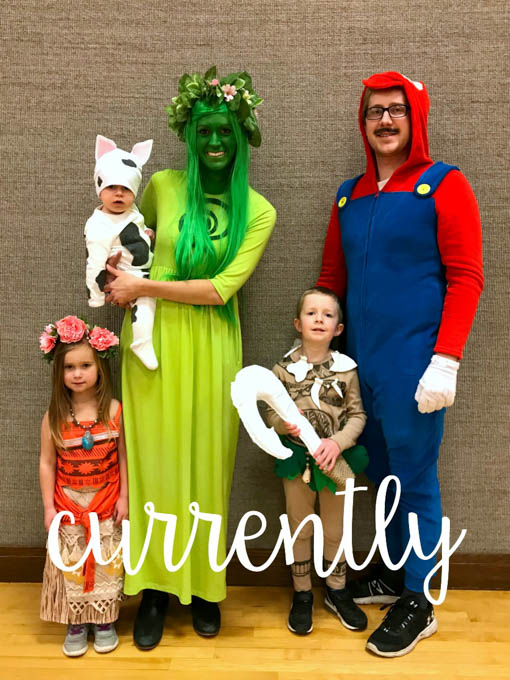 Happy November! How was your Halloween? I love Halloween, so we went all out this year. Little A was Moana, Little J was Maui, Little R was Pua, and I was Te Fiti. My husband was supposed to be Te Ka or a kakamora, but he decided he didn't want to participate and ended up being Mario. We had lots of fun celebrating at several different get-togethers, and of course we went trick-or-treating last night!
Another really cool thing that I wanted to mention before I get into what's going on this month is that last month I was featured on the popular birth story podcast The Birth Hour! I was so honored when Bryn asked to interview me, and it was so much fun getting to share the births of my three kids. If you want to go listen, you can check it out here. And please do, because I am so grateful to Bryn for featuring me and I want to send some more traffic her way!
Here's what's currently going on this month:
Finishing my book! I KNOW! Finally! In January of 2016 I sat down and wrote a big ten page outline and actually began the writing process, but then I got pregnant and had Little R, we moved (twice, I might add), and with like 1,000 other things going on, it's been a long road to get it finished. Last week I officially finished the first draft, and I am currently in the process of going back through and re-reading it to make sure it's exactly how I want it before I ask a few people to read it. I am going to do a more in-depth post announcing it and giving ya'll more of a description what it's about, but just know that I am finally almost done and I seriously couldn't be more thrilled (I may have shed a tear or two when I finished that first draft!).
Running a 10k! This is the month! Next weekend I've got my very first official 10k, and it's a biggie. I'll give more details after it happens, but I am so excited. I started running when Little R was three months old (he's nine months now!!!), and it has taken me that whole time to work up to running 6.2 miles! But I have already done it once on my own, and I know that once the race has started I'll be so pumped and have so much fun doing it! I can hardly wait!
Becoming Minnesotans. It's official! We are 100% staying in Minnesota! After lots of long talks, prayers, and two interviews, my husband has accepted a job at a family medicine residency here! We just feel like so many things have led to this point, and we know that this is the right step for him. He's been working at an urgent care here the last few months and has really liked doing family medicine, so I know he's going to be happy in this new job. He'll have a little over 2 years of residency, and then he'll be done! And now that he officially has a job, we're on the hunt for a house! It's going to be so nice to have our own place again, and this move is going to be better because we won't have to move out of state! Yay!
Potty training Little A! Yes! It's finally happening! We've been waiting for it a long time, and last month we officially started. She's pretty good at peeing on the potty, but has yet to poop in the potty. Frustrating, but we'll get there! I'm just happy that she's doing good with part of it!
That's what's currently going on this month! I know it's not quite as many things as I normally post in my currently posts, but those are some big things!! And I can't believe we only have two months left in the year! Thanks for sticking around, mamas!