How to survive having two kids in diapers: tips to save money and make it through living with two kids in diapers
This post is sponsored by Diaper Genie and Babies R Us.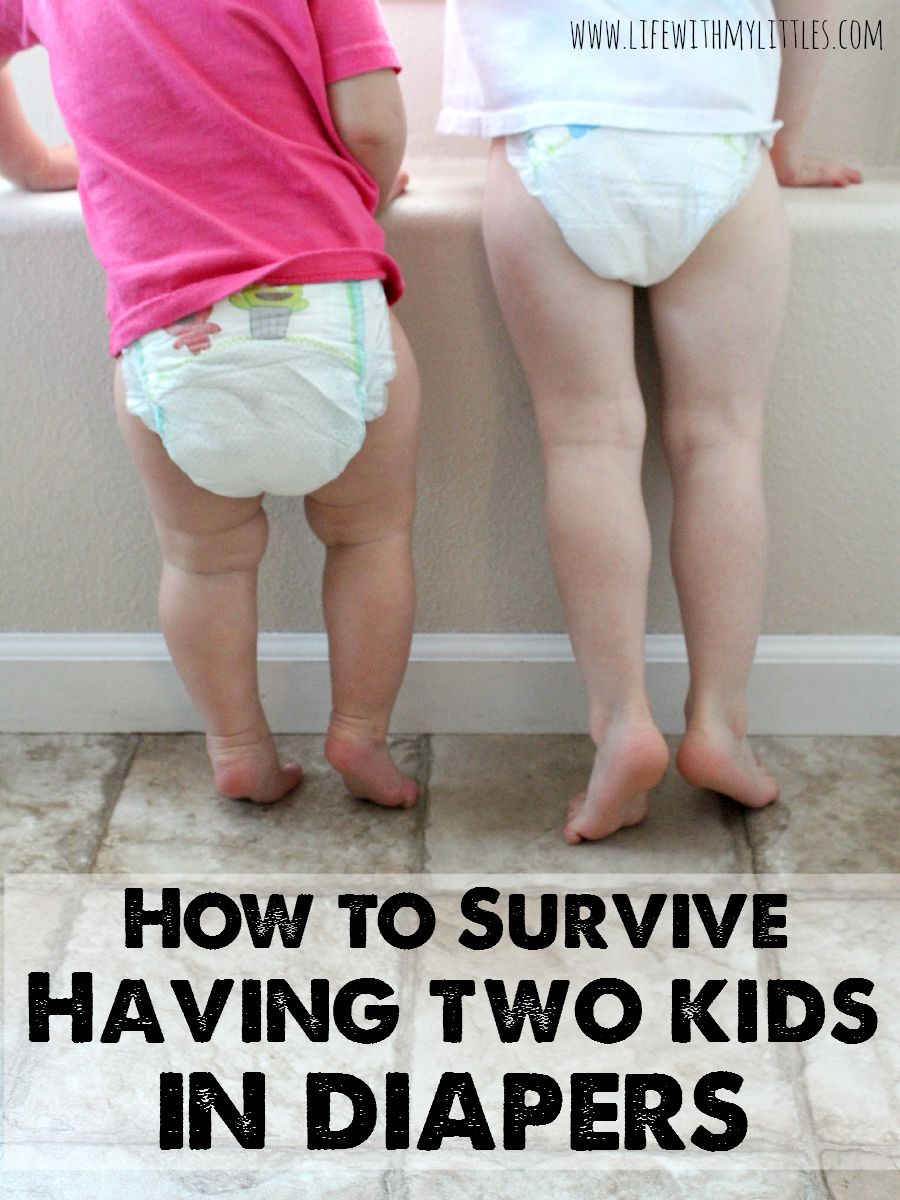 One of the first things you realize when you have kids 18-months-apart is how many diapers you go through. Newborns go through a lot of diapers on their own, and with a toddler in diapers, too, some days I feel like all I do is change diapers.
But now that I have survived an entire year of having two kids in diapers, I can confidently say that it can be done! Today I want to share the secrets of how to survive having two kids in diapers. I promise it doesn't have to be stinky or expensive, and if you follow these tips, you don't have to feel like you're living in a giant, poopy diaper.
1. Set up a designated changing station in one room, but keep diapers and wipes in other places in your home, too. Our changing station has always been in our daughter's nursery, and it's been great because we have one specific spot with a changing pad, diapers, wipes, and diaper rash cream. It was especially good when she was a tiny baby and I would have to change her diaper at night. But don't forget to keep some diapers and wipes in another spot in your home, too, because if your baby is napping and your toddler needs a diaper change, you want to make sure you have some diapers and wipes easily accessible!
2. Buy diapers in bulk. Diapers are going to be cheaper if you buy the big giant boxes than if you buy four small packs that have an equivalent number of diapers. If you buy a 35 pack of diapers at $8.97, your diapers are going to be 33.2 cents per diaper, but if you buy a 168 pack for $37.94, your diapers are going to cost 22.6 cents each. In the long run, it's going to save you money to buy diapers in the big jumbo boxes. And if you're going to survive two in diapers, you're going to want to spend as little on diapers as possible.
3. Use coupons. Speaking of diapers, use coupons! Personally, we love Pampers diapers, and they always have coupons online or even in packages of diapers. You shouldn't ever be paying full price for a pack of diapers! Even if it's just $1.50 off, it will add up with all the diapers you're buying!
4. Throw diapers away in a designated place. There's a reason we use toilets, people. Dirty diapers are stinky, and if you throw them away in a regular trash can, your house is going to be super stinky and nobody is going to want to come over, especially if you have double the stinky diapers! So either put them in a special tied bag in the trash, throw them in the trash can outside, or use a Diaper Genie®. You need to keep the stink away!
5. When people ask what gifts you want, say diapers. Instead of having a baby shower for our second baby, my friends threw me a diaper shower. It was perfect because I got a big stockpile of diapers and wipes, and we saved a lot of money that way. Don't feel weird telling people that you want diapers, because if that's what is going to help you out, then great! If someone is asking you what you want as a gift, be honest and say, "Diapers, please!"
6. Make your spouse change a few diapers, too! I'm going to guess that in most families, moms change the majority of the diapers. I'm not complaining, I'm just saying that husbands usually go to work during the day. So when your spouse is home, make him change a few diapers, too! You deserve some time away from the changing pad, and when you have two in diapers, getting away from the changing pad is a rare break! So share the load when you can, and don't forget to say, "Thank you!"
7. Get some time away every once in a while. I love being a mom, but sometimes I just need a little bit of a break. And when you have two that are young enough to be in diapers, you might need a break, too. So go take some well-deserved mommy time. Read a book in a locked room, go out with friends for cupcakes, or even just go on a solo run to the store. Sometimes that's a big deal, and sometimes it's exactly what you need to recharge!
Having two in diapers really doesn't have to be as scary as it sounds. Whether you've just found out you're pregnant with your second and they're going to be close, or you have had two in diapers for a while, take a deep breath and relax. And don't feel like you have to push potty training on your toddler asap, because that can definitely backfire (trust me). And don't forget to take some time for yourself!