This really is such an easy bib tutorial! Only a few steps, and they are the best bibs!! Great for easy baby gifts, too.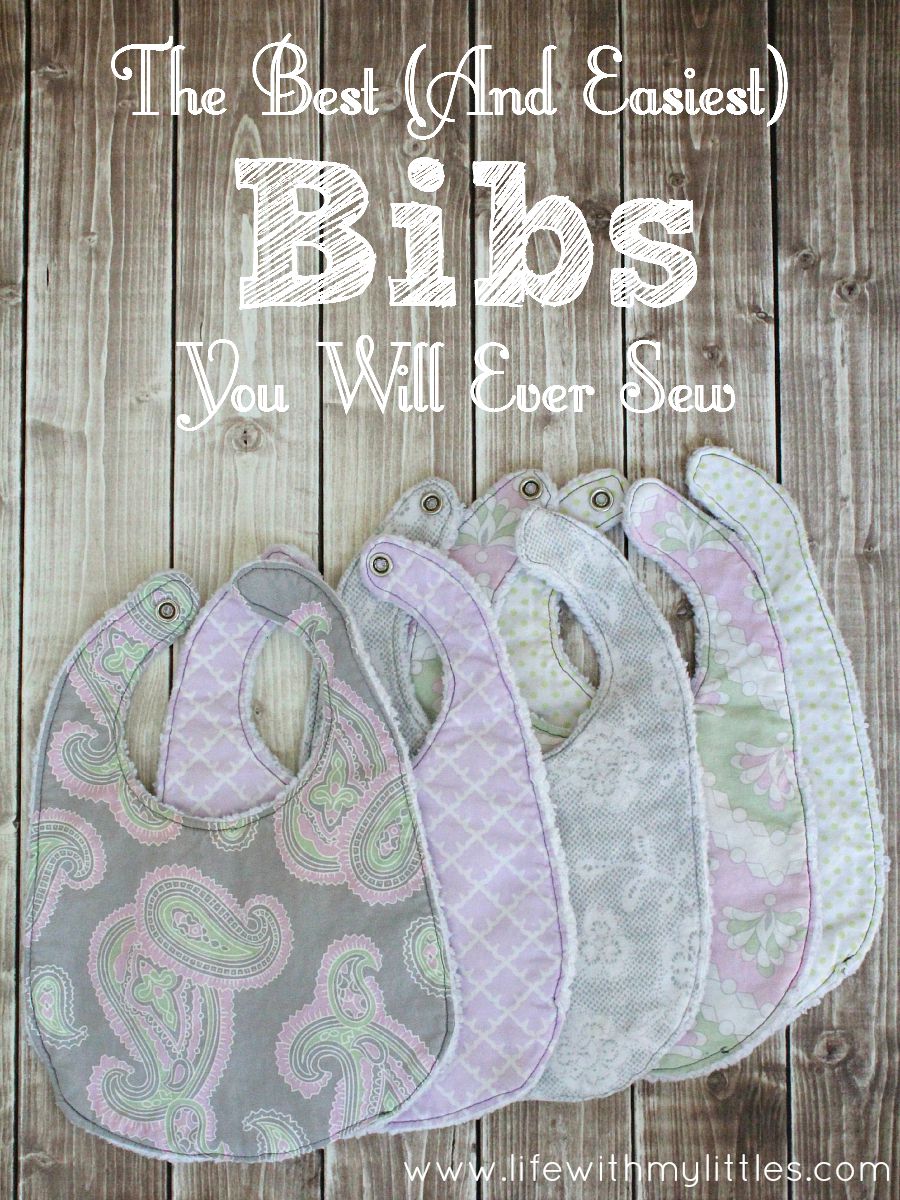 When I was pregnant with my son, I made a set of matching burp rags and bibs so I would have a bunch of cute ones to use when he was born. They worked AMAZING.
The tutorial that I posted for "The Easiest (and Best) Burp Rags You Will Ever Sew" currently has over 170,000 pageviews, and has been featured on several other websites as an easy baby shower gift. In that post, I mentioned that I also made some bibs for my son, and there were a ton of people who asked me to do a tutorial for the bibs.
Now, almost a year later, I am finally putting together this tutorial for the easiest (and best) bibs you will ever sew. I made one change to the bibs I made my son to make them even better, but they are still easy and the best bibs.
In fact, I actually got out my son's old bibs and have been using them on my daughter for months, and they still work great. So rest assured, these bibs are fantastic and can withstand multiple babies!
If you could master my tutorial for the burp rags (aka, sew straight lines), then you should easily be able to move onto this tutorial for bibs. I promise it is an easy bib tutorial. Obviously you will have to sew some curved lines, but don't be scared because they are super easy and if you go slow, you will have no problem making yourself some cute little bibs.
To make one bib, you will need my fabulous free bib pattern, 1/3 yd cotton fabric, 1/3 yd minky fabric (also called Soft n' Cuddly or Soft n' Fluffy), matching thread, and a size 16 snap and fastener (like this one I got from JoAnn).
Now onto the tutorial! Don't be scared. It may seem like several steps, but some of the steps are super easy and could've been combined (like pin your pieces).
First, assemble your pattern. Tape piece A over piece B and then cut around the edges.
Next, pin your pattern piece to your cotton fabric, like in the picture. You can pin it up-and-down too, but you won't make as many bibs from your strip of fabric.
Cut it out, and repeat with the minky fabric. You should have two matching bib pieces.
Pin your pieces together, right-sides together.
Now the only tricky part of the bib. The snaps. You will want to grab one top snap and one bottom snap, plus your fastener.
Now attach one side of your snap so the snap part is on the inside of the top of the cotton. Make sure you center it, but don't put it too close to the top. You may have to fold down part of your fabric to get it.
Next, attach the other side of your snap so the snap part is on the opposite bib top, but on the minky. It should look like this:
Now pin the top of your pieces again and sew all the way around, leaving a 2″ hole on the bottom side of the bib.
Flip your bib inside out, and then press with an iron. It will make topstitching your bib a lot easier if you press it with an iron first.
Now topstitch your bib all the way around! Aka, just sew about 1/8″ away from the edge, all the way around. Now you have a bib!
The first bibs I made for my son had velcro, but he learned to pull those off pretty fast. The snap fasteners have been so much better because I can keep the bibs on my daughter (she drools SO MUCH) and she can't get them off!
You can make 4 or 5 bibs from each 1/3 yd. of fabric. So you could make several of the same fabric, or if you wanted you could make a bunch of different ones in matching fabrics. Either way, your baby will be super stylish and people will compliment you on how cute your bibs are!
See, I told you that was a super easy tutorial! Now good luck, and happy sewing!