Homemade Harry Potter candy: learn how to make chocolate frogs and cockroach clusters! The perfect Harry Potter desserts!
This post contains affiliate links.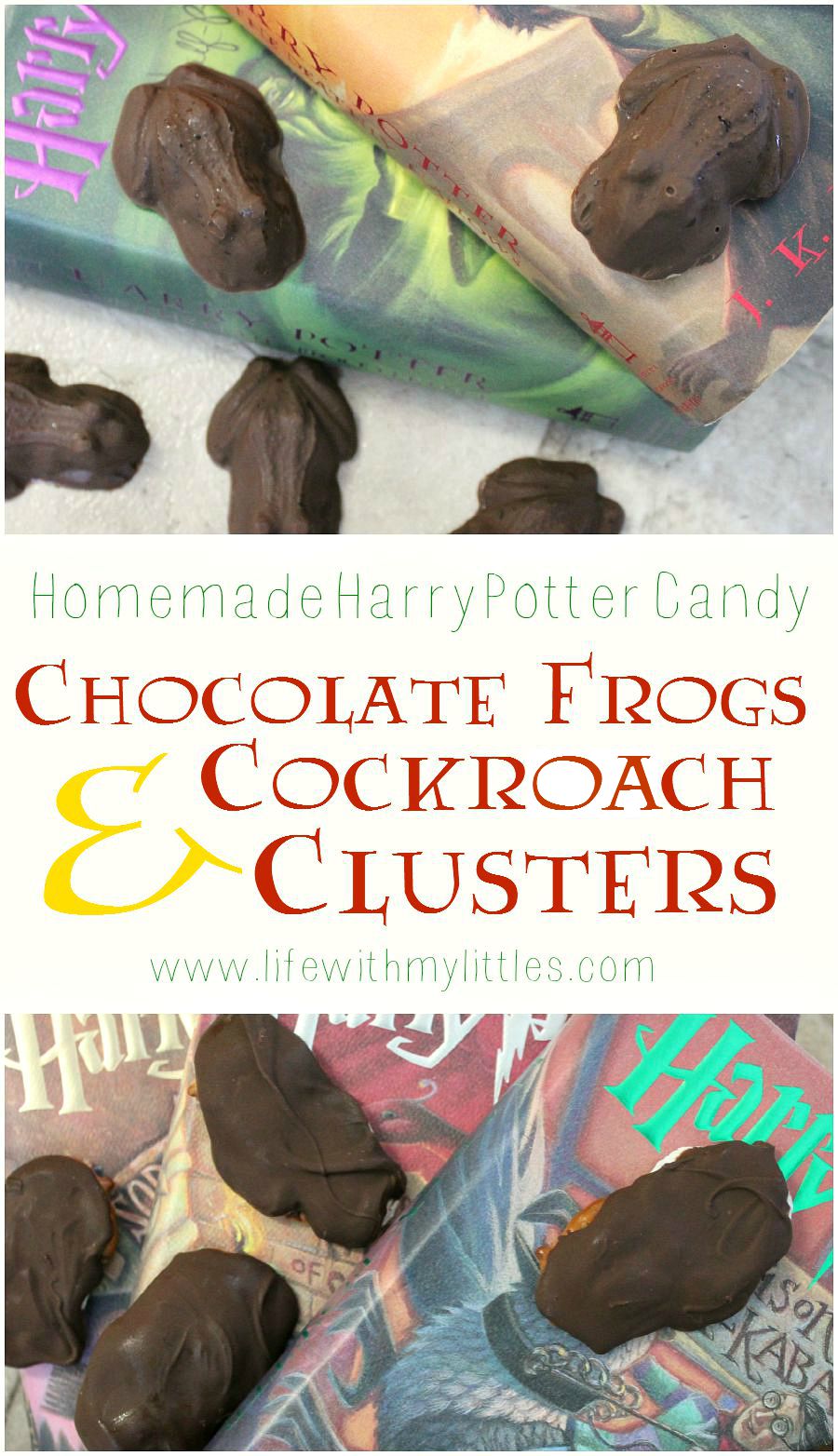 In high school, I was voted most likely to become the next J.K. Rowling. Which might sound like it was just a contest to see who was going to be a great writer, but actually, people just voted for the biggest Harry Potter fan. And let me tell you, not much has changed. I still LOVE Harry Potter. Even after graduation I still went to the midnight releases of the movies and the books. When the Mister and I went to the theme park in Orlando a few years ago, I cried pretty much the whole time we were there because I was so excited. I almost named my daughter Lily, which would have been awesome because our son's name is a variation of James (get it, James and Lily?).
So yeah, I might be a bit obsessed. But that's why I flipped for the chance to participate in Rae Gun Rambling's Happy Harry Potter Series. It a two week celebration of Harry Potter where tons of bloggers all post Harry Potter-themed craft tutorials, recipes, party ideas, and book reviews. The best part is that Marissa from Rae Gun Rambling has put together an AMAZING giveaway with tons of Harry Potter-themed prizes. Seriously, any fan would die to win this giveaway.
Today, I am going to share how to make homemade Harry Potter candy! Specifically Chocolate Frogs (the Muggle kind, without magical properties), and Cockroack Clusters (that aren't really made of cockroaches). And I am super excited because they both turned out delicious and of course I feel awesome eating them since they are both from the Harry Potter books!
First, let's talk about these Chocolate Frogs.
They are insanely easy, and people will be way impressed with your skills. Which, when you reveal your secret, they won't be, so maybe just don't tell them how you made them! All you need are a 1/2 bag of chocolate chips (semisweet or milk chocolate both work) and a candy frog mold.
First, melt your chocolate chips in a microwave-safe bowl or mug. Do it for 30 seconds, then stir, then 30 seconds, stir, 10 seconds, stir, and then if needed, an additional 10 seconds.
Next, spoon chocolate into your chocolate frog mold. I went pretty slow so that I wouldn't get it all over the rest of the mold. And when you are doing it, use your spoon to push the chocolate to the edges. Fill it enough so that it will be flat when the chocolate is hard.
Now refrigerate your chocolate for at least 30 minutes. When it's done, pop the chocolate frogs out of your tray and there you go! You now have chocolate frogs, almost as realistic as the ones Harry first bought on the Hogwarts Express. Just without the trading cards and magic. But they taste like the real thing (and they work great after dementor attacks).
Now let's move onto the Cockroach Clusters. These were probably my family's favorite.
For these, you need another 1/2 bag chocolate chips (semisweet or milk chocolate, again it doesn't matter), pretzels, a bag of Rolos, and some mini marshmallows.
First, line a baking sheet with wax paper.
Next, line up two pretzels next to each other for each Cockroach Cluster. I just covered the tray with them until I couldn't fit any more.
Next, place one Rolo on one side, and three mini marshmallows on the other side of the pretzels.
Now, stick them in the oven for 2-3 minutes at 350 degrees. You want them to get melty enough that you can push down the Rolos so they cover the pretzel and touch the marshmallows.
Now, melt your chocolate chips and cover your clusters!
Refrigerate for 30-60 minutes, and then pop them off your wax paper!
Aren't they awesome? They will have a crunch and some gooeyness and the sweet and salty combo is amazing. They don't really look like the Cockroach Clusters you can buy from the Wizarding World of Harry Potter, but these are more how I pictured them looking anyway, so I think they are better.
Now you can throw the best Harry Potter party ever and serve up some genuine Harry Potter sweets!
For more Harry Potter recipes, plus craft tutorials, party ideas, and more, check out the complete listing of Happy Harry Potter Series posts on Rae Gun Ramblings here.
And now I get to share the giveaway with you! You can read about all of the amazing prizes more on Rae Gun Ramblings, but here is a little photo to make you want them all!
It's such an amazing combo of prizes, and whoever wins is seriously ONE LUCKY MUGGLE! Yeah, I said it.
You can enter using the Rafflecopter form below.
Good luck! And don't forget to check out the complete listing of posts in the Happy Harry Potter Series on Rae Gun Ramblings!