I am a member of the Barbie Global Advisory Council. I am compensated for my time and travel for consulting with the brand, but all opinions expressed are my own.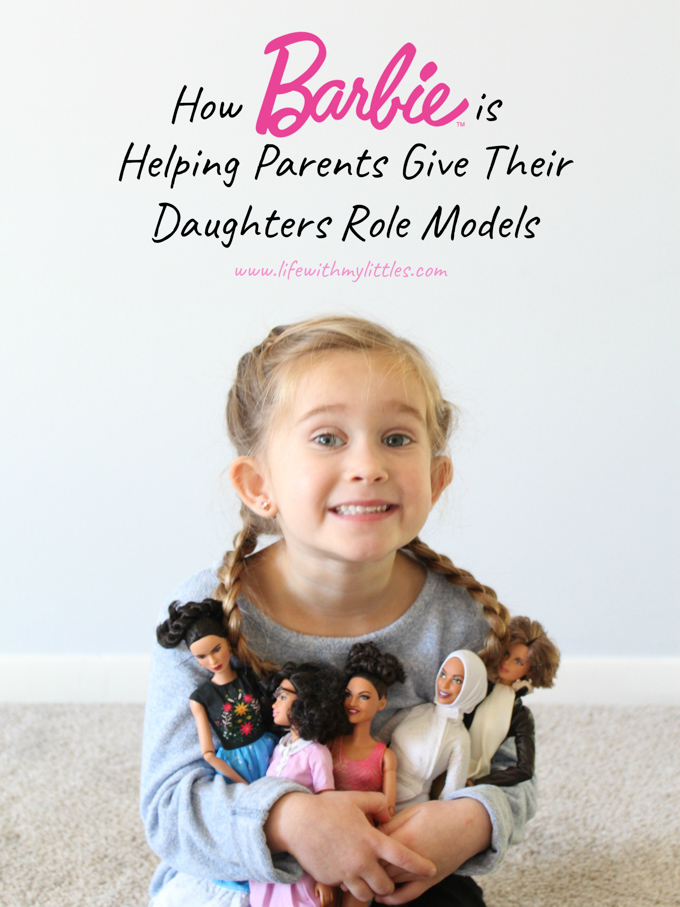 Growing up, I loved playing with Barbies. I loved dressing them up, making them talk, driving them around in Barbie's signature pink Corvette, and playing with them in Barbie's Dreamhouse. To me, Barbie was a beautiful toy that helped me imagine what I could become and who I could one day be.
Those things still hold true today, but Barbie has come a long way since I was little. She's no longer just a tall, skinny blonde! I was lucky enough to visit Mattel headquarters in May and learn all about the incredible things Barbie has done over the last few years. With the Fashionistas line, Barbie has given girls the opportunity to see themselves in a doll and realize their own beauty and individuality. With the expansion of the Careers line, Barbie has given girls the opportunity to explore different, unique careers that range from robotics engineer to beekeeper to veterinarian, helping them discover that they can truly be anything they want.
Recently, Barbie has also found a way to help parents give their daughters role models to look up to and learn from. These role models and "sheroes" are based on real, empowering women from around the world who have paved the way and broken boundaries to inspire the next generation of girls. The Inspiring Women and Shero dolls are beautiful, incredible dolls that help girls dream even bigger than before.
There's a difference between telling a girl she can be anything, and then showing her through real women that she actually can be anything, even if that "anything" hasn't been done yet. As a mom, I want my daughter to look to role models who are really making a difference and following their passion, because of course that's what I want my daughter to do.
The Inspiring Women Dolls
The intent behind the Inspiring Women line of dolls (launched March 2018) is to inspire young girls to explore their own limitless potential while learning about the incredible women who helped pave the way for them. So far, Barbie has released three Inspiring Women dolls: Amelia Earhart, Katherine Johnson, and Frida Kahlo. We've had these dolls for a while, and you better believe I made sure my daughter knew exactly what these women pioneers did in their lives when I gave them to her!
It can be hard to just sit down and tell a little girl about someone who lived a long time ago who did something amazing, and being able to tell my daughter about the things these women did while showing her their dolls makes a big difference in how much she actually listens and shows interest. It's such an awesome idea, and the Inspiring Women dolls are really a great way Barbie is helping parents give their daughters role models who are worthy of being looked up to.
The Shero Dolls
In 2015, Barbie started honoring women who are currently breaking boundaries to inspire the next generation of girls with their Shero dolls. Barbie has honored 49 real life Sheroes so far, and each one has been gifted a one-of-a-kind doll that looks like her. Unlike the Inspiring Women dolls, only a few of them are currently available for purchase.
The idea behind the line is that girls need more role models because "imagining they can be anything is just the beginning. Actually seeing that they can makes all the difference." I just LOVE that, because it really is so true! I can tell my daughter that she can be anything she wants, including someone who works with animals, but showing her a woman who actually does, like conservationist Bindi Irwin, gets the point across a lot better! The women who are featured are inspiring and brave, they stand up for themselves and what they believe in, and they are all truly worthy of being called "role models."
I wanted to include a list of most of the Sheroes so parents can teach their daughters about these groundbreaking women and find someone who can inspire them:
1. Maya Gabiera (2019) Surfer, Brazil – in Guinness Book of Records as surfing the biggest wave for a female
2. Naomi Osaka (2019) Tennis Player, Japan – the reigning US and Australian Open champion
3. Kristina Vogel (2019) Cycling Champion, Germany – won two gold medals and a bronze at the Olympic Games, and is a nine-time UCI World Champion
4. Tessa Virtue (2019) Ice Skater, Canada – was the 2010 Olympic champion, the 2018 Olympic champion, and the 2014 Olympic silver medalist
5. Yara Shahidi (2019) Actress, United State – a prominent role model and youth activist
6. Adwoa Aboah (2019) Activist and Model, United Kingdom – a Vogue model who is an activist for representation, diversity and inclusion, mental health, and self-confidence
7. Dipa Karmakar (2019) Artistic Gymnast, India – won a bronze medal at the 2014 Commonwealth Games in Glasgow, becoming the first Indian female gymnast to do so in the history of the Games
8. Chen Man, Photographer, China – visual artist who produces covers for fashion magazines and collaborates with major brands worldwide
9. Ita Buttrose, Journalist, Australia (2019) – the founding editor of the women's magazine Cleo, which shines light on important (and often undiscussed) topics for women
10. Patty Jenkins (2018) Filmmaker, USA – the first woman in history to helm a film with a budget in excess of 100 million dollars for WONDER WOMAN, which broke the record for Biggest Grossing Live-Action Film Directed by a woman–domestic and worldwide
11. Chloe Kim (2018) Snowboarding Champion, USA – a first generation Asian-American snowboarding champion and the youngest woman to win a gold medal in snowboarding at the 2018 winter games at age 17
12. Bindi Irwin (2018) Conservationist, Australia – international award-winning wildlife conservationist and celebrity who inherited her father's passion for wildlife and is dedicated to inspiring the next generation to make a difference in the world
13. Nicola Adams (2018) Boxing Champion, UK – two-time gold medalist who is Great Britain's most successful female boxer of all time and is the only female boxer in the history of the sport to have held all four amateur titles
14. Cağla Kubat (2018) Windsurfer, Turkey – champion windsurfer and member of the Fenerbahçe sailing and windsurfing team who founded her own windsurfing school for young surfers
15. Hélène Darroze (2018) World-Renowned Chef, France – inspirational fourth-generation French chef with three restaurants and two Michelin stars
16. Hui Ruoqi (2018) Volleyball Champion, China – fifteenth Captain of the Chinese women's national volleyball team who also won gold in the 2016 summer games
17. Leyla Piedayesh (2018) Designer and Entrepreneur, Germany – Iranian immigrant and founder of fashion label lala Berlin that incorporates urban-cool and elegant-chic elements in its high-quality knitwear
18. Lorena Ochoa (2018) Professional Golfer, Mexico – athlete, mother, entrepreneur and unbreakable promoter of golf in Mexico
19. Martyna Wojciechowska (2018) Journalist, Poland – TV presenter, magazine editor, author, director and the second Polish woman to conquer the Seven Summits
20. Sara Gama (2018) Soccer Player, Italy – Captain of Juventus and Italian national soccer team, member of the Federal Board and President of Commission for the development of women's soccer
21. Xiatong Guan (2018) Actress and Philanthropist, China – ambassador for "World Life Day," a joint campaign by the United Nations Environment Program, International Fund for Animal Welfare and The Nature Conservancy, and known as the "Nation's Daughter" in China
22. Yuan Tan (2018) Prima Ballerina, China – Prima ballerina and principal dancer at the San Francisco Ballet and guest principal dancer at the Hong Kong Ballet
23. Vicky Martin Berrocal (2018) Entrepreneur and Fashion Designer, Spain – leads the creative direction of Victoria company with collections that include festive costumes, flamenco dresses, gowns, handbags and jewelry
24. Laurie Hernandez (2018) U.S. Olympic Gymnast, USA – as the youngest member of the Final Five gymnastics team, she earned medals in balance beam and team, author of the book I Got This: To Gold and Beyond
25. Savannah Guthrie (2018) News Anchor, USA – one of the two first female co-anchors in the 66-year history of NBC's The Today Show!, along with Hoda Kotb, her relentless work breaking barriers in the entertainment industry and their spirit of collaboration in supporting each other and other women's success, a message that Barbie feels is exceptionally important to share with our children today
26. Hoda Kotb (2018) News Anchor, USA – one of the two first female co-anchors in the 66-year history of NBC's The Today Show!, along with Savannah Guthrie, her relentless work breaking barriers in the entertainment industry and their spirit of collaboration in supporting each other and other women's success, a message that Barbie feels is exceptionally important to share with our children today
27. Ibtihaj Muhammad (2017) U.S. Olympic Fencer, USA – the first American Olympian to compete while wearing a hijab who was honored as one of TIME magazine's "100 Most Influential People" of 2016, she inspires girls to pursue their dreams and embrace what makes them unique
28. Ashley Graham (2016) American Model and Body Activist, USA – speaks at girls' groups and high schools about body images, self-acceptance and female empowerment.
29. Gabby Douglas (2016) U.S. Olympic Gymnast, USA – the first African-American woman in Olympic history to become the individual all-around champion, and the first American gymnast to win gold in both the individual all-around and team competitions at the same Olympics
30. Misty Copeland (2016) A Principal Dancer with the American Ballet Theater, USA – began dancing on a Boys & Girls Club basketball court, continues to be very active in local Clubs in various cities, works with Project Plié, ABT's comprehensive initiative to increase racial and ethnic representation in ballet and diversify America's ballet companies
31. Abby Wambach (2016) Soccer Player, USA – soccer player, coach, two-time Olympic gold medalist and FIFA Women's World Cup champion
32. Zendaya (2015) Actress and Singer, USA – encouraging girls to "raise their voices, inspired people of all ages to stand up for themselves
33. Ava DuVernay (2015) Director, USA – Director of the Academy Award Best Picture nominee, SELMA, and founder of African-American Film Festival Releasing Movement, which provides opportunities and resources to underrepresented filmmakers
34. Emmy Rossum (2015) Actress and Singer, – Golden Globe nominated actress and spokesperson for Best Friends Animal Society, the only national animal welfare organization dedicated exclusively to ending the killing of dogs and cats in America's shelters and a leader in the no-kill movement
35. Eva Chen (2015) Editor-in-Chief of Lucky, USA – breaking boundaries by bringing inspiration to print as the youngest appointed female Editor-in-Chief of a national fashion magazine, Lucky, currently the head of Instagram's fashion partnerships
36. Kristin Chenoweth (2015) Actress and Singer, USA – An inspiration on Broadway and beyond, the Emmy and Tony Award nominee and winner also founded the Kristin Chenoweth Art Education Fund volunteering with young talent in the arts
37. Sydney "Mayhem" Keiser (2015), Fashion Designer, USA – Eight-year-old fashion designer with work appearing in Vogue and signed on with major national fashion brand, J.Crew, for the collection 'Little Mayhem for J.Crew'
38. Trisha Yearwood (2015) Singer, USA – award-winning country artist, best-selling author, Food Network host and entrepreneur
Little A has a Laurie Hernandez Shero doll and a Ibtihaj Muhammad doll, and she thinks they are both so cool for being Olympians! We talked about Laurie's captivating and energetic performances in the 2016 Olympics and how her passion led her to work hard and win several medals while being the youngest woman on the US gymnastics team. We also talked about how Ibtihaj embraced what made her stand out and stayed true to her beliefs, becoming the first female Muslim-American fencing champion to wear a hijab while competing in the Olympics. Both dolls give more girls the chance to be represented in a Barbie doll, and I love that girls can see that there are so many different paths they can take in life and still make a difference.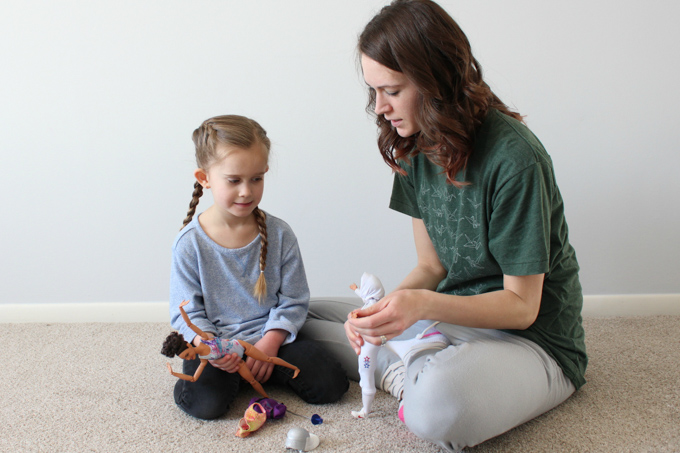 I love that the Inspiring Women and Shero dolls all have different bodies, skin tones, and hair styles, feature different careers and styles, and give parents a way to teach their daughter about real life role models. These dolls are based on exactly the kinds of role models I want my daughter to look to, and no matter what your daughter is interested in, these dolls (and their real life counterparts) give girls the opportunity to see women making a difference in the world.