12 backyard activities for toddlers that are perfect for making memories this summer!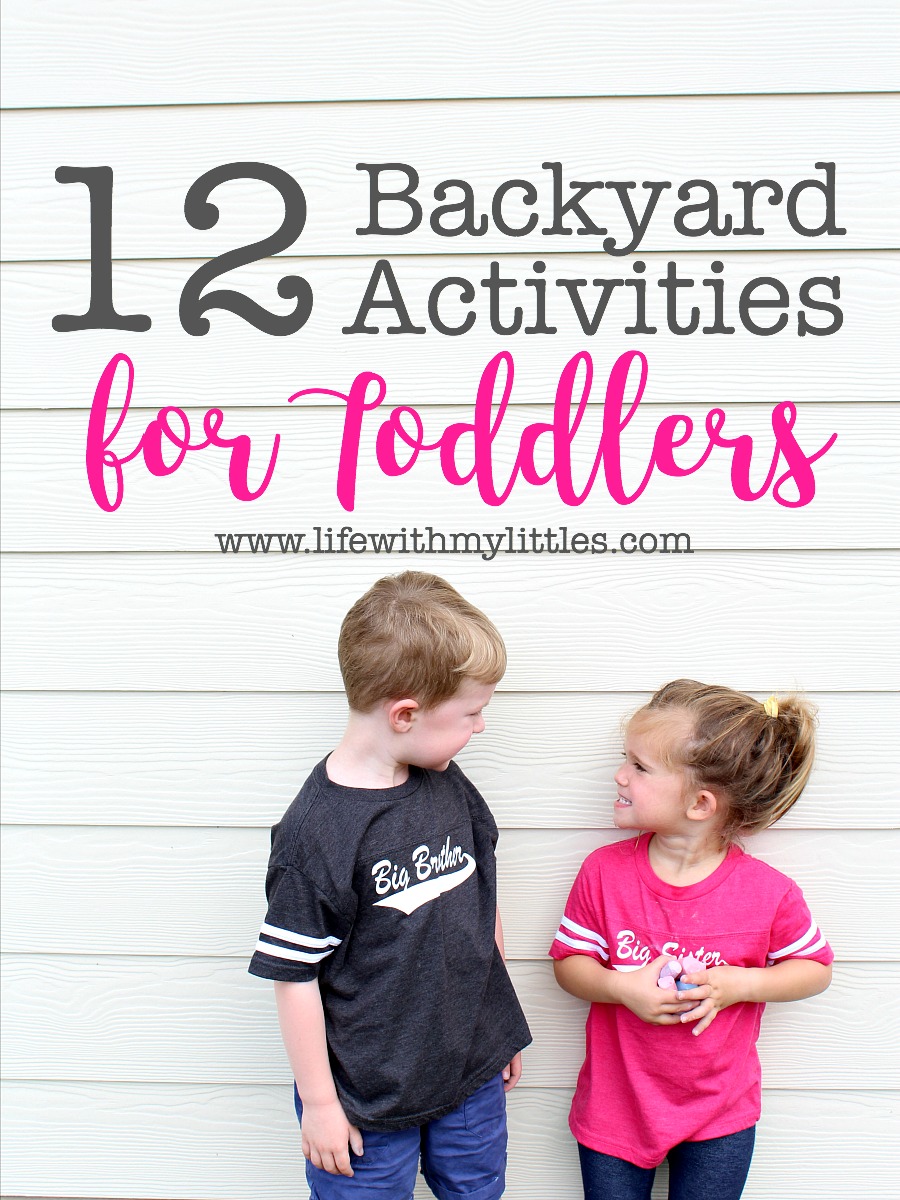 Up until last year, we had lived in apartments our whole married life. So when we finally bought our first house together and got our own space, we were thrilled. One of our favorite parts of owning a home is having a backyard for our kids to play in. And since we live in Texas where we can play outside year-round, our kids play in our backyard a lot!
We love having our very own place to spend time outdoors as a family and to entertain friends. We recently got a playground and had a Disney party in our backyard, so we're taking full advantage of the space! TruGreen believes more life should be lived outside and is committed to providing a beautiful lawn to serve as the foundation for outside experiences and lifelong memories. A new survey conducted by Harris Poll on behalf of TruGreen found that nearly 2/3 of Americans (156 million) report that some of their favorite memories have occurred right in their own yards! I remember spending hours in my backyard growing up, and I want my kids to have lots of good memories in our backyard, too! Since they are still little, we have to keep things kind of simple! Today I want to share some fun backyard activities for toddlers!
1. Fishing in a kiddie pool. Yes, you could just let your toddler splash around in their kiddie pool, but giving them something fun to do in the kiddie pool is way better! We have some fishing bath toys that I put outside with them in their kiddie pool, and they love it!
2. Chalk. If you have a patio, letting your kids draw with chalk is a great way to keep them busy and let them be creative!
3. Colored ice cubes. We tried this in the tub once but it was too cold, so we thought we'd take it outside and it worked a lot better in the backyard! Just color some water with food coloring and freeze it in an ice cube tray. Put swimsuits or old clothes on your kids and let them play with the ice cubes in the kiddie pool or even just the grass!
4. Ice excavation. Get a small plastic bin (or even a bowl) and put some little toys in it. Fill it with water and freeze it. Then dump it out on the grass or the patio and let your kids "excavate" their toys! We tried using plastic hammers with this last year and it wasn't so successful, so if you're going to let your toddler use a real hammer or something similar, make sure you supervise them!
5. Homemade bubbles. Get a large bubble wand from the dollar store and make homemade bubbles with this recipe. It's a lot cheaper than buying bubble mix and it's not a big deal if your child spills it on themselves! And if they can't figure out how to blow bubbles (one of my kids could, one couldn't), blow them yourself and just let them chase them around the yard!
6. Bike wash. If your toddler has a balance bike or a scooter, give them some soapy water and the hose and let them give their bike a wash! This is extra fun if they've seen you clean the car before!
7. Edible mud. Last year we came up with this idea to use pudding, crushed chocolate cookies, and construction toys to play in the mud! It's a perfect outdoor activity for toddlers because you don't have to worry about them eating any of it and you can just rinse them with a hose before letting them inside!
8. Water tray. Fill a shallow tub with water and give your toddler spoons, scoops, cups, and bowls. Let them pour and splash to their heart's content! And if they make a mess, it's no big deal because they'll be watering your yard!

9. Scavenger hunt. My kids love going on "treasure hunts" outside, and this free printable scavenger hunt is perfect for toddlers because it has pictures and can be done easily in the backyard! Just give them the paper and set them loose!
10. Let them plant their own flower in a pot. We have a big garden in our backyard and the kids love "helping" us water it and harvest things. But sometimes they hurt more than help! So let your toddler plant their own flower (or even tomato plant) in a pot. Teach them to water it every day and then watch it grow together!
11. Have a picnic. A super easy activity for your toddler. Just lay a blanket down and have lunch in the backyard!
12. Catch bugs. Our son got a bug catcher for his birthday and they love running around the backyard looking for bugs to put in the little bug house.
We love spending time in our backyard, whether it is spent doing fun backyard activities like these with our kids, or taking care of our lawn and garden (one thing my husband spends a lot of his time at home doing!). I hope that by playing outside with my kids they'll grow up with lots of happy memories of days spent in our backyard, just like I did!
I was selected for this opportunity as a member of CLEVER and the content and opinions expressed here are all my own.