Life With My Littles Baby #3 Pregnancy Update: 32 Weeks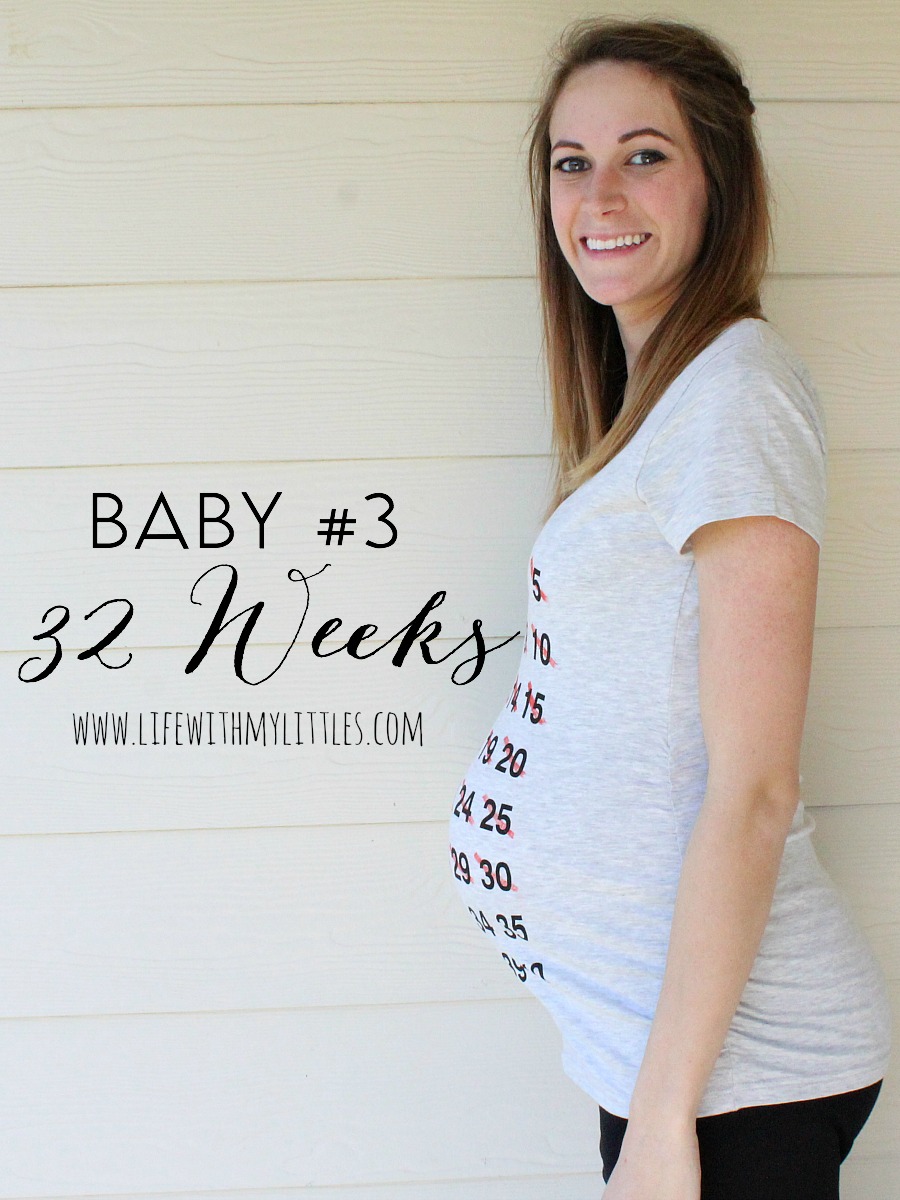 Hey there mamas! I have LESS THAN TWO MONTHS to go until my due date! That's so wild to me. I just started going to my appointments every two weeks, and after my next appointment I'll go every week. How are we already this close to meeting little man? Seriously, how!?
How Far Along: 32 weeks as of Sunday. I'm officially 7 months pregnant!
Size of Baby: A squash! I actually had an ultrasound two weeks ago and he was measuring about 32 weeks then, and at my appointment yesterday he was still measuring about 2 weeks ahead, so he's probably bigger than a squash now haha. My first two babies weren't big, so we'll see what happens with this little guy! Maybe we'll get a chunker!
Gender: Still a boy haha. It's been confirmed on the ultrasound 4 times now. We thought we had a name picked out, but now I'm not so sure! Middle name is 100% picked out, but first names are hard and I want it to sound good when you say all my kids' names together!
Movement: This kid is a mover. He's head down now so most of what I feel are his little legs and knees poking me. You can constantly see my stomach moving from the outside.
Sleep: It definitely depends on the night. When I can avoid drinking anything after 6 I sleep better, but sometimes I just get so thirsty I can't help it!
Workouts: Struggling. I need to start doing some things to strengthen my muscles for delivery, though.
Maternity Clothes: Very much so. Some of them are actually getting a wee bit tight and not completely covering my belly now. And I only have one pair of maternity pants that I really love to wear, so I might start rotating some dresses into my wardrobe, because you know, it's not even cold here.
Symptoms: Peeing all the time, painful hips, my varicose veins are way worse and hurt my leg by the end of the day now. I haven't had a headache in a while though, which has been GREAT. And still having lots of annoying Braxton Hicks. I've been having them ever since I was like 23 or 24 weeks though, so I'm getting more used to them. If that's possible.
Cravings/Aversions: Still want to eat like all the time, but trying not to. Anything related to pizza or ice cream I am always 100% game for.
Missing Most: Being able to move and walk around normally and without being in pain. I can't sit on the floor or I'm super sore.
Nursery: I haven't really done much since my last update, but we really need to get to it since he's going to be here in less than 2 months! We did get his newborn-3 month clothes out of storage (or should I say Little J's old clothes), so that was a step in the right direction!
I guess that's it for today! I'll probably only do one or two more updates, depending on if I make it to 40 weeks and if I really even want to talk about it by that point! I guess we'll just see!