This is a sponsored post written by me on behalf of Disney Baby at Walmart. All opinions are 100% mine.
The day we found out we were having a daughter was a day I'll never forget. It was our fourth anniversary and we went in to the doctor to see if we were going to be adding another boy to our family, or a little girl. When the ultrasound tech told us we were having a girl, I immediately started crying because I was so excited.
Don't get me wrong–I love having a boy. My son is the best. But there's something special about the bond between mother and daughter. For a lot of girls, their mom is their best friend, and that's something I want with my daughter.
With Mother's Day a few weeks ago, I've been thinking a lot about the relationship I have with my daughter. It can be hard to find moments to bond with her when she's so little and when I have another child to take care of, too. But spending some one-on-one time with her (as well as with my son) is super important to me. Being a girl is super hard, and I want her to always know that she can trust me and talk to me about anything. So enjoying some mommy daughter time with her while she's little is important!
In honor of Mother's Day, I thought it would be fun to share some ideas for mommy daughter activities to do with girls 0-2 years-old!
1. Watch a Disney movie together. I grew up with Disney, and that's something I want for my daughter, too. We went to Disneyland for the first time with our kids last month, and it was incredible. It was so much fun to share the magic of Disney with our kids. Anyway, our daughter loves watching Disney movies, and it's even better when we get to sit down and watch one together. Especially ones that I loved when I was little!
2.Have a tea party. Real or pretend, having a little tea party is a lot of fun! Even if it doesn't last very long, it's a fun mother daughter activity. So break out the tea pot, cups, and tiny treats! Your daughter will love getting all your attention while you sit and pretend to drink from teacups together!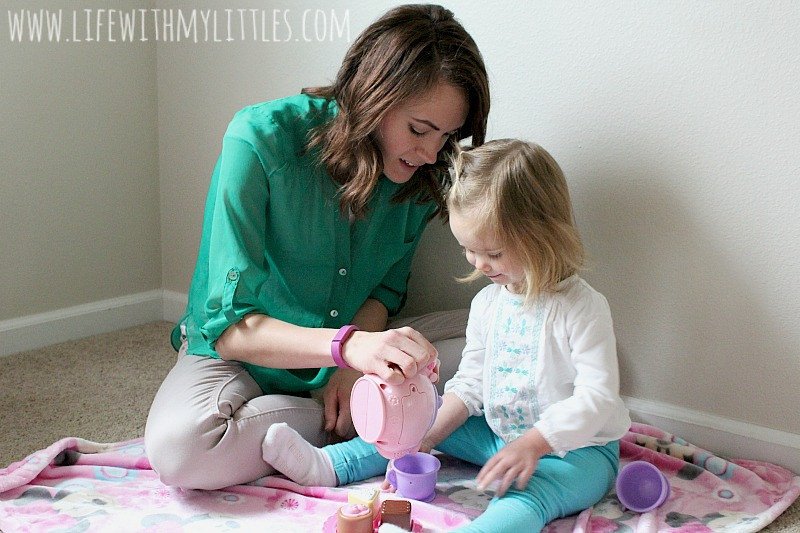 3. Manicures. I don't know if it's just my daughter, but she rarely sits still. It was easier when she was smaller because she would nap and I could do it, but that doesn't work anymore! But now she will usually sit still is when I clean and trim her nails. And then for days after she shows them to me and is just so excited. I love sitting and talking to her while I do it. It's a great mommy and me activity!
4. Dance. My kids both love music, and my daughter especially loves dancing. We love putting on music and spinning around the room while we hold hands and giggle. And it's easy to hold your baby girl and dance if she can't walk yet!
5. Cuddle! My son isn't big into cuddling but my daughter will if you're lucky! And I love getting the chance to snuggle up with her, even if we're just sitting and I'm telling her a story or reading a book. Little A has this adorable Disney Baby Minnie Mouse Plush Blanket from Walmart, and it is the perfect cuddle blanket! It's the softest blanket we own by far, and she loves the Minnie faces all over it! Like I mentioned before, she loves Minnie, so it's the perfect blanket for her. And I love it because it helps create special moments with my daughter! Little A will rarely cuddle without a blanket, so we've made this blanket our designated "cuddle blanket" for mommy daughter time! And because it's Minnie it's another way I am able to share the magic of Disney with my daughter!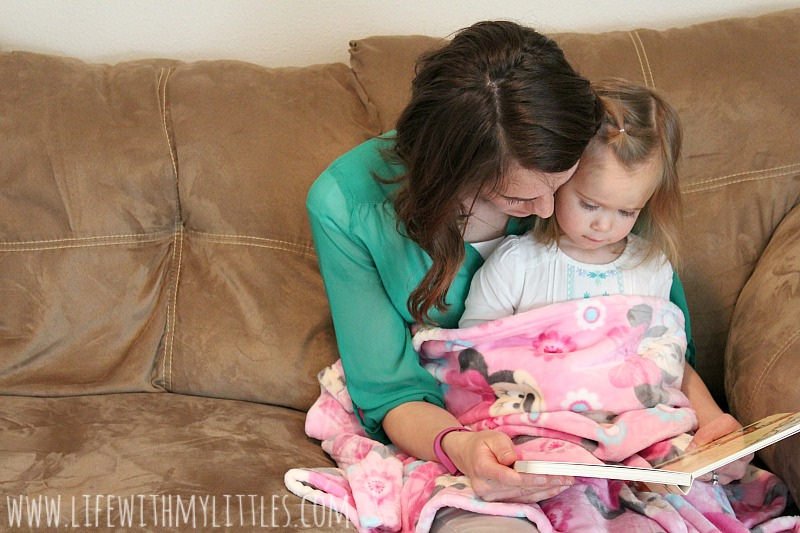 6. Dress-up. What little girl doesn't love dress-up? I remember when I was little I loved dressing up in my mom's old dresses, and even my grandma's old clothes and jewelry! And ever since she was big enough to walk, Little A has loved dressing up. She has a few princess dresses, some princess aprons my mom made her, little felt crowns, and even some cute bracelets! So let her dress up in some of your old clothes and jewelry. It's a great way to have special mommy daughter time!
7. Read books. I kind of already mentioned this, but reading books together is another great activity. I've been reading books to my daughter since she was a newborn. Now, we go to the library every week and I let each of my kids pick out a few new books to try. Little A usually gets a Disney book (she knows where they are!). We love reading new stories and ones from our own little bookshelf, too!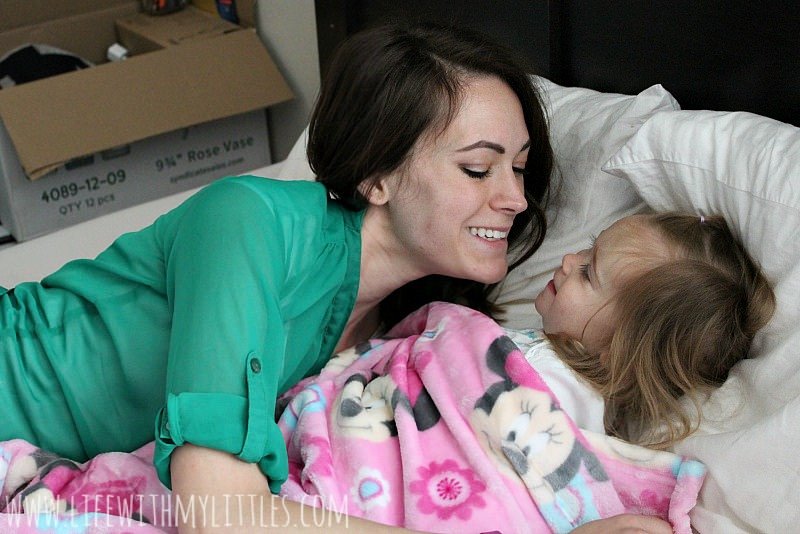 8. Go shoe shopping. Okay so that might sound silly, but letting your daughter try on high heels or sparkly flats is a lot of fun! My daughter is obsessed with shoes (we can't let her near them or she holds on to them with a death grip!). If your little girl is the same way, shoe shopping might be a fun activity for you two!
9. Do a craft or color. Crafts with babies don't have to be complicated, and since you have to help a lot and give a lot of attention when you're crafting with kids 0-2 years-old, it's a great activity for bonding. Coloring is the same way! We have a few Disney coloring books and I love sharing a page and coloring with my daughter!
10. Cook. When my daughter was smaller, I would put her in the high chair next to me while I cooked. She was interested in what I was doing, even if she couldn't help. Now that she is big enough to stand on a chair at the counter, I love having her help me bake. It usually is a lot slower and messier with her help, but it is fun to get her involved!
11. Go to a petting zoo. If your daughter loves animals, a petting zoo is a really fun way to get out of the house and have some 1-on-1 time together. Little A loves anything that looks soft, so she is a huge fan of animals. And I love watching her joy when she is around them!
I love having a daughter. I love bonding with her and sharing special moments with her, especially when they include Disney Baby! I'm so glad that she loves Disney as much as I do, and I hope that because of the time I'm spending with her now, she'll think of me as one of her best friends! I know having a daughter won't always be easy, but it's even more fun than I thought it would be!