If you're looking for the easiest way to move with kids, check out this amazing post! Super helpful and such a great idea!
This post is sponsored by U-Pack.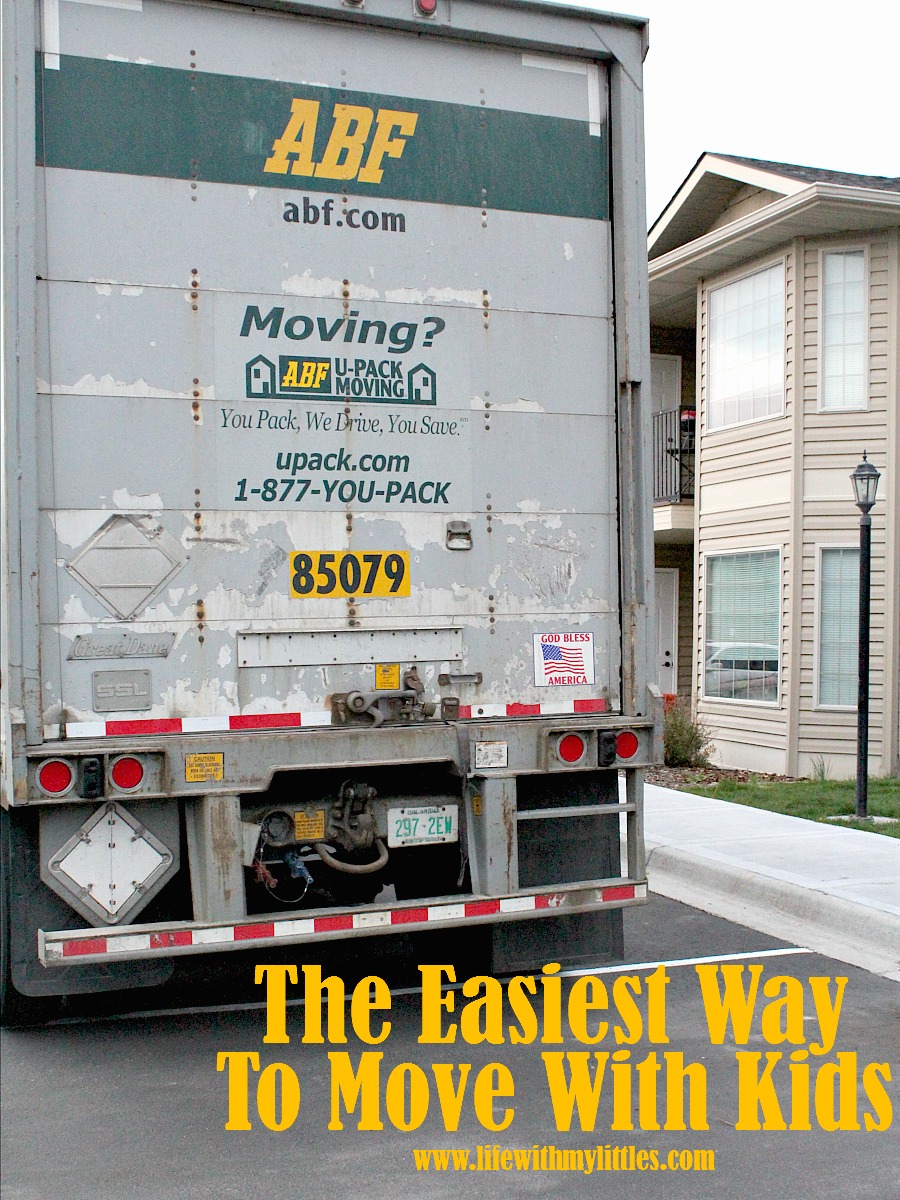 Two weeks ago we moved all the way from Idaho to Texas. In case you're wondering, it was a 23 hour drive that took us across five states. It was a long trip.
And if you've ever moved a long distance before, you may be familiar with the whole packing your moving truck and driving super slow at 55 mph, which adds like a million hours onto your drive. Plus, if you have two cars, you also have to tow one of them behind you. This was us when we moved from Iowa to Idaho last year, and it was the worst move ever.
But this time, we decided to go with U-Pack. If you aren't familiar with them, they bring a large trailer to your home, drop it off so you can load it up, pick it up when you are done, and then drive it to your new home for you. You only pay for the space you use, and it is amazing. It is by far, the easiest way to move with kids.
U-Pack made our move 1,000 times easier this time, and I am so grateful! If you are ever planning a move where you have to go a long distance, I highly, highly recommend them. Here are ten reasons why using U-Pack is the easiest way to move with kids.
1. You can take your time loading and unloading. When you use a regular moving truck, you pay for every day you have it. That basically means that you have to fill it up and unload it asap or you are going to be paying for extra days. When you have kids, this is no good. With U-Pack we scheduled the drop off two days before the pick-up, so we were able to take our time and we didn't have to rush to fill the trailer in if we didn't want to. And with the unloading, we were able to do it on our terms, which was amazing because we didn't have as many people helping unload as we did load! Also, they sent an email with tons of tips on loading and unloading, which was really helpful!
2. You don't have to pick it up or drop it off. Because the trailer gets dropped off and picked up by a driver, you don't have to worry about going to pick it up or taking it back like you would with a moving truck. It's nice because you don't have to waste any time getting ready to leave or getting settled in your new house.
3. You can leave before your truck leaves and get a head start if you want. We had scheduled our pick-up to be on a Friday, but we finished a day early and had it picked up Thursday afternoon. We were able to leave on Thursday morning and get a head start on our trip. With two kids, it was really nice to be able to leave when we were ready instead of waiting around or planning our trip around driving a slow truck.
4. You can drive your own car. Or more importantly, you don't have to tow your car. This was a huge deal for us. Last time we moved my husband had to tow his car behind the moving truck while I drove our van with the kids. It was hard. Most people aren't used to driving something so big and it can be scary! Being able to drive your own car instead of having to tow it is huge. My husband and I both took one of the kids in our cars and then traded off a few times. It was perfect and a great way to mix it up on the drive.
5. You can drive the speed limit, which means less time in the car. Like I mentioned before, you have to go like 55 mph when you drive your own moving truck, and it adds a lot of time to your journey when you can't go the speed limit. When you are driving your own car and you're able to drive the speed limit, you get where you are going faster, and have to spend less time in the car. Our kids did exceptionally well on the drive, but by the time we got to Texas we were very ready to be out of the car, and so were they.
6. Everyone is incredibly helpful and friendly. I interacted with several different people on the phone and in person during the whole process of scheduling, pick-up, and drop-off, and everyone was very friendly and answered all the questions I had. When you are moving with kids, you have enough to worry about, and getting to work with kind people definitely helped make the move easier on me.
7. You can track your trailer throughout the whole process. One thing I LOVED was that U-Pack sends you text messages, e-mails, and a tracking number so you can track your trailer online. It was fun to see where our trailer was at the end of each day, and how close it was to getting to our new home. Other companies who move your stuff don't always offer this, and when you are able to know where your things are and how soon they are coming, it just makes the whole process a lot easier.
8. You can get to your new house and clean before all of your stuff gets there. Up until our new house, I have always lived in apartments where cleaning checks are done, so I've always moved into a clean house. I didn't realize that when you buy a house, sometimes they aren't always clean when you get there! One thing that is nice about U-Pack is that you can get there ahead of your things and clean anything that might need cleaned before your stuff arrives. We didn't have a problem with this personally, but it can definitely make a difference for some people!
9. Peace of mind. During the whole experience with U-Pack, I just had such a calm peace of mind. I didn't worry about our stuff crashing or getting damaged or stolen. U-Pack drivers are experienced truck drivers, so you don't have to worry like you would if you were driving your own moving truck. They also provide a heavy padlock on the outside of the trailer that only they have the key to, so you don't have to worry about anything getting stolen. When we moved to Idaho I was so worried that someone was going to break into our moving truck and steal things in the night. I didn't worry about that at all this time, and it was all thanks to U-Pack. I knew our things were being taken care of, and that was one less thing for me to worry about!
10. Affordability. Sometimes getting a moving truck can be crazy expensive, which I think is why a lot of people choose to go with the drive-it-yourself option. But U-Pack is affordable, which makes it the best and easiest way to move. You only have to pay for gas in your car, which is way nice since the tanks are smaller and can be filled cheaper. Plus since cars obviously get better mpg than a moving truck, you are saving money everywhere you look!
And as a bonus number eleven, your kids will LOVE watching the trailer get dropped off and picked up! Both of my kids were in awe watching out the window and on the doorstep when our trailer was dropped off and picked up!
We loved using U-Pack for our big move, and it made the moving experience so much easier with our kids. If you have a long-distance move in your future, go check them out. They are an amazing company to work with, and I don't think I could ever go back to driving a moving truck! We won't be moving for 4 or 5 years, but next time I am definitely giving them a call! They made the move with kids 1,000 times better!