The top reasons why I'm glad I got married before Pinterest, and some advice for anyone planning their wedding!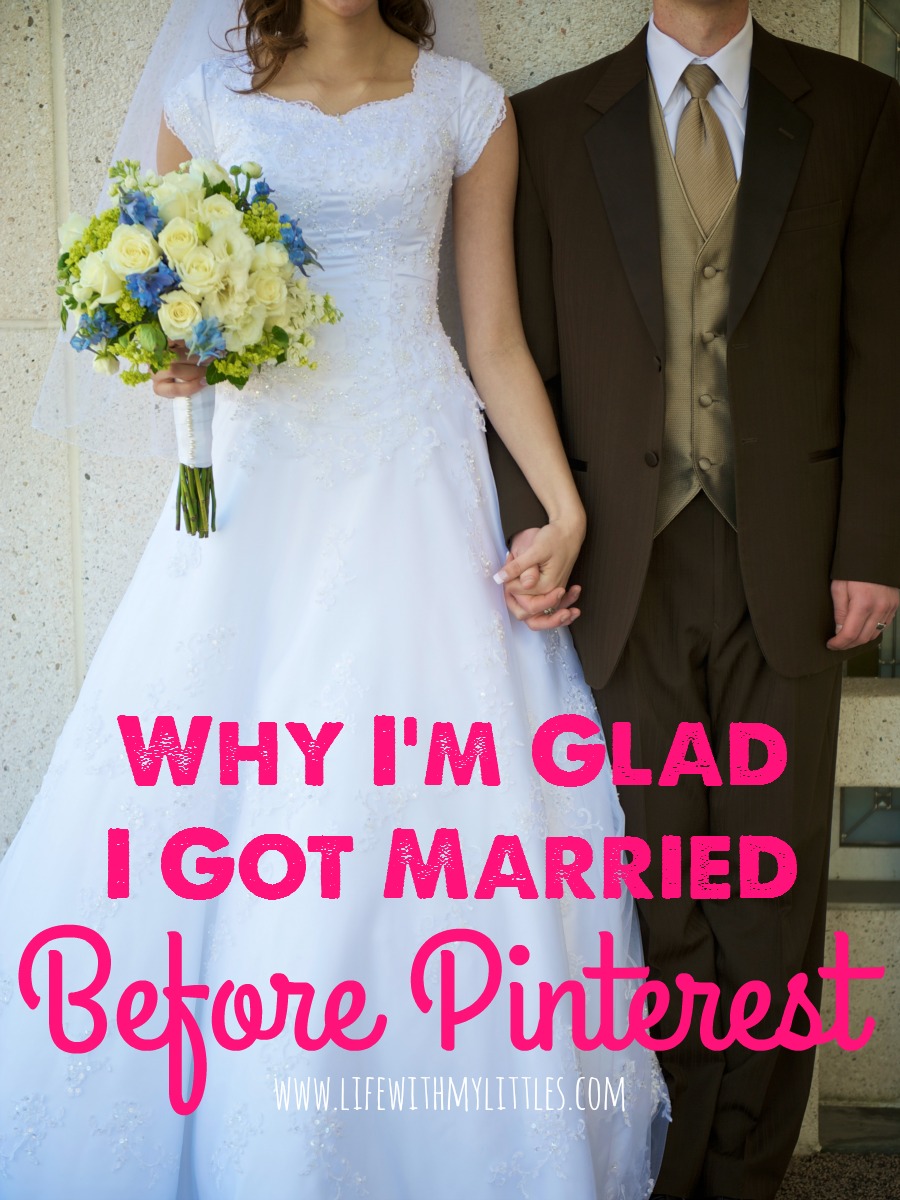 Pinterest is a fabulous, wonderful, and inspiring tool to help you create, plan, cook, and decorate. I use it every day, and it has given me tips, recipes, and ideas to help make my life easier. But, I am incredibly glad it wasn't around when I got married.
Pinterest was launched in March 2010, and I got married in April 2010, just one month later. I had to do my wedding planning the old-fashioned Google way.
Now anyone who has used Pinterest to plan their dream wedding is probably thinking "Yikes! How did you manage everything?!"
Actually it was really easy. Pinterest is great, but I think it really complicates wedding planning. So many ideas for perfect engagement and wedding pictures, reception decorations, color schemes, bridesmaid dresses, wedding rings, flower arrangements, and cake designs. Sometimes too much of a good thing can be a bad thing. All of that inspiration is hard to sift through, and it can be hard to decide on what you really want.
And when the only things you have at your disposal are bridal fairs and bridal magazines, you can't be too picky.
I picked my colors by finding shades of the Mister's favorite color and my favorite color and matching them together. I picked my bridesmaid dresses by picking a brand and a color and then handing the rest over to my bridesmaids to decide their own style. I picked my flowers by looking at booklets in flower shops. And for our receptions, I turned the reins over to my mom and my mother-in-law and trusted they'd make it special.
Now I know that not everyone is as laid-back as I am and I know that some girls have had their wedding planned since they were in elementary school, and that's great. But I really am glad that I got married before Pinterest was around. I didn't have to DIY anything to prepare, and all I had to do the day of my wedding was show up. It was perfect for me.
So for girls planning their weddings and turning to Pinterest for their inspiration, I have a few words of advice: don't get overwhelmed by all the fancy, elaborate ideas from weddings that cost four years of college tuition. Because at the end of your wedding day when it's just you two and you're finally husband and wife, all that's going to matter is that you're finally married.