Whoever wrote the airplane safety brochure wasn't a parent. Because as parents we put our children first.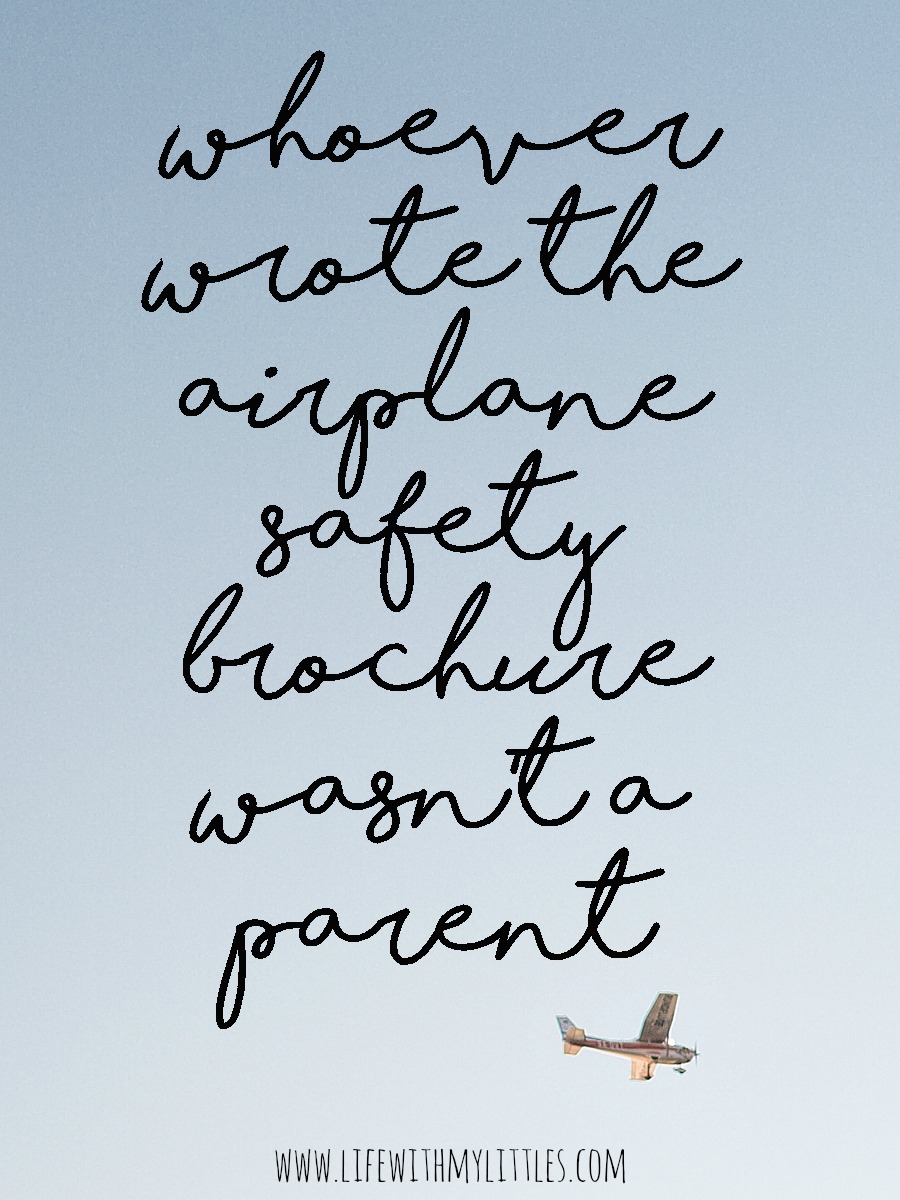 You know in the flight safety demonstrations when they say to "adjust your own mask before helping others" and then in the safety brochures they show an adult putting on their mask before helping a child?
I think it's pretty obvious that whoever came up with that wasn't a parent.
I mean think about it. If the oxygen masks suddenly drop from the ceiling, are you, as a parent, going to worry about yourself first? If you were about to crash into the ocean, would you put your own life vest on before putting on your child's? NO FREAKING WAY.
What kind of parent ever takes care of themselves before helping their child?
When was the last time you made and ate your own food before your kids had even finished eating? When was the last time you got your own seat belt on before making sure your kids had theirs on first? How often are you even dressed before your kids are?
Sometime between getting pregnant and holding your newborn the very first time, you automatically start putting your child's needs in front of your own.
And that kind of care multiplies in a dangerous situation.
If I was ever in a scenario where the oxygen masks dropped from the ceiling of a plane, you know I'm going to make sure my kids are safe from harm before I even think about putting my own on. And if any flight attendant has a problem with that, then they can just BACK OFF. My kids are always going to be my number one concern.
I'm sure that the person who wrote the instructions meant well, and they wrote that to make sure people don't pass out or something before they get their masks on, but come on. I'm definitely not going to sit there and watch my tiny children cry while I put myself first and put on my own mask. That's just not what parents do.
Parents put their children first in any situation. If your child throws up all over you, you take care of your child before cleaning up yourself. If your child asks for a bite of your dessert, what parent isn't going to give them one? What kind of parent would feed themselves before helping their child cut up their own dinner? We love our children, so we put them above our own needs.
So next time you're on a plane listening to the safety demonstration, go ahead and disregard that last part. Because as parents, we put out children first. And whoever wrote the airplane safety brochure wasn't a parent.