What is PMDD? PMDD, or premenstrual dysphoric disorder, can majorly impact your life. Here's what it's like to have it and why it's always okay to ask for help.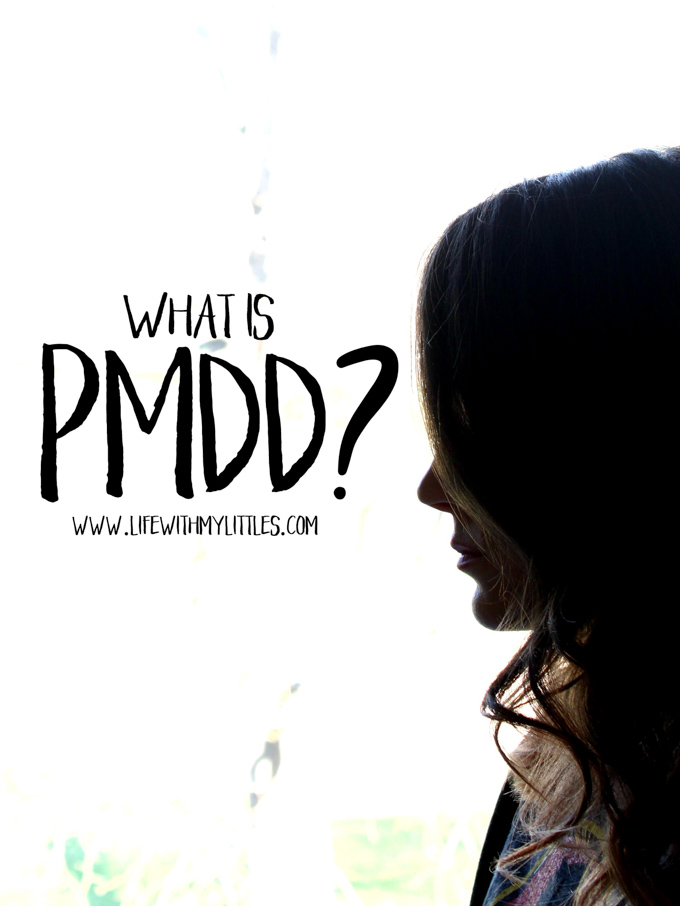 At first I thought it was just bad PMS.
Last September, the week before I got my period I noticed that I wasn't quite feeling like myself. I felt down, irritable, and unmotivated. I didn't want to do anything, I was overwhelmed easily, and all my normal responsibilities felt like way too much to handle. But I knew I was due for my period so I assumed it was PMS. I had just switched to a hormone-free birth control, and I figured my body was probably adjusting and what I was going through was normal.
I asked people on Instagram what they did when their PMS got out of hand and the answers didn't seem strong enough. "Eat some chocolate." "Go to Taco Bell." "Exercise." "A good movie." "Diet Coke." "Ice cream." These seemed like treatment for the PMS I had experienced in high school, not what I was feeling right now.
The next month it got worse. This out-of-control PMS started the week before my period and didn't end until several days after I got my period. It was starting to impact my ability to function and be the mom, wife, and friend I normally was. I was spending my days laying on the couch while my kids watched hours of television, I wasn't making dinner and we were picking up a lot of fast food, and I had even started wearing a hoodie with the hood pulled up over my head because it made me feel like I was hiding. I felt almost like two different people, my happy, normal, busy self during the first two-thirds of the month, and then like an irritable, unreliable zombie the last third of the month. It was horrible.
One day towards the end of my cycle, I broke down. I full on laid down on the carpet and sobbed. I tried to explain what was going on to my husband through tears, and he did his best to comfort me. Lucky for me he's a doctor, and he thought he had an idea of what might be going on.
PMDD. Not PPD. Not PMS. PMDD. Four new letters that stood for something I hadn't ever heard anyone mention before.
PMDD stands for premenstrual dysphoric disorder, and I refer to it as the evil cousin of PMS. PMDD feels like an out-of-control, emotional roller-coaster that you get on every month for 8-12 days. You recognize that you're acting differently, but there's very little you can do to stop it. It honestly feels like you're going crazy. Scheduling and planning things becomes complicated because you have to plan outings and events around your cycle. Little things drive you crazy, you snap at the people closest to you, you have anxiety attacks out of nowhere, and all you want to do is lay in bed with your head under the covers. It's miserable.
There's not a lot of research done on PMDD because it's a relatively new diagnosis. I had a hard time finding posts written by people who have actually gone through it, but after searching for a while, I found a few people who recommended trying St. John's Wort and cutting back on caffeine. One of my good friends even confessed to me that she struggled with PMDD, too, and that St. John's Wort had helped her.
In November, I tried taking St. John's Wort starting at day 14 in my cycle and I did feel better by the end of the month. But in December, things didn't go quite as well. I hadn't been taking it as long because I tracked my cycle wrong, and the last few days were pretty rough. We had family in town and even my mother-in-law noticed I wasn't acting like myself. I ended up taking two pills instead of one and it did seem to help, but then in January, the St. John's Wort felt like it had lost its effectiveness.
It was about this time that I remembered an episode from my favorite podcast Awesome With Alison where Alison talked about her struggle with anxiety. She said "Don't wait to get help until it gets worse…Twelve more hours of suffering is twelve more hours of suffering. One more anxiety attack is one more anxiety attack, and there is no magic number or rule of breakdowns or feeling down that you need to hit in order to reach out to get help."
I knew that it was time to get help.
I knew that I couldn't do this on my own anymore and that if I just kept waiting for it to get better on its own, it wasn't going to happen. PMDD was affecting my relationships with my kids and my husband, my business, and my ability to fulfill my responsibilities. I didn't want to stay miserable when I could get help.
I saw a doctor in January a few days before I was due to get my period. As soon as she asked me what was going on I broke down crying. I told her how I felt like two different people, how awful I felt from the time a week before my period to a few days after, how I was suffering and the people around me were suffering as a result, what I had tried to make it better, and how I just felt like I needed to reach out and get help. I had some blood tests that all came back normal and she prescribed some antidepressants and a vitamin D supplement. I went home feeling hopeful that things were going to turn around.
I wasn't on the medicine long enough for it to help during that cycle, but in February, I could definitely tell a difference when my "crazy time" (as I had started calling it) rolled around. I felt 90% better. By March's cycle, I felt like myself again. I was able to get things done on time, make dinner, and actually be there for my family. Some days are still hard and I've had to scale back my work a little in order to prevent the stress and anxiety from resurfacing, but for the most part, I'm figuring it out and feeling a lot better.
If you think you might be struggling with PMDD, find a doctor who will listen to you, show compassion, and help you feel like yourself again. There's no reason to wait until it gets worse.
I've been on antidepressants for three months now, and it's made a huge difference. I'm so grateful for modern medicine and that I recognized I needed to get professional help. It's hard to admit that I was struggling so deeply, but I think it's incredibly important to be honest and open about mental health. There's nothing shameful about struggling with a mental disorder.
Maternal Mental Health Awareness Week 2019
This week is Maternal Mental Health Awareness Week, sponsored by The Blue Dot Project, and it's something I'm very passionate about. You can't be the best mom you can be when you're struggling with mental health disorders (as I've discovered first-hand), and there are so many different mental health disorders that mothers struggle with. Postpartum depression, prenatal depression, postpartum anxiety, postpartum psychosis, anxiety, depression, OCD, PTSD, bipolar disorder, and PMDD are all real, all heavy, and all incredibly difficult to deal with on top of the craziness of motherhood.
This year's MMHW theme is #MakingOverMotherhood. The goal is to literally make over the way we talk about motherhood by talking about the things that mothers often hide–the real struggles. We all struggle with feelings of loneliness, guilt, worthlessness, sadness, and for many of us, these feelings are caused by mental health disorders.
The Blue Dot Project wants to make over the image of a perfect motherhood and the notion that moms can do it all without support. "With the prevalence of women suffering from maternal mental health disorders like postpartum depression as high as 1 in 5, acknowledging how difficult motherhood can be is critical to both potentially preventing these disorders by helping to set realistic expectations, and in letting women who are suffering know they are not alone" (from the MMHAW 2019 Press Release).
There's no such thing as a perfect mother, and the goal of the campaign is to encourage moms to post photos of what's really going on in their lives, including the things they don't want people to see. Motherhood is hard for all of us, and it's empowering and helps all of us when we share authentically without worrying about being judged or shamed.
Whether or not you're struggling with PMDD, postpartum depression, or none of these things, I challenge you to participate in the #MakingOverMotherhood campaign. Share what's really going on behind those happy, perfect pictures you post. Open up and let other moms know that things aren't perfect, we all struggle, and that's 100% okay. We shouldn't feel ashamed to share the hard parts of motherhood, because they definitely exist for all of us.
You're doing a great job, mama.
Not everything we share with our girlfriends or post to social media has to be perfect, because real life isn't perfect. We all have bad days mixed in with the good. It's okay to share the bad, because it helps us all realize that we really aren't alone in our struggles. You don't have to feel 100% super awesome all the time (spoiler alert: no one does), and you don't have to pretend like you are, either. We can't help each other or truly be there for each other if we don't open up and share when we're feeling down or stressed or like we're in a cloud. Next time you feel like crap and someone asks you how you're doing, it's okay to say not good. You're allowed to have feelings, and oh how big those feelings are sometimes.
It took me a while to get to a place where I felt like I could talk about what was going on (remember, this started in September, over seven months ago, and I've only vaguely hinted to it on my blog before today), but I'm happy to share my story if it helps another mama going through PMDD or any other MMH disorder realize that it's okay to ask for help. Don't wait another day to get help. You've got this, mama.
If you think you might be struggling with PMDD and want someone to talk to, feel free to reach out to me at chelsea@lifewithmylittles.com.