This shop has been compensated by Inmar Intelligence and Danimals®. All opinions are mine alone. #DanimalsSmoothies #Danimals
These two-ingredient fruit smoothie popsicles are so easy to make! Even kids can try out this simple recipe. Just grab some Danimals® and some fresh strawberries, and you've got everything you need to make a delicious frozen treat!
We're only a few weeks into summer vacation, and already my kids spend most of their days outside. They love riding bikes, drawing with chalk, playing in the backyard, running through the sprinklers, and constantly asking me for popsicles.
I wanted to do something special for them last week, and since I've amassed quite the collection of popsicle molds over the years, I thought I'd make them some homemade popsicles!
I wasn't sure what kind I wanted to make until I was stocking up at Costco, and I saw Danimals® Organic Drinkable Smoothies at the end of one of the aisles. My kids love Danimals®, and I love that they're a good source of calcium & Vitamin D, they don't have any artificial flavors or high fructose corn syrup, and they don't include any colors from artificial sources. Plus, I knew I could easily freeze them in popsicle molds! Save $3.50 off of Danimals® Organic Drinkable Smoothies at your local Costco now through July 27th​!​
Since I'm always looking for ways to get my kids more fruit, I thought I'd chop up some strawberries and add them to the popsicles! The Danimals® from Costco come in strawberry and strawberry banana, so fresh strawberries go with both flavors!
My kids LOVED their popsicles. They were asking for them as soon as I put them in the freezer! Luckily the Danimals® came in a 36-pack, so we can make a lot more popsicles!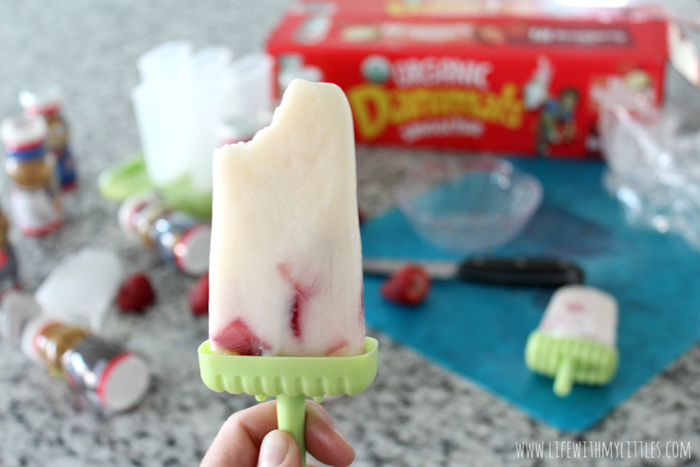 Making your own 2-ingredient fruit smoothie popsicles is super easy. Honestly, it's a great recipe to let your kids try out!
2-Ingredient Fruit Smoothie Popsicles
First, wash and chop up some fresh strawberries.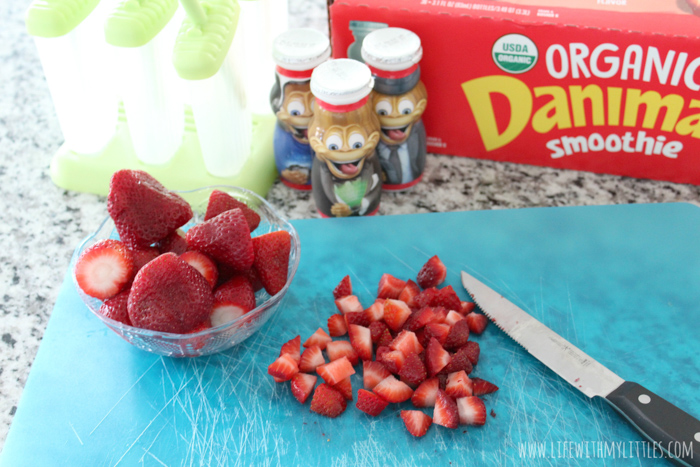 Next, grab your popsicle mold and fill each mold with Danimals® drinkable smoothie until there's about 3/4″ space left at the top.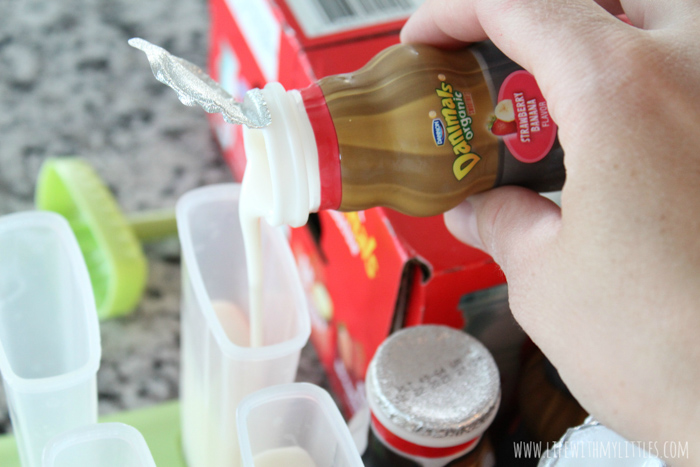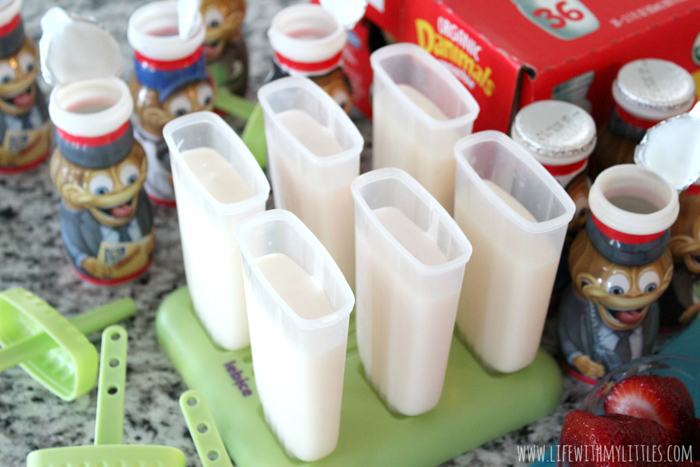 Now sprinkle in your fresh strawberries!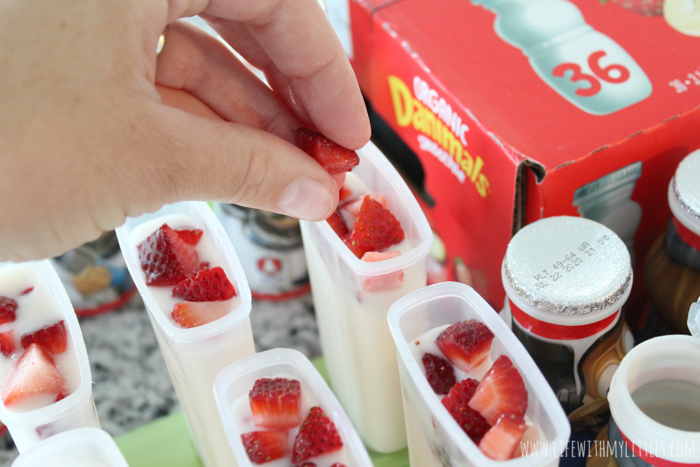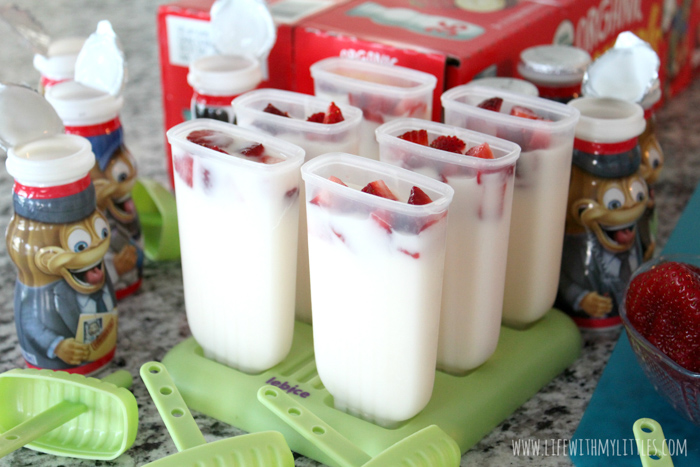 Pour a tiny bit more smoothie into the mold, put on your popsicle lids or slide in your sticks (depending on what mold you have), and pop your two-ingredient fruit smoothie popsicles into the freezer for about 4 hours.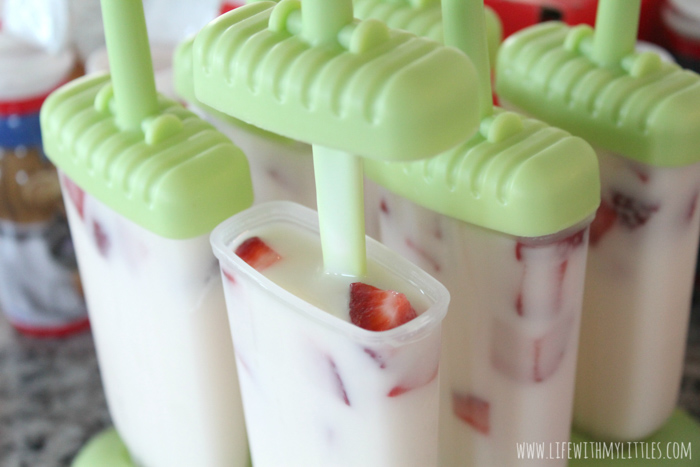 When they're completely frozen, pull them out and pass them out!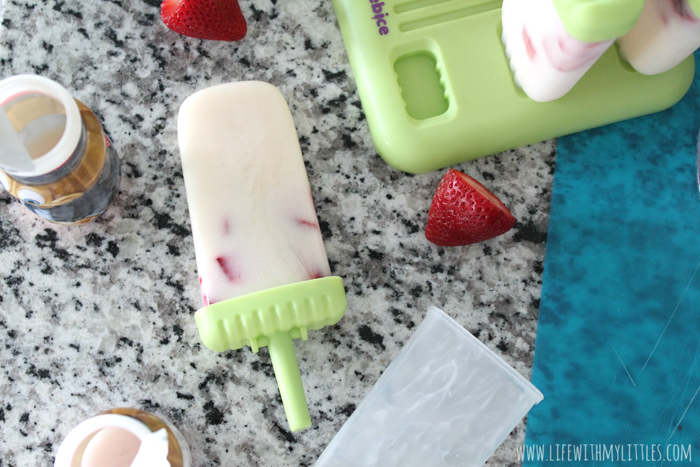 Note: if you have trouble getting your popsicles out of your mold, immerse the whole mold into a bowl of warm water for about a minute. When your popsicles can slide out, pull them out and wrap them in plastic wrap. Freeze them for another 30 minutes and they're ready to go!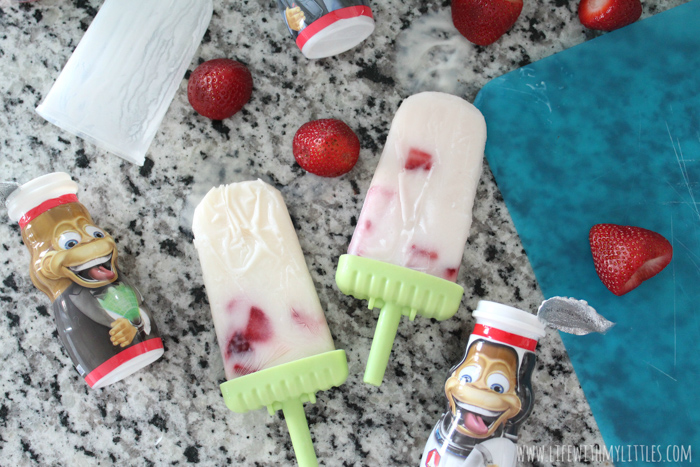 I know we'll be making a ton of these easy popsicles this summer. My kids loved them, and honestly, I enjoyed them, too!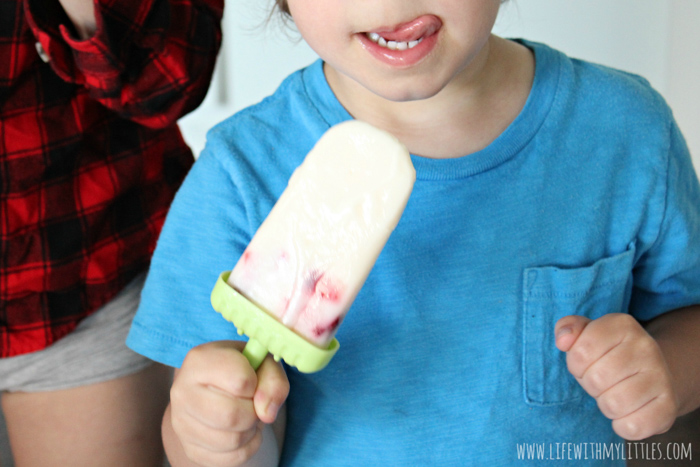 Make sure you check out Danimals® at Costco!