This tomato tortellini soup made in the slow cooker is such an easy, simple recipe! If you're looking for a delicious crock pot recipe, this is it!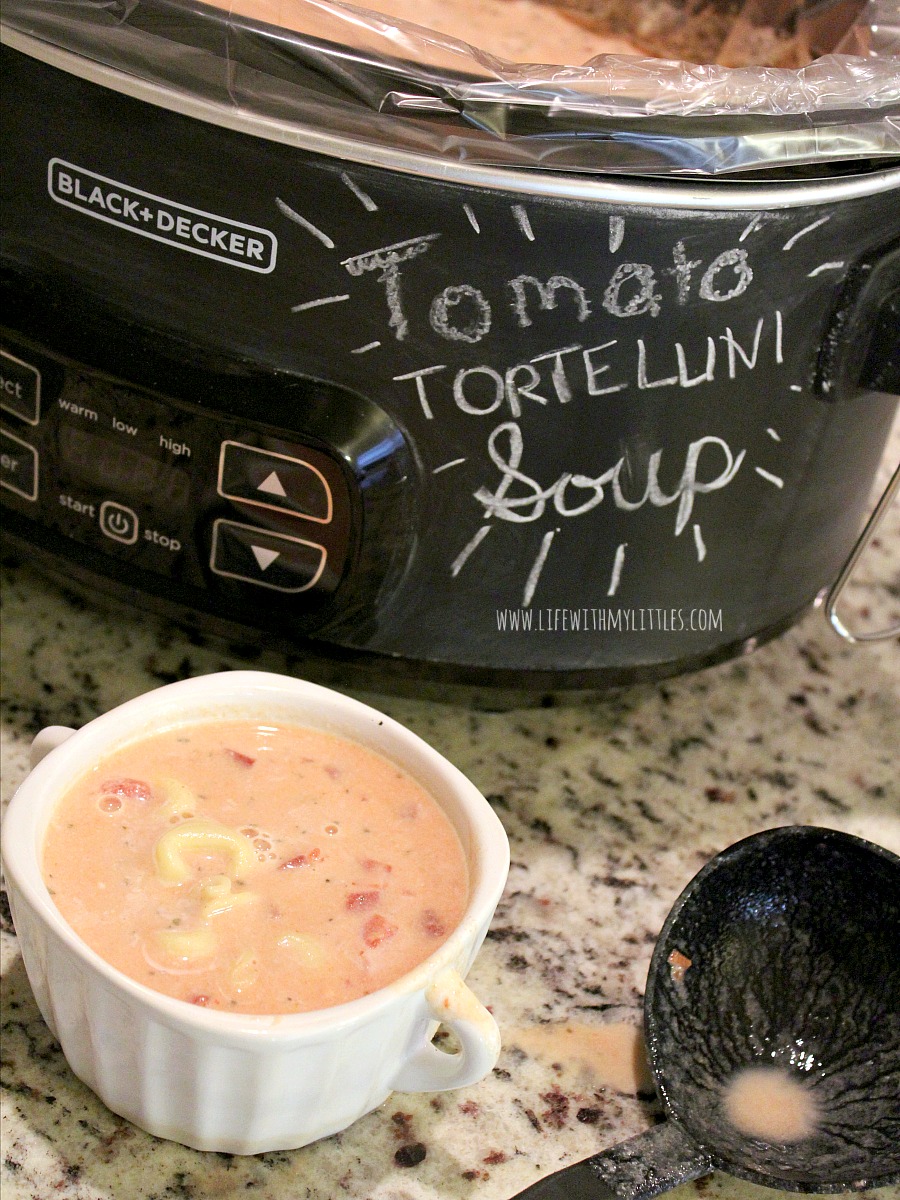 One of my favorite things about the holidays is cooking. I love cooking up big meals for my family, whether that includes my in-laws or just my immediate family. I've now made Thanksgiving and Christmas dinner on my own several times, and while I love doing it, it definitely takes some planning!
One thing that really helps me pull everything together when I only have one oven to cook in is my slow cooker. I just got the new BLACK + DECKER® Portable Digital Slow Cooker and I love it! With its full chalkboard wrap, no mess locking lid (so you can bring it places without worrying about spills!), and easy to use digital control panel, it is easily my new favorite kitchen appliance!
Having a good slow cooker is a MUST when preparing a big dinner around the holidays. You can make almost anything in the slow cooker, so it's a great appliance to have around. And you can pretty much just throw everything in, walk away for a few hours, and then have a delicious meal, side, or dessert ready for you without any hard work!
One recipe that I love making in the slow cooker is Tomato Tortellini Soup. It was one of the first recipes I successfully made after my husband and I got married over six years ago. He was so impressed that our dinner was full of flavor and that I had made it 100% myself, since up until then most of our meals came from a box! I have actually made several changes to the recipe since then, and now it's even better and easier. One of these awesome changes was making it in the slow cooker!
It's super easy and is a perfect warm soup for the holidays. Plus, you can just toss everything in, go take care of other holiday-related things (wrap presents, bake pies, read Christmas books with your kids), and then come back and have a delicious dinner waiting for you!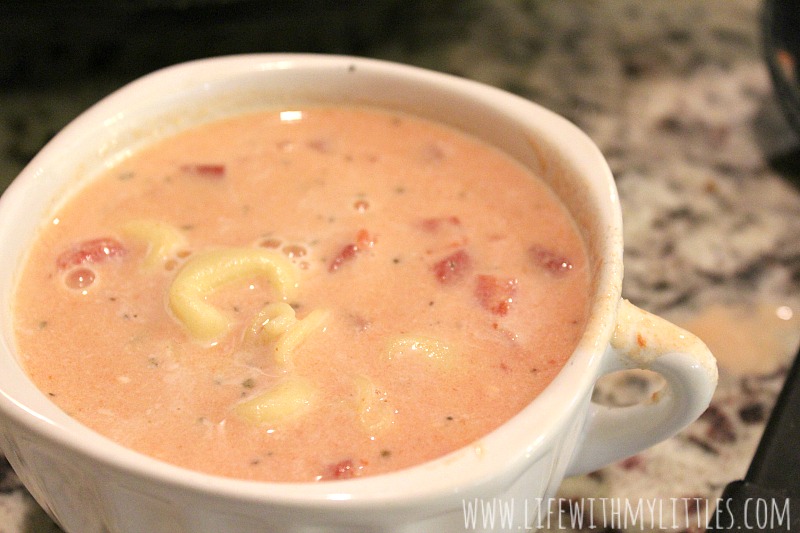 Yield: 6 servings
Tomato Tortellini Soup
Prep Time: 10 minutes

Cook Time: 3 hours

Total Time: 3 hours 10 minutes

This tomato tortellini soup made in the slow cooker is such an easy, simple recipe! If you're looking for a delicious crock pot recipe, this is it!
Ingredients
1 (19 oz) package frozen cheese tortellini
2 cans tomato soup
2 cups vegetable broth
2 cups whole milk
2 cups half-and-half
2 cans petite diced tomatoes, drained
1 tsp. onion powder
1 tsp. garlic powder
1 tsp. basil
1 tsp. salt
1/3 cup shredded Parmesan cheese
1/3 cup shredded Mozzarella cheese
Instructions
Combine all ingredients except tortellini and cheese in slow cooker.
Cook on high for 2 hours.
Cook tortellini according to package directions. Drain and add to slow cooker.
Cook on high for 1 more hour.
Before serving, stir in cheese.
The holidays can sometimes be busy and full of running around, but BLACK + DECKER® is there to help make them easier. And not only do they make slow cookers, but they also make toaster ovens and rice cookers that are perfect gifts for the holidays! They're useful, relatable, and will help make life easier for you and everyone in your life who could use a little extra help!
BLACK + DECKER® small home appliances are the perfect way to make the holidays easier to manage, and you can check them out on Amazon!
Happy holidays, mamas!
This is a sponsored conversation written by me on behalf of BLACK+DECKER® . The opinions and text are all mine.