Currently December 2016: What's going on this month for Life With My Littles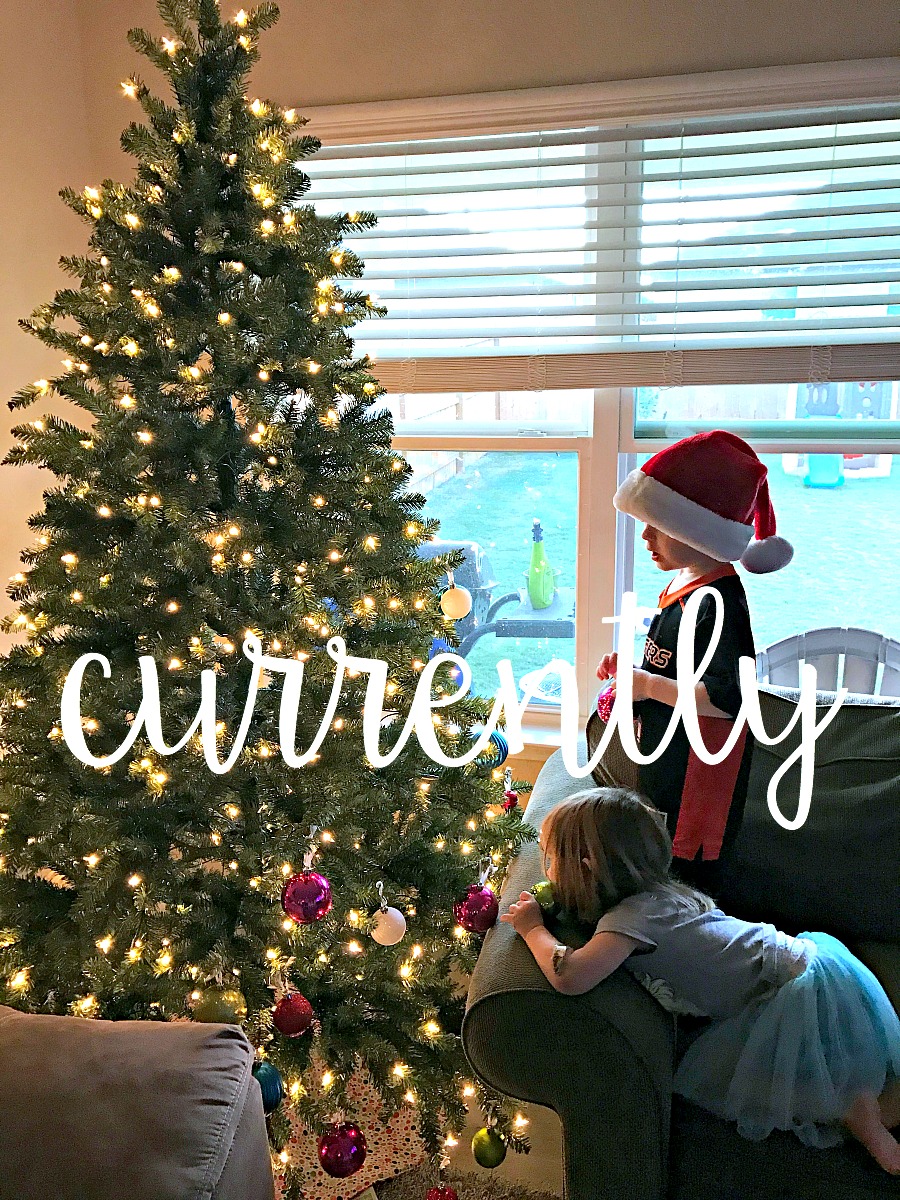 Hey there, mamas! Happy last month of 2016! And (almost) Merry Christmas! I am so excited for Christmas this year, and believe it or not, I only have a few more presents to get and then I will be completely DONE with Christmas shopping! November went by super fast for us because my husband only had four days off the whole month and was on call every five days. That sounds worse than it was! It really messed up my sense of what day of the week it was, though! We had a great Thanksgiving with some other resident friends and enjoyed a fried turkey (courtesy of my husband and his new fryer) and four different pies (pie for DAYS!). The weather is finally a good temperature and we're really enjoying not having any snow to drive in! And we also hung up Christmas lights for the first time ever on our house (since we've never had a house before)! Yay!
Here's what's going on this month for me!
Preparing for a photoshoot tomorrow! That sounds fancier than it is haha. My photographer friend Steph is going to be shooting the cover of my book for me tomorrow! I don't want to give it away, but it involves a giant wooden board I painted pink and my baby bump. I actually am kind of excited that I get to use my own bump for the cover, since I wasn't really expecting to be this pregnant by the end of the year, but it worked out! Anyway, I will probably have her do some new headshots, too, so I'll probably add those to the site and update my social media pics soon!
Anticipating a normal work month for my husband. His first year of residency hasn't been too bad (for me at least), but November was a little harder in terms of his schedule. This month he is working a more normal schedule where he gets Saturday and Sunday off every week, and he doesn't have to be there until 8 in the morning. Woo! I'm hoping this means more time with him. He also gets Christmas Eve and Christmas off since they are both on the weekend, and possibly another day off, too. That would be fantastic!
Sending presents and Christmas cards. Like I said, I have almost all my Christmas shopping done already (thank you, Black Friday!). Like, stocking stuffers, gifts for my husband and kids, and extended family. There are only a few stocking stuffers left that I need to get and then gifts for two more people in my extended family. So I'll hopefully be sending those all out in one trip to the post office. I also already sent all of our Christmas cards out! We opted not to do family photos this year since you know, giant belly, but I took some pictures of the kids and put those on a card to send to our friends and family. They turned out great and I love them!
Focusing on being productive and spending time with my family. I'm going to be taking the last two weeks of December off from posting to get ready for January and February (since baby will be born in the middle) and to spend the holidays with my family. We aren't going anywhere, but I feel like I want to just take a little break while I can before things get crazy and baby #3 gets here. I also have some work that I have been wanting to do but haven't had time to, so I'm hoping to get some of those things done during that time. So if you notice I haven't posted in a while, don't worry! I'll be back!
Finishing the nursery! I did finish baby boy's quilt last month (it's amazing!) and now I only have a few things left to get to finish up the nursery. I want to get a rug, but we'll see. I also want to do a gallery wall and install a dimmer switch for night feedings and changings. And I know this has nothing to do with the nursery other than that I was inspired to do it because of baby's quilt, but I decided I want to sew Little J a real quilt, too, because when I was pregnant with him I didn't make him a big nice quilt like I did for Little A and now baby. Plus when I asked him if he wanted one he got really excited about it. So I need to find some fabric for that!
Recovering from sicknesses. The kids have sort of been going back and forth being slightly sick, and this past week they have both been sick at the same time. We're talking awful, phlegmy coughs and runny, stuffy noses. Up until probably November they almost never ever got sick. So this is very odd for them, and weird for me. Consequently, we haven't been getting the best sleep at night because Little J (who from like 5 months until a few weeks ago) had only woken up in the middle of the night like three times, not counting having to go to the bathroom. But hopefully they are on the mend and will be a lot happier and not so miserable soon!
Well that's it! I'm having a lot of fun planning Christmas advent activities and moving around our Elf on the Shelf every day. December is one of the best months of the year, and I'm excited for everything fun we have planned! Merry Christmas!