Here's an easy way to get your toddler involved in Thanksgiving baking by decorating OREO Cookie Balls!
This shop has been compensated by Collective Bias, Inc. and its advertiser. All opinions are mine alone.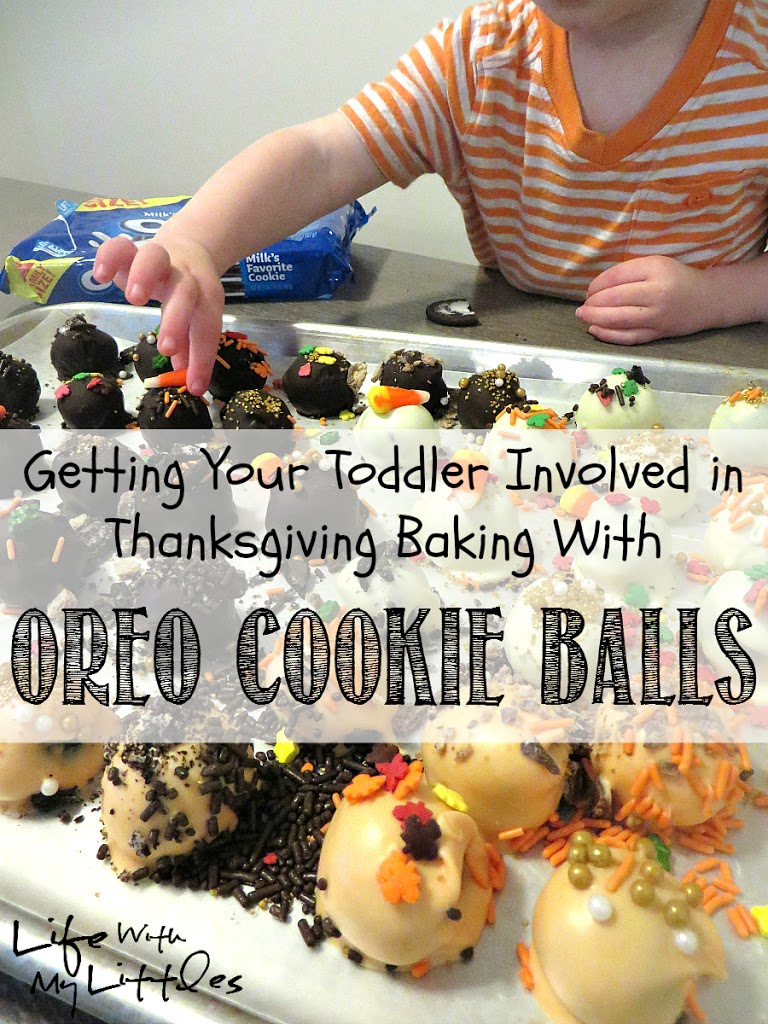 I love Thanksgiving. Growing up, my sister and I used to help every year when we went to my grandparents' house. Our favorite thing to do was to peel and mash potatoes. I have really fun, happy memories of Thanksgiving, and I want to make sure my children have that, too. One way I want to do that is by getting my kids involved in making the food. Last year, Little J was only 8-months-old for Thanksgiving, so he wasn't able to do much. But now that he is 20-months-old, I decided I was going to find ways to get him involved in Thanksgiving baking, and one easy way to do this is by making OREO Cookie Balls!
I wanted to involve Little J as much as possible, so when we got home, I let him help me crush the OREOS in my food processor. It's a small one, so he was able to help put the cookies in and press the button to crush them. He doesn't get to sit on the counter very often, so he thought it was pretty cool that he was up there helping me.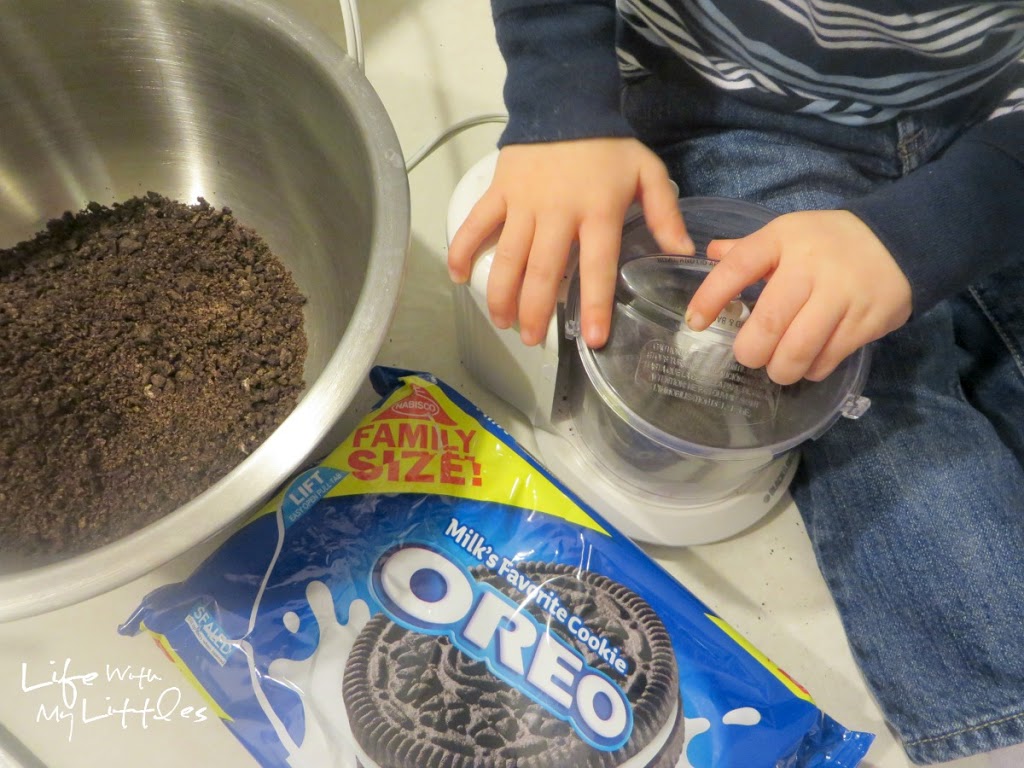 After I mixed the OREOs with the cream cheese, rolled them into balls, and froze them for 10 minutes, I started getting the decorations ready in little paper cups. He was really interested in what I was doing, and I was glad that he knew something fun was happening. I placed my freshly-chocolate-covered Cookie Balls and the decorations on a cookie sheet, and let him go to work!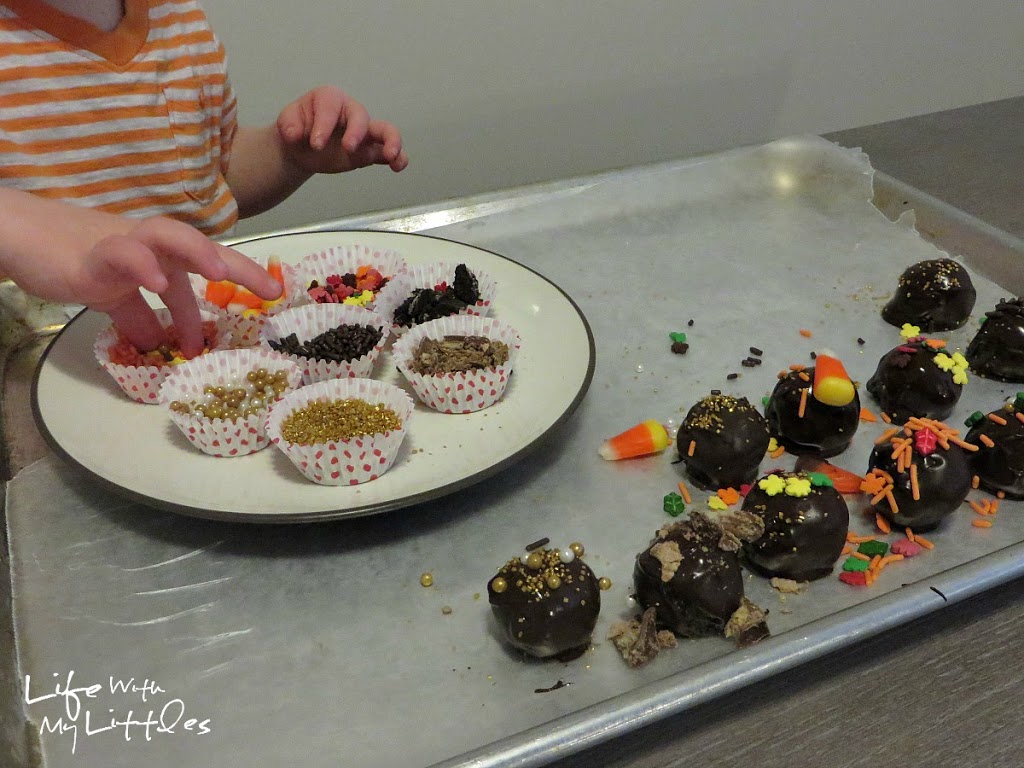 Little J was a natural! He did end up eating a lot of the candy corn, but every time I had to take the tray to dip more Cookie Balls, he got upset. He did pretty well, and it was a great way for him to work on hand-eye coordination as well as the fine-motor skills it took to grab some of the decorations. Putting the decorations in the little baking cups was perfect for his little hands!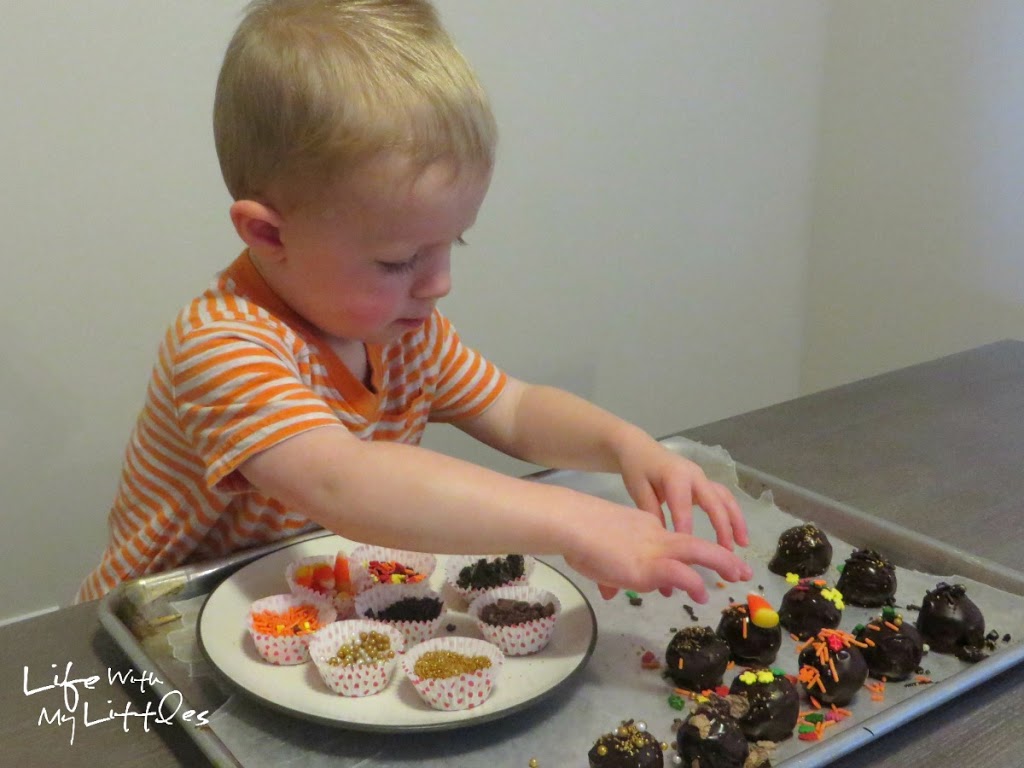 This was such a great way to get Little J involved in Thanksgiving baking, since a lot of the other things he won't be able to help me with. And it kept his attention the whole time, so I know he had a lot of fun.
Making OREO Cookie Balls is a great way to get your toddler involved in Thanksgiving baking, too. And with only three ingredients, they are super simple to make.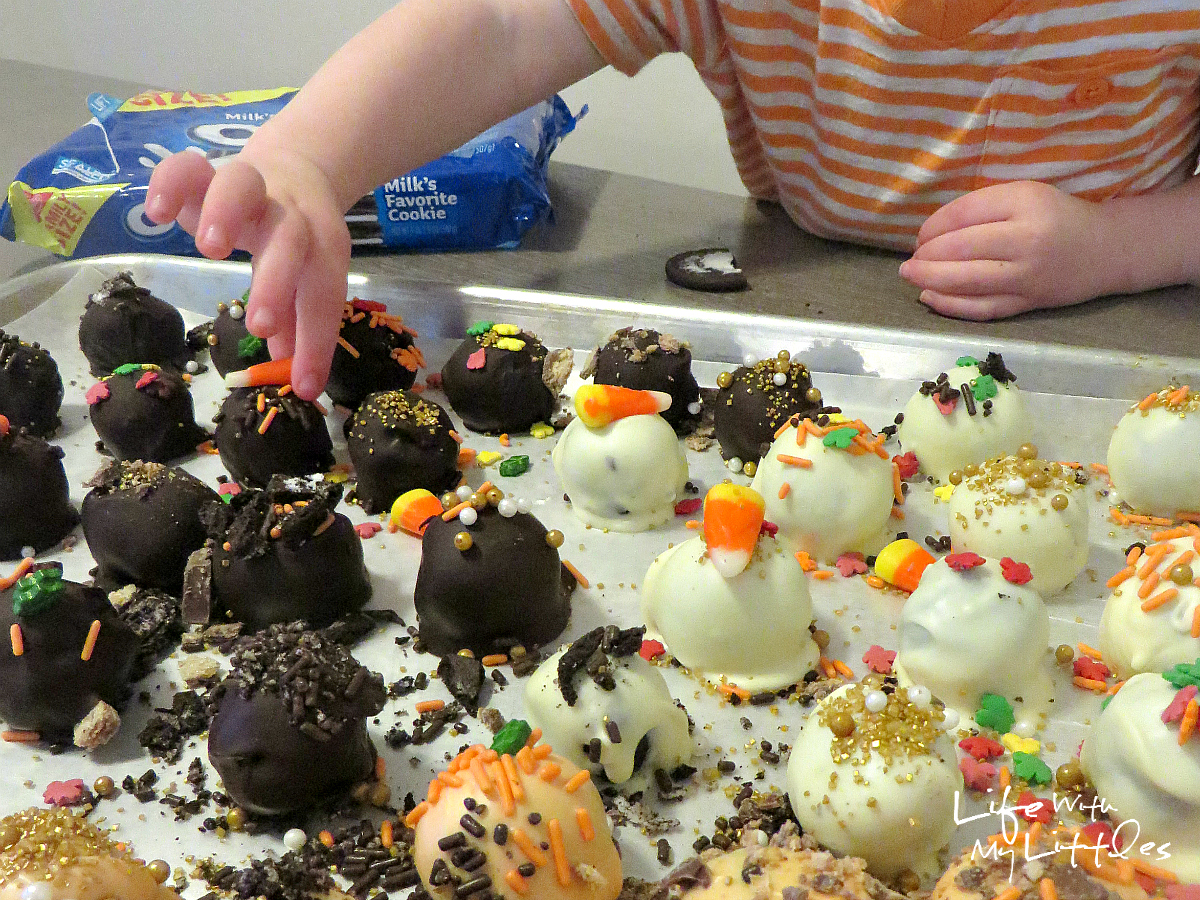 Yield: 48 cookie balls
Official OREO Cookie Balls
Prep Time: 30 minutes

Cook Time: 1 hour 10 minutes

Total Time: 1 hour 40 minutes

Here's an easy way to get your toddler involved in Thanksgiving baking by decorating OREO Cookie Balls!
Ingredients
1 pkg (8 oz.) brick cream cheese, softened
36 OREO Cookies, finely crushed (about 3 cups)
4 pkg. (4 oz. each) semi-sweet baking chocolate, melted
Instructions
MIX cream cheese and cookie crumbs until blended.
SHAPE into 48 (1-inch) balls. Freeze 10 min. Dip balls in melted chocolate; place in single layer in shallow waxed paper-lined pan.
CUSTOMIZE it with your own ingredient additions or edible decorative skills.
REFRIGERATE 1 hour or until firm.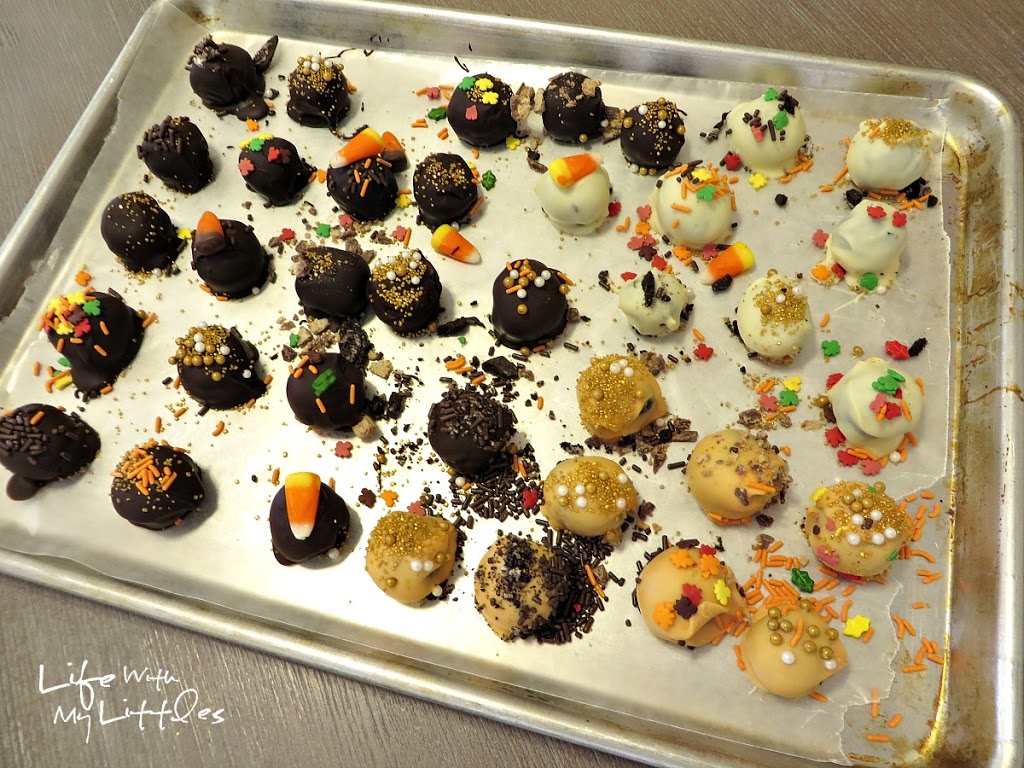 Here are some tips to make decorating OREO Cookie Balls with your toddler easy:
Dip the Cookie Balls in small numbers and let your toddler decorate them as they go.
Don't worry about stray sprinkles, candies, or other decorations. It's going to get messy and that's okay!
Use a wide variety of different toppings so your toddler has several things to choose from.
Put your decorations in mini cupcake wrappers. The shallow cups make it easy for your toddler to grab the decorations, and they are small enough that even if your toddler picks them up and dumps them, it's not a big loss.
Have extra candies on hand. Your toddler will eat them.
Decorate the OREO Cookie Balls right after you dip them. The chocolate dries faster than you would think!
Have fun! Your toddler certainly will!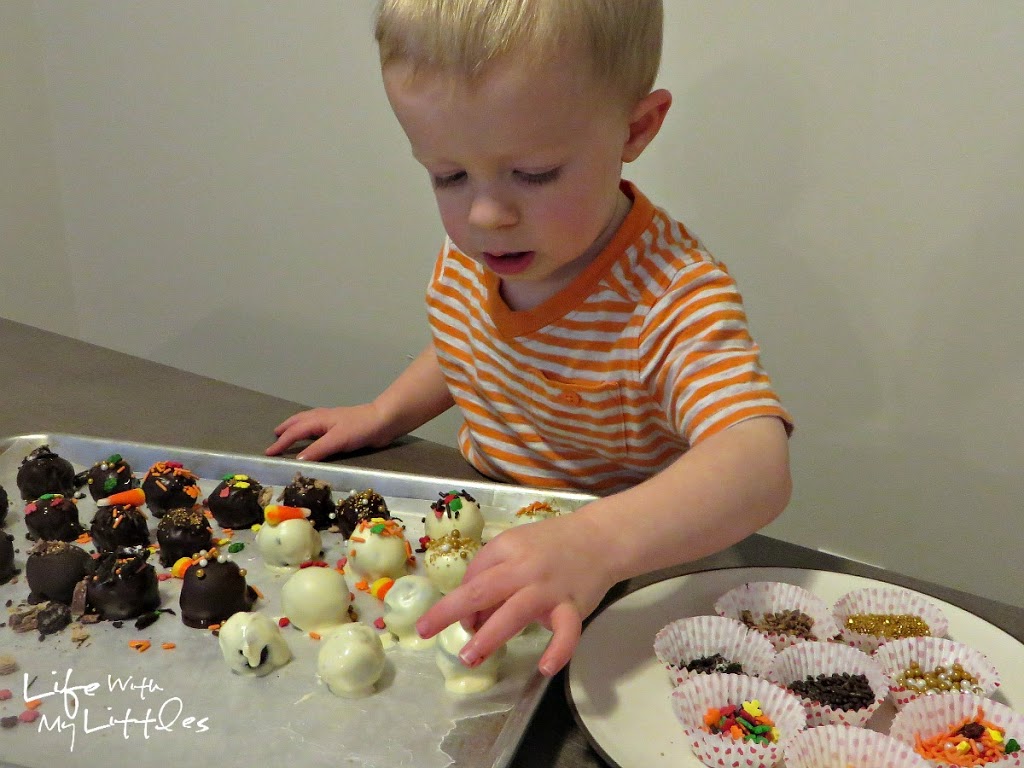 Little J and I both had a good time making and decorating these delicious Thanksgiving treats. It was such an easy way to get him involved in Thanksgiving baking, and I can't wait for his sister to be able to help next year!
What tips do you have to get your toddler involved in Thanksgiving?