This toddler apron is so cute and easy! The pattern and tutorial are free, and you can pick your own fabric so your toddler will love it!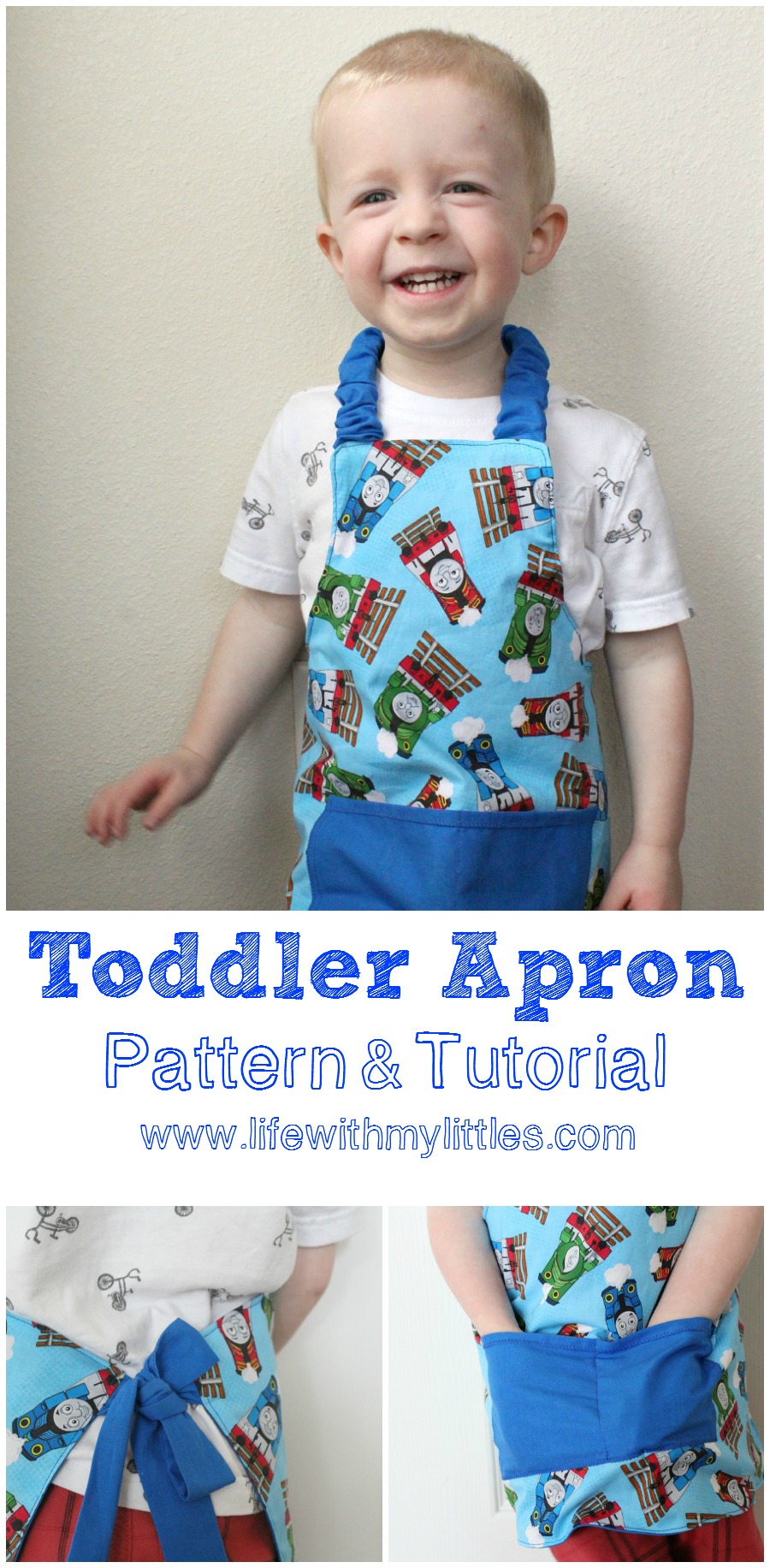 With Little J helping me in the kitchen so much recently, I decided that he needed a cute little apron. The only problem was that I couldn't find any inexpensive cute toddler aprons, especially for boys, and especially one that my son likes enough to actually wear every time.
So what does the crafty mom do in a crisis like this? She makes her own, of course! And I had to share it so other moms with this problem could make aprons for their toddlers, too. The best part is that you can pick fabric that your little guy (or girl) will love and want to wear every time they help you in the kitchen!
This tutorial has 17 steps, but it's super simple and not hard to understand. You shouldn't have a problem if you look at the pictures, and if you have a question, just leave me a comment and I will reply with an answer!
All you need for this cute toddler apron are:
12″ of 3/4″ elastic
3/4 yd. of 2 coordinating fabrics
Coordinating thread
Pattern
Now here's how you make it!
1. Prewash and iron your fabric. PLEASE don't skip this. If you don't prewash your fabric, the first time you wash it it's going to shrink in weird places and your apron won't look quite as good. So wash it, iron it, and then sew it.
2. Cut 2 pockets 9×5″ from the edge of each fabric. So you will have one of each.
3. Cut 1 21×3″ rectangle and 2 3×14″ rectangles from the back fabric.
4. Put the pattern together, and use the pattern and cut the apron piece, both front and back, along the fold.
5. Iron the three rectangles you just cut in half hotdog style (elementary school!), and then iron the two pockets by folding the two shorter sides 1/4″, then the two longer sides 1/4″. Then fold down the top another 1/4″ and iron it again.
6. Sew the sides and bottom of the pocket with 1/4″ seam.
7. Sew the top of the pocket with a zig-zag stitch.
8. Sew the pocket onto the apron on the sides and bottom using a zig-zag stitch. Don't stitch the top!
9. Sew a line down the middle of your pocket to make it a double pocket.
10. Repeat with the other pocket and the other side of the apron.
11. Sew 21×3″ strip in half hotdog style, and flip right-side out.
12. Feed elastic through and sew at each end to hold in place.
13. Sew the 14×3″ strips in half hotdog style, and close ONE of the ends on each. Then flip right-side out and iron so it lays flat.
14. Lay down one layer of your apron on the floor, and lay your straps so that the open ends hang off the edge of the apron 1/2″. Lay down your elastic at the top of the apron, and stick the edges out far enough that where you stitched them won't show once you sew it (the picture makes this a little clearer).
15. Lay down the top aligned with your bottom. Pin all the way around, especially making sure to pin your straps in place.
16. Sew all the way around, leaving 2″ opening at the bottom.
17. Flip and topstitch close to the edge, making sure to close the hole that you left open.
Little J LOVES his new apron, and every time I get mine on to cook or bake he immediately goes to grab his. It's the cutest thing, and I know that just this simple little project will help him enjoy cooking with me more. I hope it helps you and your toddler have more fun in the kitchen, too! And for tips on cooking with a toddler, you can check out last week's post here.