Tips for running after your baby is born. Great for both pre-pregnancy runners and new runners alike! Plus a printable running calendar!
This post is sponsored by Sports Authority.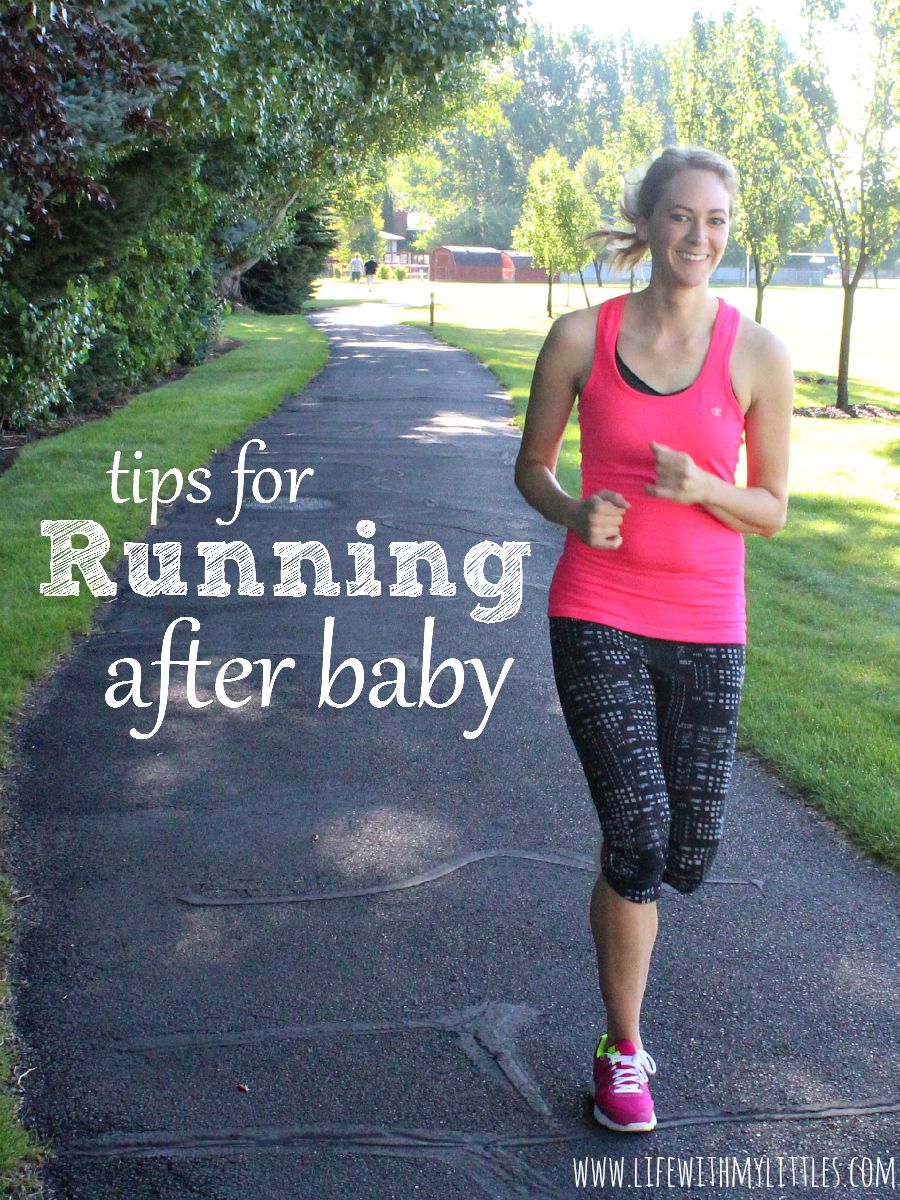 After my son was born two years ago, I realized that my fast metabolism I had so heavily relied on growing up was not going to get rid of my baby weight. I gained 50 pounds when I was pregnant with him, and most of that was from me eating a ton. So after he was born, I knew that I was going to need to find an exercise that I liked that would help me get rid of all that extra weight. I had never been a runner, but I had a good friend who asked me if I would like to run with her. I said yes, and I quickly fell in love with running.
But running right after you have a baby is difficult. There are some things you don't realize or think about until you start running, and then when you do realize them, you wish you'd known them sooner. So lucky for you, I realized all of those things, and after my daughter was born, I put them into practice and running was so much easier! I haven't been running as much as I would like, but I made a cute motivational printable to help get me out the door. Today I am going to share tips for running after your baby is born, along with my free printable!
1. Kegels. When you are still in the hospital after your baby has been born, the doctor will tell you to do kegels. You say you will, but then you never do. Guys, if you are planning on running to get back in shape, you want to do your kegels. It makes a huge difference. With Little J I didn't do them and then when I first tried to run I wished I had. So I did them when Little A was born and running was no problem for me and my bladder! So do them. Seriously.
2. Stretch before and after you run. Your body just went through something insane. Childbirth is a wild ride, and it takes your body more than the standard 6 weeks to recover. So before you run, make sure you stretch your body. And after you run, stretch to make sure your muscles don't get tight. You want to go running again so you want to take care of your body so you can!
3. Start slow. Even if you were a marathon runner before getting pregnant, you aren't going to want to go out and run a super long distance the first time you run. Start slow and then each time, go a little bit farther. And it's totally okay if you need to take breaks at first. Your body will get back into shape and you won't have to take them after you go a few times. But don't go for a super long, hard run your first time out. You will regret it.
4. Wear the right clothes. When you go running, you need to make sure you have clothes that are going to support your body and keep you cool and dry. You can't go run in regular pants or you're going to be super uncomfortable. Wearing some stretchy, light athletic pants makes a big difference.
And of course you have to wear a cute workout tank, too!
Making sure you pick the right clothes when you are running is super important. It can make a huge difference in how hot and tired you get, and how comfortable you are during your run.
5. Hydrate a lot. Both during, and after your run! This is especially important for new moms who might be breastfeeding. But regardless, you need to make sure your body gets enough fluids when you are working out.
6. Invest in a jogging stroller. If you are going to be jogging with your baby (or in my case, baby and toddler), you are going to want to have a good jogging stroller. Our bike trailer actually turns into a stroller, so that's what I use. But trust me when I say there is a difference between using a regular stroller and a jogger. You are going to want the jogger! If you know you aren't going to be running with your baby, then it's probably fine if you don't have a jogger, but you don't have to wait until baby is in bed at night if you have a jogger!
7. Don't push yourself if it doesn't feel right. You know your body best. If you start running and something feels wrong, don't push yourself! Take a break, go slow, or even head to the doctor to find out what is going on. Like I said, childbirth is rough, and it can take longer than 6 weeks for your body to get back to 100% again. So if you head out for a run and find out you're not ready, it's okay. Just wait a bit longer and then try again!
8. Set a goal. I'll be honest and say it has been difficult for me to run now that we have two kids. Little A was born in September, and I didn't run during the winter. We moved in the spring, and then our summer has been busy and I've struggled finding a time to go run with all that I have going on. The one thing that really helped me get running when Little J was born was to set a goal. I signed up for The Color Run 5k and so I had to get in shape. It made a huge difference because I had something I had paid for that I had to be ready for. So set a goal for yourself and you will be able to
9. Get motivated. For me, wearing cute new fitness clothes gets me motivated. But if the new Champion GEAR line doesn't get you motivated to go out and get running, I have a second idea! Use a running calendar with fun little requirements and rewards for each week. I made myself a running calendar with the goal of going running 3x a week. If I meet my goal, I buy myself lunch, a delicious treat, or get something else that I really want that will help motivate me. You can pick your own goals, but find something that will motivate you.
Running after your baby is born can be hard. But it doesn't have to be! Hopefully these 9 tips have motivated you enough to at least get you off the couch (and off your computer!) so you can start getting back in shape. And honestly, if you can birth a baby, you can do anything, right!?
What tips do you have for new moms to help them start running after their baby is born? Let me know!