If you're planning a trip to Sea World San Antonio and will have a baby or toddler in tow, check out this helpful post all about tips for going to Sea World with a baby or toddler! So many great tips from a Sea World regular!
I received free product in exchange for this post. This post contains affiliate links.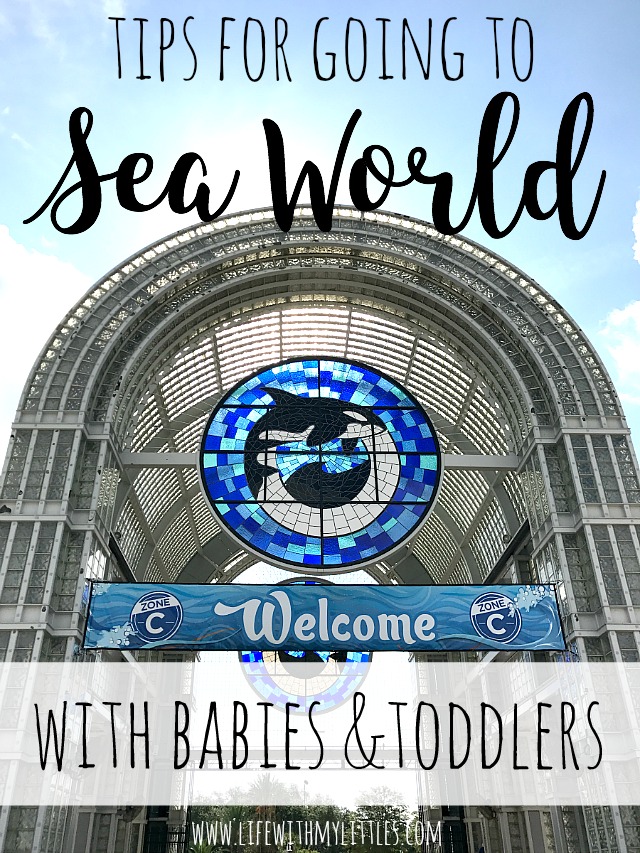 When we lived in Texas, we were about five minutes away from Sea World San Antonio, and IT WAS INCREDIBLE. We had season passes, we went several times a month, and we were able to see lots of amazing animals up close. It was basically a dream come true for me.
We went so often that I feel pretty much like a Sea World insider! Today I want to share some tips for going to Sea World with a baby or toddler, because it can be hard if you've never been and have no idea what to expect!!
1. Make a plan. There are so many fun things to do at Sea World. We generally found that the best plan was to go on our favorite rides first, go to shows in the middle, and then visit the dolphins and aquarium last (but don't forget to go see them, because they are awesome!). Of course that could be different for you, but make sure you look at the schedule and map and plan out your day before you start. And of course, as is normal with babies and toddlers, be willing to be flexible, too!
2. Bring a stroller that's easy to push (like a bike trailer
, jogging stroller
, or umbrella stroller
), or rent one when you get there. Sea World is also huge, and you want a stroller. So if you live in the area or are traveling with your stroller, bring it! And if not, you can rent strollers there, too. If you're going to be at Sea World all day, it's also helpful to have a stroller so your baby or toddler can take a nap!
3. Go during the week. Regardless of the season, during the week is when the park is the least busy. So if you want to maximize your time there and spend the least amount of time waiting in lines, go during the week.
4. Wear swimsuits under your clothes (and plan on going to the splash pad). Not only are there two fun water rides (not for babies or toddlers), but there's also a splash pad for the kiddos! We always have our kids wear their swimsuits under their clothes so they can enjoy the rides and also enjoy the splash pad. And we usually hit the splash pad early before it gets too busy and that way, the kids can dry when it's hot out! You do have to wear clothes to ride the rides, so make sure they don't just wear their swimsuits.
5. Have your kids wear/bring swim shoes. The ground can get kind of hot, so if you're going to let your toddler run around the splash pad, buy them some cheap water shoes like these
so they don't burn their little feet! We usually just have our kids wear their water shoes to the park so we don't have to bring two pairs.
6. Bring towels if you're planning on doing the splash pad. Towels aren't provided and unless you want to deal with a cold, grumpy toddler, bring them a towel to dry off with after!
7. Buy the souvenir refillable drink and stay hydrated! One of the best deals at Sea World is the souvenir refillable drink cup. After you purchase it, you can refill it with soda for free the whole day and 99 cents every subequent visit! Which is good if you're going to be there all day, and great if you're planning on coming again later in the year! We used our cup all season long! Plus, the disposable cups don't come with lids or straws and if you have a toddler, you're going to struggle getting them to drink enough without it!
8. Nurse your baby in the nursing stations, Pets Ahoy show, or Conservation Center. There are three designated nursing stations at Sea World San Antonio (by the Sea Star Market, in the Sesame Street Bay of Play area, and by Shamu's Smokehouse) that are great to nurse in because they have a rocking chair and you can lock the door for privacy. My other two favorite places to nurse baby boy were inside the Pets Ahoy show (because it was dark and air conditioned) and in the Conservation Center (because it was air conditioned and not very busy).
9. If you need to change a diaper, there are three changing stations. They are the same ones as the nursing stations, so they are located by the Sea Star Market, in the Sesame Street Bay of Play area, and by Shamu's Smokehouse. Inside each is a big room with a large changing area and a sink. You can even fit a stroller inside if you need to!

10. Get the All Day Dining Plan, especially if you're going to be there all day. One thing that we found was great with small kids was to get the All Day Dining Plan. There are six participating restaurants, and you can get an entree, a side item or dessert, and a non-alcoholic beverage as often as once every hour. It's $31.99 per adult and $18.99 for kids 3-9, and it is worth the money. We love Rosita's Cafe (it's a pizza/pasta buffet with really good pizza) and the Harbor Market (because it's more food court-style with four different cuisines to choose from. You can only bring snacks and one bottle of water per person into the park, and if you're planning on eating more than one meal there it's a great deal. The kids deal also counts for Kids' Meals!
11. Look into the Preschool Fun Card. Yes, this post is geared for people with babies and toddlers, but this info is too good not to include. Everyone 3 and up needs a ticket to enter Sea World, and if you know before the end of May that you're going to go and your child will be between 3-5, you have to get a Preschool Fun Card! Basically, they get in for free! It's wonderful!
12. Stay out of the splash zones if you don't want to get wet. When you go to the shows in Shamu Theater and Beluga Stadium, the lower rows say "Splash Zone" on them. If you don't think your baby or toddler will be cool with super cold water splashing on them, don't sit there! I saw a few people on different occasions who had to take their crying babies or toddlers up the stairs and out of the stadiums because they got wet and weren't happy about it.
13. Bring sunscreen and apply it a few times. This is kind of an obvious one, but if you're going to be out in the sun, make sure you put sunscreen
on your kiddos. And if your baby is younger than six months and can't wear sunscreen yet, try and keep them out of the sun. Little R stayed in his stroller when we took him and I kept his car seat cover over him as much as I could so he wouldn't get burned.
14. If you want to ride the big rides, take turns watching the kids and riding. The Steel Eel is our favorite and the line is generally pretty fast (plus there's lots of shade to wait in!). The new Wave Breaker rescue coaster just opened in June and that's a lot of fun, too. There's also a third roller coaster called The Great White (which I'm pretty sure was my first roller coaster when I was little, even though my mom denies it). And Journey to Atlantis is a fun water coaster ride!
15. Plan to spend a lot of time at the Bay of Play. Sesame Street Bay of Play is the kid area at Sea World San Antonio, and there are lots of rides for littles to enjoy. You have to be 38″ tall to ride the Shamu Express (which is a kiddie roller coaster and my kids' personal favorite), but the rest of the rides just require an adult to ride with them! Grover's Round Up (a merry-go-round) is always a winner with Little A!
16. Meet the characters! Sea World is home to a mermaid you can meet, as well as the Sesame Street characters! Both have designated meet-and-greet times that are printed on the park schedule. And if you're lucky, you might run into Shamu right past security! It's always worth waiting in line for when you have toddlers!
Going to Sea World San Antonio is amazing. And if you've got littles, you can definitely manage with these tips for going to Sea World with a baby or toddler! I highly recommend checking it out if you're in the San Antonio area. I already miss it and we've only been gone a month!!