Car Seat Cover Tutorial: A cute, easy canopy for your baby's car seat that is durable and looks great!
EDIT: It has been five years since I posted this tutorial, and I have used this cover with both of my sons. It's still in great condition! I've updated the photos of the finished cover, and I apologize the photos for the actual tutorial aren't the greatest. I was still learning how to use a camera!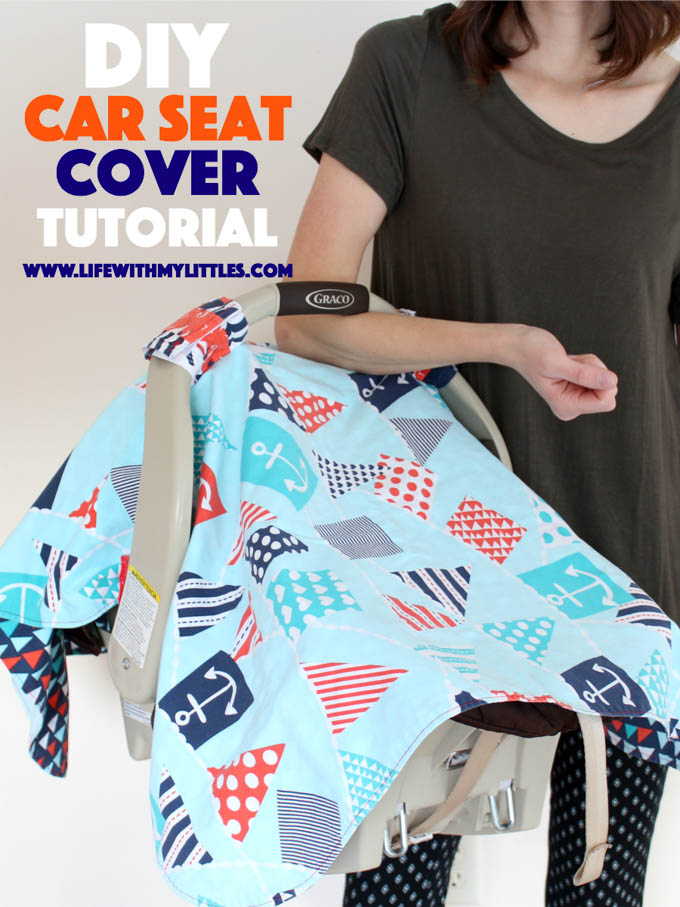 So I have looked for the perfect tutorial for a car seat cover, and have been unable to find one. I found two different tutorials, and I liked things about each car seat cover, so I decided to combine them and make my own!
First of all, I am absolutely in love with the fabric. I got it off of Etsy from the Nauvoo Quilt Company, and they were a joy to work with. They were incredibly helpful when I requested a custom order, and it came very quickly in the mail. The fabric was perfect, and I would definitely buy from them again
So, let's start our tutorial. The first thing you need to do, is gather your supplies. You will need:
1 yard of your top fabric (you might need more if you have a directional fabric)
1 yard of your bottom fabric (you might need more if you have a directional fabric)
1/3 yard of strap fabric
1/3 yard of another strap fabric
6″ of 2″ wide sew-on velcro
Step One: Pre-wash/shrink your fabrics. I highly recommend this, because this is definitely something you'll be washing multiple times. I usually throw in some vinegar into the wash cycle when I do it because my sewing teacher at BYU told us it helps keep the colors bright and vibrant if you do this on the first wash. She was awesome, so I trust her.
Step Two: Iron your fabrics to get out any wrinkles or creases. This is important because when you are cutting your fabric, you want it to line up.
Step Three: Cut the two main fabrics (top and bottom fabrics) to be 35″ wide x 42″ long. If you have a directional fabric, be aware that you will need to cut it a certain way in order to have the pattern facing correctly.
Step Four: Line up your two fabrics, right sides together. Using a bowl or other curved edge, trace and cut the corners of your two fabric pieces.
Step Five: Sew together top and bottom, still right sides together, leaving a little space so you can turn the fabrics right-side out. I just lined my presser foot up with the fabric and sewed it shut.
Step Six: Flip the fabric right-side out, and then iron around the edges so that the seam is right on the edge. When you get to the part that isn't sewn yet, just fold the edges under and iron them so it looks like the rest of the border.
Step Seven: Topstitch all the way around your edge. And ta-dah! You are done with the main part of the cover!
Step Eight: Cut 2 strips 2″ wide x 11″ long from your third fabric, and 2 strips 6″ wide x 11″ long from your fourth fabric.
Step Nine: Line up the straps by putting the small straps on the edge of the wide straps, right sides together (see picture). Sew along the edge (I did 1/4″ seam). Then sew the other two edges together as well (see second picture). Press seams to the middle and turn right-side out.
Step Ten: Press straps flat, turn open edges in 1/4″, and sew closed.
Step Eleven: Sew 3″ of velcro on each strap. Make sure you sew them on the right sides so that when the strap is sewn onto the cover, the velcro will stick together. When you have the velcro on, one will be on the top of the front, and one will be on the bottom of the back.
Step Twelve: Sew the straps onto the cover. To do this, I put the straps (velcroed) onto the car seat, and then measured how far apart they were (mine was 6″). Then I folded the cover in half, and pinned the straps on in the middle, 6″ apart and centered. I put it back on the car seat, just to make sure it was going to work well and that it wouldn't drag on the ground on one side, and it was perfect. After pinning straps, sew them on.
Step Thirteen: Step back and admire your beautiful, new, handmade car seat cover!!!
If you want a more quilted look for your car seat cover, check out my Quilted Car Seat Cover Tutorial! And please be safe with your car seat and make sure you aren't making any of these common mistakes!