Tips for a toddler-friendly Christmas that will be as magical as it sounds! Follow these ten great tips for decorating for Christmas when you have a toddler or baby at home, and your decorations will actually last until Christmas!
This post contains affiliate links.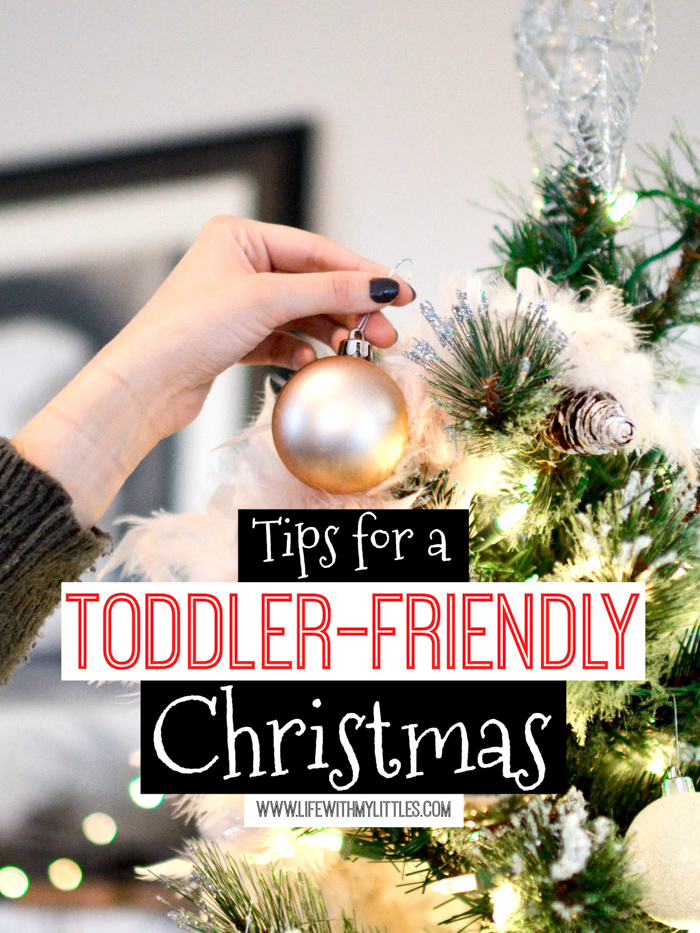 When you have a toddler in the house, you can't have a lot of nice decorations. They get played with, chewed on, lost, or broken.
When Christmas rolled around last year and my desire to decorate went up against my desire to not have my house destroyed by a toddler, I had to make some compromises.
This year we have two toddlers. Two walking, destructive, toddlers, who will most likely be super excited and curious about all the fun decorations that come out for Christmas. They're going to want to touch and play with everything they can get their sticky little fingers on, and in my one-year-old's case, eat everything she can get her hands on.
Luckily my experiences from last year taught me some tips for a toddler-friendly Christmas, and I am excited to share them with you today! If you have a toddler (or a mobile baby) you are definitely going to want to pay attention.
Tips for a Toddler-Friendly Christmas
Shatterproof ornaments
No matter how high you hang your ornaments, your toddler will find a way to pull them off and throw it them on the ground. And if you have shatterproof ornaments, it won't be a problem! So go ahead and throw that ornament against the wall, buddy. It's not going to break!
Bells
Bells are a fun addition to your Christmas tree because they make it sound pretty! Yes, they are going to tempt your toddler because they are so fun, but they are safe for kids to play with and they'll love hearing them jingle! We hung some bells up on our tree last year and they were our son's favorite part of the tree!
And bonus, any time your kids get into the tree, you'll hear them!
Get a fake tree
And pay attention to what your tree is made of. There is one reason you don't want a real tree when you have a toddler, and it will become apparent the longer you have a real tree.
Drying out.
As your tree dries out, it's going to make a big mess, and your toddler is going to want to make it into an even bigger mess. Not to mention they'll probably want to play with the water where your tree is sitting. So just go fake.
And while we're on the subject of fake trees, make sure you get a non-toxic Christmas tree. Some artificial trees have lead in them, so you're definitely going to want to do some research before buying a tree (especially if your toddler is still in the everything-in-the-mouth stage).
Put anything fragile up high
If you have an expensive and fragile nativity that is a family heirloom, don't feel like you can't display it! You can! Just put it up high on a shelf or mantle or counter. You can still have fancy things, even with a toddler.
I made these stockings that I am super proud of, and I didn't want the kids destroying them. So I stained a board, screwed in hangers, and hung it up out of the kids' reach! Perfect!
This can also include expensive or special ornaments. Our family buys yearly ornaments as part of our Christmas tradition, and we always hang those up high!
Ribbon hangers for your ornaments
You know those metal hooks that ornaments come with?
NOT TODDLER-FRIENDLY!
The solution is to use ribbon to hang your ornaments! Your kids can get the ornaments and play with them without you panicking that the are going to swallow something sharp or cut themselves on a hook. They take a while to tie onto each ornament, but they're so worth it!
NO TINSEL
I can't stress this enough. Tinsel is a huge choking hazard, and you definitely do not want to use it on your Christmas tree if you have babies or toddlers!
Give your toddler their own tree
I have two suggestions for this. One, make them a felt tree with felt ornaments that they can decorate over and over again. I made one with some friends a few years ago and my son LOVED IT. So I'm remaking it and making one for my daughter, too. A great way for them to stay busy with their own tree and away from yours.
Another option is to let them have their own mini tree in their room. Keep it up high so they won't want to mess with it at night, but let them decorate it with ornaments they make or things they like. We did this growing up and I still have all my ornaments!
Put your Christmas tree in a corner or out of the way
This can be a challenge if you live in a small apartment like we do, but basically don't put it somewhere super accessible. You can even put some bigger presents in front of it to kind of barricade it if you want. The point is not to make it the center of attention. Our tree is in the kitchen, and we use a baby gate to block the kitchen off. We have a small apartment and you can still see it from the living room, so it works well!
Decorate with holiday stuffed animals and toys
Growing up my mom would always put holiday stuffed animals along the stairs. When we were in Colorado for Christmas last year, they were my son's favorite thing! He loved playing with them, and it was a fun, toddler-friendly way to decorate for Christmas.
We also got a Little People nativity set from my father-in-law when our oldest was a baby, and that's one of his favorite toys. We only get it out at Christmas, so it's special, and he loves that it's his own little Christmas decoration.
String lights in the middle (up the trunk) so that they can't be reached
Obviously you don't want your toddler trying to pull the lights off your tree. One way I have found to prevent that is to string the lights on the inside of your tree, as opposed to sitting on the outside. It will make your tree glow when it's plugged in, and the lights won't get ripped off!
Follow those tips for a toddler-friendly Christmas, and your decorations should actually last until Christmas! Your toddler will have fun, you will have fun, and you won't be stressing about your child eating or destroying your Christmas decorations! Merry Christmas, mamas!