Visiting Minneapolis with toddlers and wondering if the Mall of America is worth going to? It is! Here are ten things to do at the Mall of America with toddlers (besides shopping!), plus a helpful tip on where to park if you're bringing a stroller!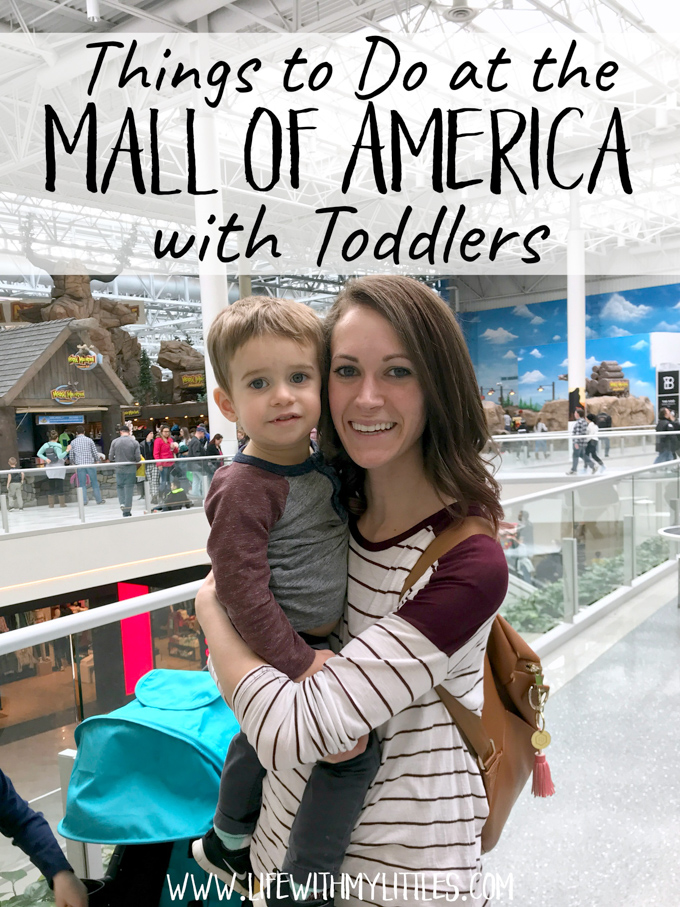 One thing we love doing here in Minneapolis is visiting the Mall of America. Once you go, all other malls seem inferior.
In case you didn't know, the Mall of America is the biggest mall in the United States. It has three floors all the way around (with a fourth floor in part of it), over 500 stores, over 50 dining options, a theme park, an aquarium, and tons of fun events. It's easily one of our favorite things to do in the Twin Cities.
Since we go so often, I thought it would be fun to put together a post all about things to do at the Mall of America with toddlers. You might think that taking your toddler to the mall wouldn't be super fun, but the Mall of America is no ordinary mall. There's seriously TONS for toddlers to do (besides riding around in the stroller or shopping!), and it's the perfect place to go on snowy, rainy, or super hot days when you just want to stay inside!
Also, a quick tip, if you park on the fourth floor, there aren't any stairs to go from the parking garage to the mall. On the second, third, and fifth floors you have to go up or down a small set of stairs to get into the mall, and with strollers, that's no good. So park on the fourth floor of the parking garage and you'll be golden!
Here are ten things to do at the Mall of America with toddlers:
1. Play at the LEGO tables outside the LEGO store. As if the LEGO store wasn't fun enough, they also have a few tables set up outside the store (between the store and Nickelodeon Universe) with benches around them and a bunch of LEGO bricks to play with. And there's even DUPLO tables! So whether your toddler is younger or older, this is a fun place to rest and let them play for a while.
2. Paw Patrol Playground. I'll admit this is not my favorite thing at the mall, but I'm including it because it is something to do. A few months ago they opened up a big Paw Patrol playground inside Nickelodeon Universe. It costs 6 tickets to get in for 20 minutes (which is $7.20). Going on Toddler Tuesday (see #6) is the best way to do it. If you go when it's busy keep an eye on your little one because it can get kind of rowdy. We have been twice and our toddler loves it!
3. Build-A-Bear Workshop. What little kid doesn't love picking out their own stuffed animal!? We went last year when my son was about 18-months-old and he had so much fun. He picked out a Chewbacca bear (of course) and loved carrying it around and giving it hugs. This is a good place to go if you have grandparents in town and they want to get your toddler a gift!
4. The Crayola Experience. This is more fun for older kids, but they do have a few things that my toddler enjoyed. They have a playground for younger kids, a light show room where they can color on whiteboards and run around on an interactive floor, a little area where you can use chalk or dry-erase markers and color on everything, and several other places where toddlers can color. They can probably do almost everything with a little assistance. It's a fun place to visit!
5. Sea Life Aquarium. We just did this for the first time yesterday. It's not a huge aquarium, but it's perfect for toddlers! Lots of fish, sharks, turtles, jellyfish, and seahorses to look at!
6. Toddler Tuesdays. If you're going to take your toddler to the Mall of America, try and go on a Tuesday. Every Tuesday, the mall hosts "Toddler Tuesday" where kids can meet their favorite characters, do arts and crafts, and get discounted wristbands for Nickelodeon Universe ($12.99 for 5 hours valid on certain rides). They can also eat free with the purchase of an adult meal at more than 10 restaurants around the mall. Seriously, Tuesdays are the day to go with your toddler.
7. Disney Store events. The Disney Store often has events that are fun for toddlers to go to. In October they have Halloween parties where kids can participate in a parade and a sing-along. You can see what events they have coming up here. They're a lot of fun!
8. Nickelodeon Universe. Besides the Paw Patrol Playground, Nickelodeon Universe has a lot of rides that toddlers can do. They have several rides that you have to be 36 or 39″ to ride without an adult, and then a lot that toddlers can ride as long as they have a chaperone. Plus, if you're a required chaperone (meaning your child has to have an adult) you don't have to pay for yourself!
9. Treat stores! The Mall of America has several candy stores, chocolate stores, ice cream stores, bakeries, and even an edible cookie dough store! If your toddler has been good (or you need something sweet to distract them with), go get them a treat! We love the candy store It's Sugar, and the edible cookie dough at Dough Dough is delicious!
10. Train table inside Barnes and Noble. If you just want a quick break or a way for your toddler to get out some energy, take them to Barnes and Noble and let them play with the train table in the children's section. All of my kids have always loved playing there, and it gives you a chance to just sit and rest!
And even though this post is focused on toddlers, there are also a few other things that are fun at the Mall of America that bigger kids will like. There's a mini golf course, a blacklight mini golf course, a mirror maze, Flyover America (a flying ride), 5D Extreme Attraction, the American Girl store, and they're putting in a virtual reality attraction that's going to feature Star Wars (my kids are excited for that one!).
The Mall of America is tons of fun for any age, and that absolutely includes toddlers. Don't skip over it because you think there won't be anything for your littles to do there! There are lots of fun things to do at the Mall of America with toddlers, and if you plan a trip, I hope you have a great time! Maybe we'll see you there!