Love this hilarious list of things moms don't want you to buy their kids for Christmas. There IS such a thing as bad Christmas gifts for kids!
Disclaimer: This post is satirical in nature and is not meant to offend anyone. Dear family, I love you. Thanks for spending money on my kids.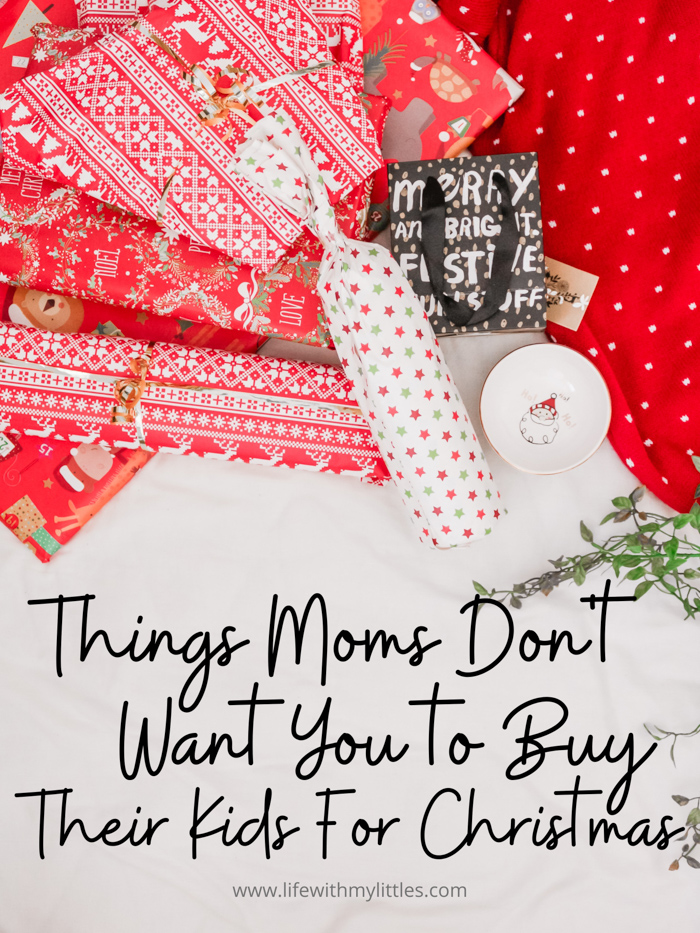 Don't you wish there was a way to veto certain Christmas gifts before they are given to your kids? A way to stop the madness before it even begins?
I am very grateful that my children have grandparents and aunts and uncles and friends who are willing to buy them gifts. I am.
I'm just saying it would be nice to be able to say no before the gift is given so we don't end up getting rid of it two months after Christmas.
There are just some things moms don't want you to buy their kids for Christmas. Here's a helpful guide when you're shopping for my kids this year:
Things Moms Don't Want You To Buy Their Kids for Christmas
Toys that need batteries
First of all, this means that the toy either makes noises or moves. Most of the time that's not something I'm down with because it means I'm going to be hearing annoying honks and beeps repeatedly for hours, or I'm going to be changing the batteries incredibly often because my kids are guaranteed to leave the toy on by accident. Second of all, that means once the batteries run out in a few months, I'm going to have to go to the store and buy new ones or listen to repeated requests to replace the batteries. Over and over and over. No thanks.
Toys that have more than ten small pieces
I'm fine if my child gets a fun toy with a few small little accessories or things you can change out. That's easy to keep track of. But if you go out and buy him a set of tiny LEGOS or a racing track where every single piece pulls apart, you know that's going to be spread all throughout my house. I'm fine with my child enjoying their present, but if it means I'll be finding tiny pieces between couch cushions, under my bed, or even in my shoes, I'm going to have to say no. Plus, stepping on those things is the worst. Real life.
Toys taller or wider than 2 feet
Whether you are living in a house or an apartment, you probably don't want to dedicate four bedrooms to housing your children's toys. But that is what is going to happen if every year, each one of my kids gets a giant Christmas present. So let's just stop this craziness before it begins.
Toys without an off button
I don't know why companies would make toys without an off switch, but my kids have been gifted a few toys that you can't turn off. This means that I either have to go find a screwdriver and take the batteries out while my child isn't paying attention (which will almost surely result in a tantrum when they realize what has happened), or I have to listen to the same music over and over again for days and weeks and months on end. Which is basically torture, and could definitely be used to extract information out of criminals.
Toys without volume switches
I can most likely suck it up and deal with a toy that makes sounds if I can at least turn the volume down so I don't have to hear it everywhere I go in the house. But if there's no volume switch and it just plays at the same deafening volume every time my kids play with it, then I'm going to be ditching that thing on my next Goodwill trip.
Anything that will make a mess
Basically any art supplies, anything sticky, anything that I have to 100% supervise my children with, that's a no. I love playing with my kids, but if I can't step away for a minute while they're playing, then we probably won't ever get the toy out.
Candy
Just no. Either my kids will be hopped up on sugar for a full day because I don't have the heart to say no when they ask me for some, or I will end up eating it all. I mean we still have some leftover Halloween candy, so we're all set on candy.
Character clothing
Yes, my kids love Disney and have favorite characters, but if you get them a shirt with a princess or a superhero on it, they will ask to wear it EVERY SINGLE DAY. And then when I tell them it's dirty, we get to experience a tantrum, which I generally prefer to avoid. Let's just stick with patterns and plain clothes, okay?
Giant stuffed animals
Have you ever seen that giant teddy bear that Costco sells? Let's get real here. If someone actually bought that for my kids, it would take up 1/2 of their bedroom. Yes, it's fun for like 5 minutes, but if you have to deal with the reality of actually storing that thing somewhere, it becomes a nightmare. So please, no giant stuffed animals.
Anything with expensive accessories
The best example I can think of for this is an American Girl doll. My daughter got a catalog in the mail a few weeks ago and you don't even want to know how much the accessories cost for those things. We could go on a family cruise with all the money we save not having a toy with expensive accessories. So let's just agree to not even start with that.
Breakable, fragile figurines
While I may appreciate fancy, collectible figurines, my kids do not. Please don't buy them things that will just sit on a shelf or things that will immediately break if something accidentally hits them. Do you even remember what it's like to live with little kids?
If you've made it through this list and I've basically shot down every gift you were thinking of getting my kids, I apologize. But maybe you need to rethink your gifting strategy. Or just ask me what my kids want for Christmas.