Here's a helpful list of things I did differently with my second baby. These are all great tips for new moms!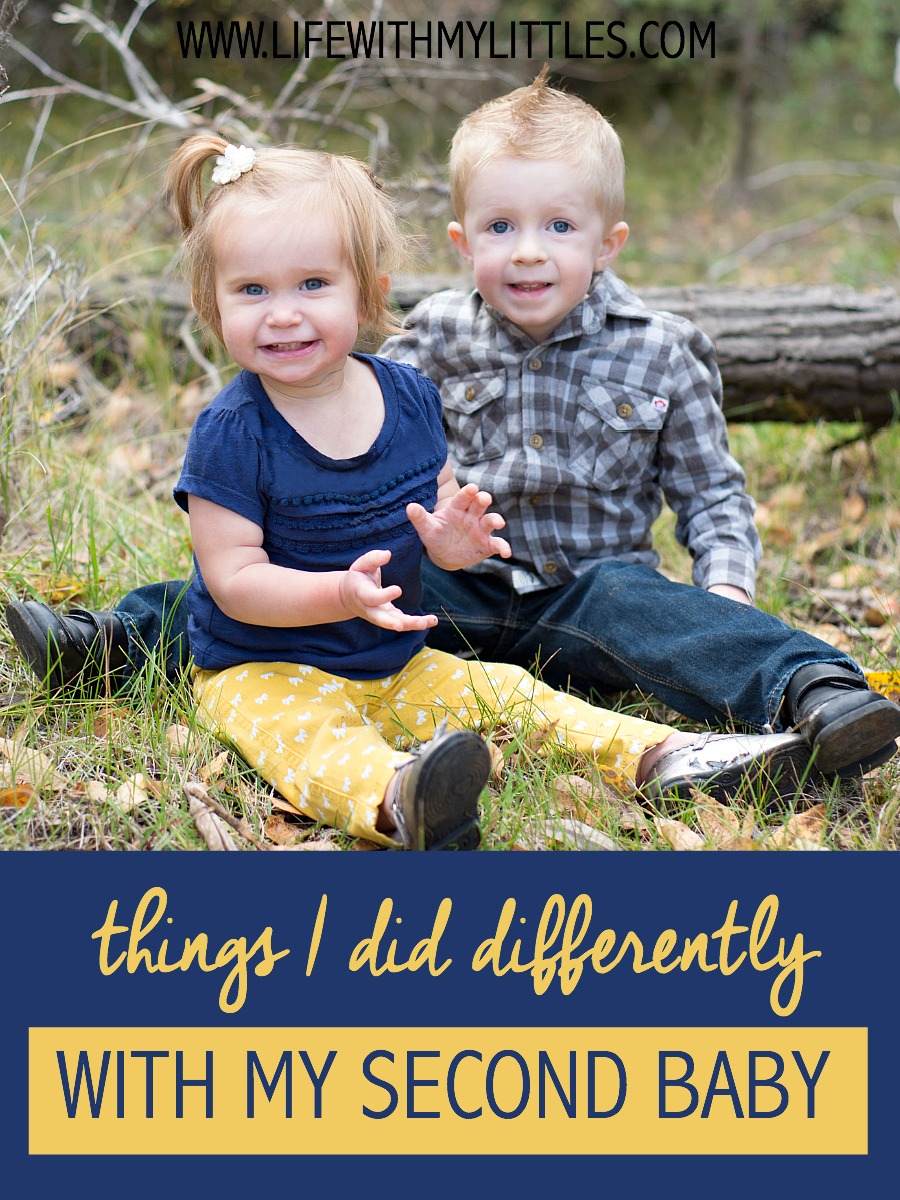 As parents, we are constantly learning from our mistakes. It's just part of being a parent.
I'll be honest and say that we definitely learned a few things with our first baby that made us parent our second baby a little differently. I'm not saying we were bad parents the first time around, but we definitely learned some things and there were things we did differently with our second baby.
Today I want to share a few of those things in the hopes that it might help any new or expecting first-time (or even second-time) parents. Here are some of the things I did differently with my second baby.
1. Relaxed. Okay so I'm going to begin with this one because I think it just happens when you have more kids. I don't know if it's because you just can't be as type-A about everything or because you just can't control every single thing that happens, but I was a lot more relaxed with my second baby than I was with my first! And it made it a lot easier! So take a deep breath, realize that it's okay if you don't change your baby's diaper every hour, and relax.
2. Announced the pregnancy later to family. I'm not saying that this is something you have to do, but it's something we chose to do. With our first baby we told our family as soon as we found out at four weeks, and then told friends as soon as I hit the second trimester. But with our second baby, we decided to wait a little longer. We didn't tell our family until I was eight weeks, and then we didn't announce the pregnancy publicly until a few weeks after the second trimester started. It was just a personal decision we made, and it might be something you want to do, too. Or you could also do the same thing you did with your first. Really, it's not a big deal.
3. Exercised and ate better during pregnancy. When I was pregnant with our first baby, I ate whatever I want and just did some stretches a few days a week. Consequently, I gained 50 pounds. I knew I didn't want that to happen again with my second pregnancy so I exercised and did a little cardio every few days. I also was smarter with what I ate and didn't hit up the Arby's drive-thru three times a week. As a result, I only gained 35 pounds with my second pregnancy. I felt a lot better, and I wasn't super chubby in my sister's wedding pictures (when I was 35 weeks pregnant).
4. Brought an outfit for baby pictures at the hospital. There are some things you just don't think about with your first baby, and one thing I didn't think about was baby pictures. We were lucky enough that our hospital had someone come around to your room for newborn pictures the day after your baby was born. With our first, he just used a plain blanket we had packed in the diaper bag and he wore the hat from the hospital. Our second was delivered at the same hospital so we brought a cute lace romper and matching headband for her pictures. Planning ahead made a big difference!
5. Put our baby in the crib sooner. When we brought our son home from the hospital, we kept him in a little bassinet by the side of our bed for the first few weeks. It was fine, but I definitely could have put him in his bed sooner because once we did, it was hard to get him to sleep there. So with our daughter, I had her sleep in her crib just a week after we got home from the hospital. It was perfect because we didn't really have to "transition" her because she wasn't really attached to the bassinet.
6. Naps in the crib more. When you have two kids, you rarely have time to yourself. So when you do, you want to make it count. With our son, I held him a lot for naps, or had him sleep in his bouncer or out in the living room somewhere. I decided that with our daughter I would put her in her crib for naps so that when she was sleeping I could get things done that I needed to or have some one-on-one time with our son. It helped me a lot and also helped her nap better!
7. Introduce the bottle sooner. Okay so this one didn't actually work very well, but we tried to introduce the bottle sooner with our second. We waited way too long with our son and as a result, he didn't take a bottle until he had to stop breastfeeding at 8 months. Our plan with our second baby was to give her the bottle around three months and get her used to it so if I ever needed to go somewhere or if my husband wanted to feed her, he could. But of course, she was just as picky about bottles as he was and didn't take one until she had to stop breastfeeding, too.
8. Didn't worry as much about germs. I think this is a pretty universal thing that happens, but with your second baby, you just don't worry about germs as much. With our first, I would drop his pacifier on our carpet at home and feel like I needed to wash it with soap and water before I gave it back to him. But with our daughter, if she dropped one of her toys on the floor at church I would just give it right back to her to play with and chew on. I don't know if you can really make this happen with your first or if it's something that has to come naturally, but it was a lot easier to do once we had our second baby.
9. Didn't place our baby on her back as much. Our first baby was always on his back. He hated tummy time, so I felt bad making him do it. As a result, he started to get a little bit of a flat head. Guys, you're supposed to do tummy time for a reason! Start it early and do it often. We did that with our second baby and she didn't get a flat head, and she did a lot better at tummy time. Win, win!
10. Turned baby's neck. Have you ever heard of torticollis? Well it's when one side of your baby's neck twists to one side and your baby's head starts forming a little weird. Our son started getting it a little because he always turned his head to the same side when he was sleeping or in the car seat. So with our daughter, we kept an eye out and made sure we either put something on the other side of her head to keep her balanced, or we just turned her head ourselves while she was sleeping. It made a big difference and we didn't have to worry about torticollis at all.
11. Kept baby's head rest in her car seat longer. You know how infant car seats come with those annoying little side pillow things for their heads? Well they are super important for your baby's safety. We took our son's out way too soon because we thought his head was getting to big and that made his little head flop to the side when we were in the car. If we had gotten in a car accident it would've been awful for his poor little weak neck and spine. So with our daughter, we made sure to keep the head rest in there as long as we could.
12. Did kegels before and after. This isn't for your baby, but more for you. You know how your doctor tells you to do kegels before and after your baby is born? Well I didn't with our first baby and had one of the most embarrassing and shameful moments of my life because of it (you can read more about that here). So I did it all the time with our second baby and it made a big difference.
13. Didn't care as much about toys in mouth at friends' houses, or when friends put our toys in their mouths. You know how when your first baby puts someone else's toy in their mouth and you totally cringe and wonder where that toy has been? Or when another baby puts your toy in their mouth and as soon as they are gone you immediately wash that toy? That's part of first-time-mom-syndrome. With your second, you just don't care as much, and it's great. Like I said before, you just relax more and it helps out a lot.
Being a first-time mom is a lot more stressful than being a second-time mom. So whether you are about to embark on the first-time mom train or if you're a seasoned vet prepping for her second baby, try to remember that it's okay to make mistakes as a parent. It's part of the process.