Want to know which baby wipes are the best baby wipes? Check out this comparison of five different baby wipes done by a mom of three. You'll be surprised!
This post contains affiliate links.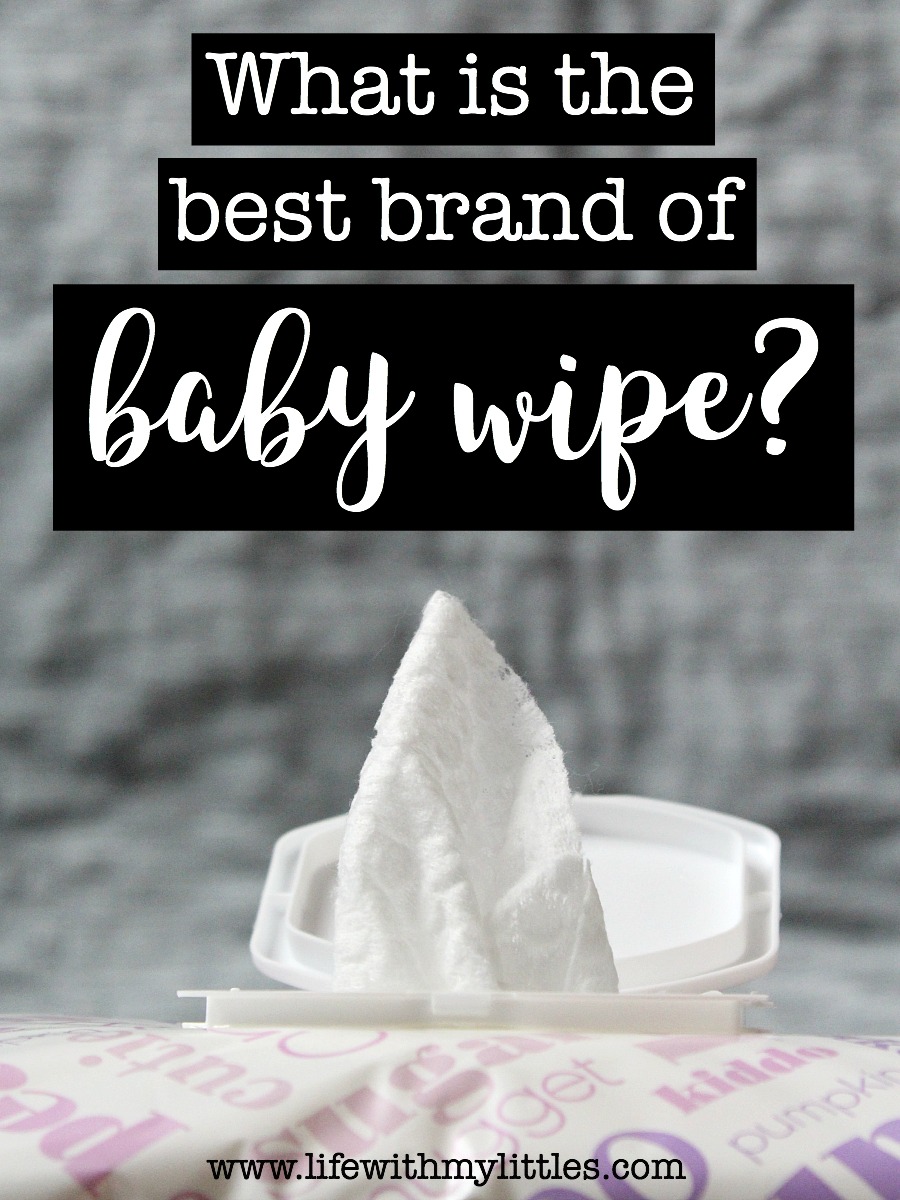 As a new mom, I felt like I knew NOTHING. Everything I faced was something I had never experienced before, and that was definitely true about diapers and wipes. Why the heck were there so many brands? And how was I supposed to know which one was best?
Well after four years of being a mom, I think I've got a few things figured out. One of those things is which baby wipes are the best baby wipes. I've tried lots of different brands, and today I'm going to share my rankings of five popular brands and why I have put them in that order. Hopefully it will help any new mom who went through the same overwhelming feelings I had when my first was born!
1. Costco/Kirkland. By far, my favorite, and what I consider to be the best baby wipes, are Costco baby wipes. They are huge, thick, and until your baby becomes a toddler, one wipe can usually get the job done. They are just the right amount of wetness and they don't rip when you pull them out of the package. You also buy them in bulk, which is a plus because you won't have to buy them as often, and they are cheaper. I love Costco baby wipes. And even if you don't have a membership, you can go with a friend (or your mom!) who has one.
2. Walmart/Parent's Choice. Are you surprised? When we lived in Idaho and didn't have a Costco nearby, I used the Walmart wipes. If you don't have a Costco membership, these are the wipes to buy. They are similar to the Costco wipes in thickness and durability, but they aren't quite as big. They are a little wetter than the Costco wipes, but it's not bad. They also come in different varieties (scented, unscented, sensitive skin). They are pretty tough and easy to get out of the package, too, which is important because sometimes you might think you only need one wipe, but open the diaper to discover CRAP! I NEED FIVE!
3. Amazon
. Did you even know that Amazon has their own brand of baby wipes? I didn't until my sister sent me them for a baby gift a few months ago. I actually really like these and had a hard time deciding if they were #2 or #3 on the list. They aren't quite as big as Costco wipes, but they are similar in wetness level. They are quilted, unlike the Costco ones, and they are a little thinner, but they don't rip when you pull them out (this is a big deal to me). They're also easy to pull out of the package. Thank goodness for Amazon, am I right?
4. Pampers
. I'm not a huge fan of Pampers wipes, other than for the fact that I can usually get them for free using coupons. Pampers diapers are my favorite brand of diaper, so I was disappointed when I first tried their wipes. They are really wet and they leave your baby's booty (that's the word we use in our house) wet, which I don't like. They come in different varieties, but the wetness thing really bothers me. The also aren't very thick and are sometimes hard to get out of the package because they stick together and it can be hard to grab just one.
5. Huggies
. Huggies are my least favorite brand of baby wipes by a lot. They rip really easily (often when you're pulling them out of the package), and they often get stick together when you are trying to get them out and you end up getting like five stuck together instead of just one. I don't think you get what you pay for with these. Yes, it's cool they partner with Disney, but I wouldn't buy them unless there was no other option.
Are you surprised by my list? I'm guessing yes. I definitely recommend the Costco wipes as the best baby wipe, and even if you don't have a Costco membership, you should find a friend or family member who does and go with them just so you can buy the wipes. You will not be disappointed! But of course, if you don't live near a Costco or you don't want to ask a friend if you can go with them, the next best ones are Walmart wipes, and everyone lives near a Walmart!