It can be hard to teach girls how to be confident and kind, but Sofia the First helps make it easier!
This post is sponsored by Disney Consumer Products.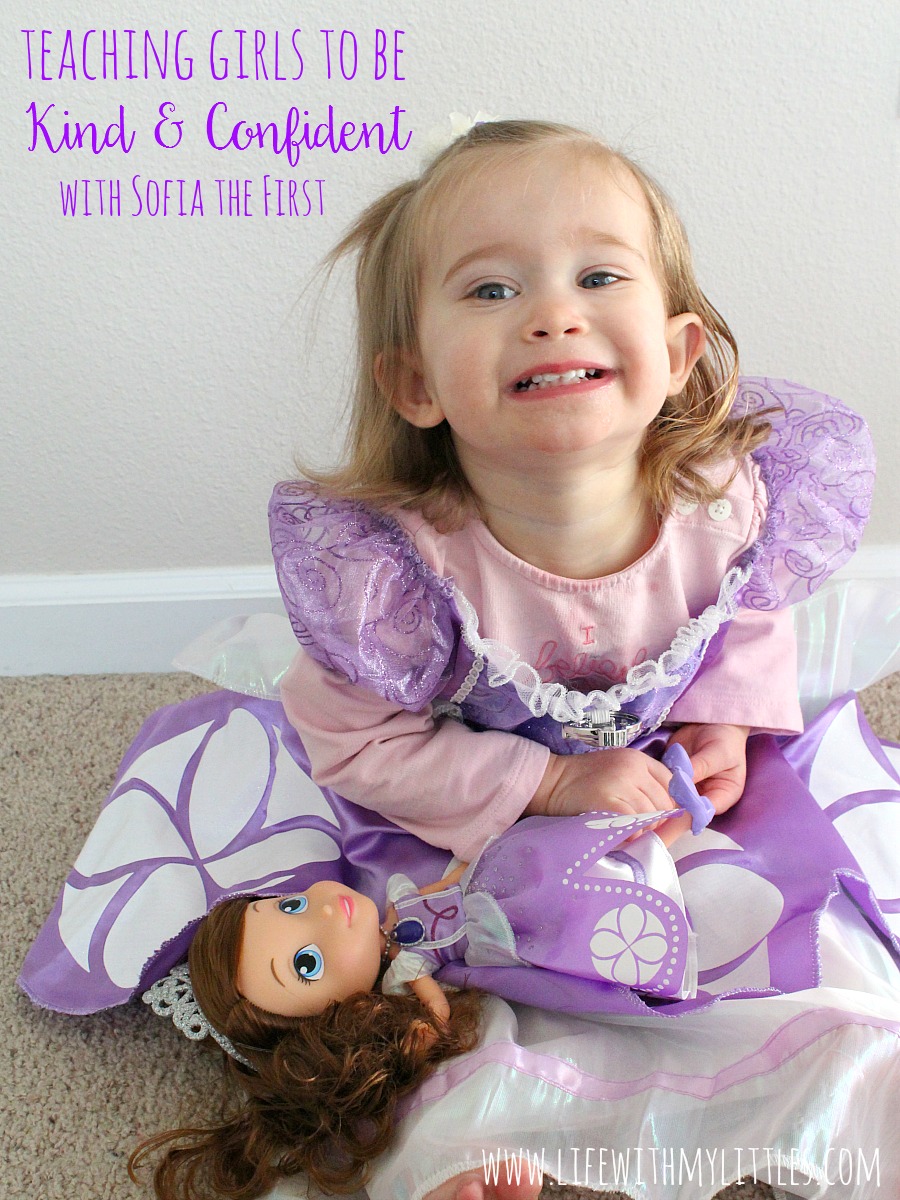 When I found out I was going to have a daughter, I was super excited, but also super scared. I know I wasn't an easy daughter to raise, and if history tells us anything, it's that daughters take after their mothers.
Now Little A is a toddler, and even though we can't have deep talks about being confident or brave, I can help her learn how to be kind and generous by playing with her every day, and exposing her to characters who are adventurous and honest.
One of her favorite characters is Sofia the First. Sofia the First is a TV series on Disney Junior about a girl whose life turns from ordinary to extraordinary when she suddenly becomes a royal princess. She has lots of fun adventures around the palace, in her school, and around the kingdom. And she is always learning valuable lessons about what it really means to be a princess.
My daughter isn't big on sitting and watching TV, but she will sit and watch Sofia! I love that Sofia encourages girls to be brave and believe in themselves. Sofia also teaches girls to help others and be kind to everyone, even if they are different. Sometimes she makes mistakes, but she always fixes them and learns lessons in the process. It's one show that I have no problem letting my daughter watch!
I decided since my daughter loves Sofia so much, I would get her a few toys from the new Sofia the First toy line from Just Play which just launched. There are dolls, dresses, a palace dollhouse, and Sofia' signature amulet necklace. Just like Sofia' journey to become a princess, these toys take playtime from ordinary to extraordinary!
Little A is huge into dressing up, so the Sofia the First Royal Dress was one of the new toys that I had to get her. It's still a little big on her, but I know that she is going to be able to wear it for a long time! Most mornings she brings it to me asking to put it on and then she wears it all day! It's full of sparkles and looks just like Sofia's dress, so I know she loves it!
I also got her the new Princess Sofia Doll, and she takes it everywhere! She loves giving Sofia hugs and kisses and playing with her curly hair.
I can tell these new toys are high quality and they are super affordable, which I appreciate!
I love that Disney has come up with a princess that little girls can relate to so easily. And I love that she teaches girls how to be true princesses who care about other people and stand up for what they believe in, even if other people don't agree. I highly recommend Sofia the First for any little girl who wants to be a princess.
We love playing with Little A's Sofia the First toys together, and I love that they make playtime so much more magical for her. I hope my little princess grows up to be like Sofia, and I hope I can help teach her to be kind and confident and be proud of who she is.