Love this renter-friendly gallery wall! What a cute way to hang up pictures without making holes in the walls! And it's so bright and colorful!
This shop has been compensated by Collective Bias, Inc. and its advertiser. All opinions are mine alone.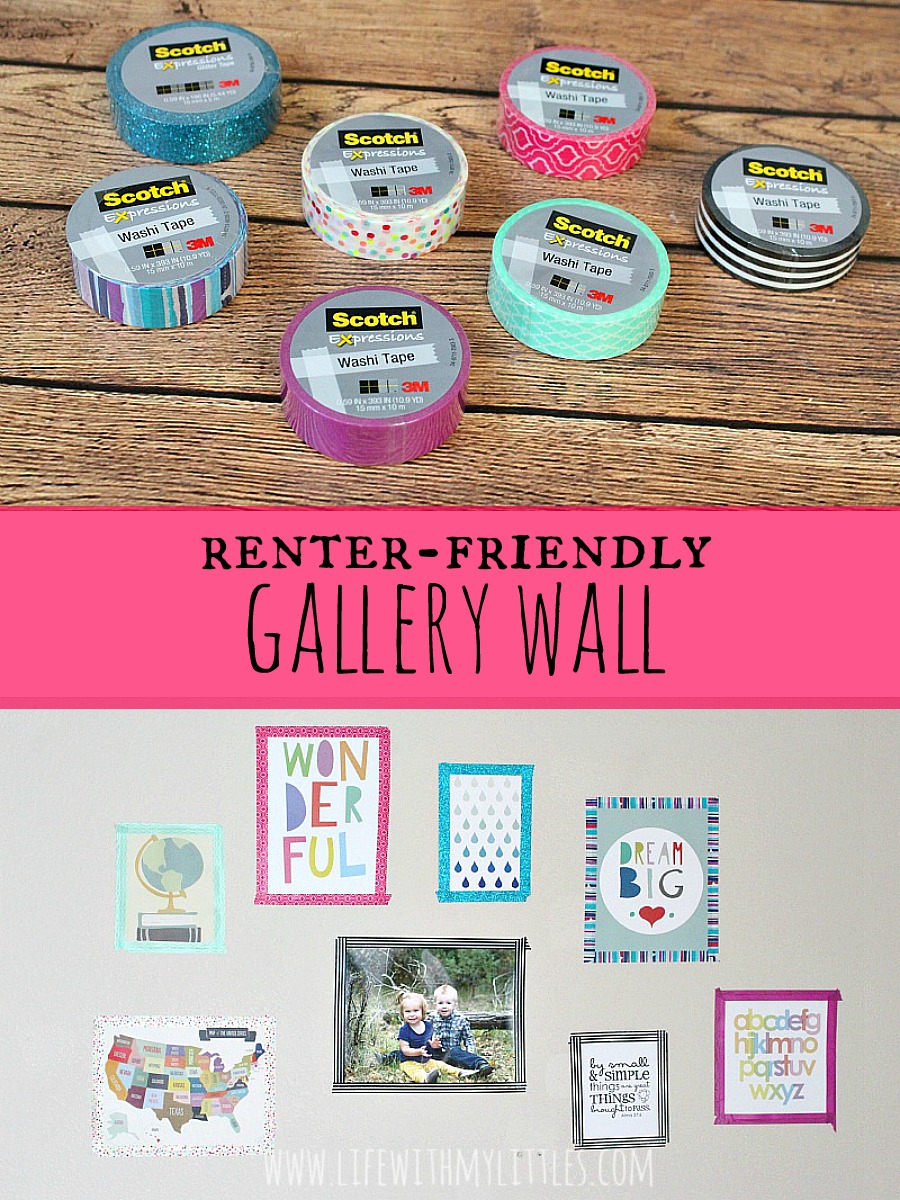 One of the most difficult things for me is decorating my home. I'm good at lots of things, but home decor is not my strong suit. It doesn't help that I've got two destructive toddlers and we've been renting our whole married life. Don't get me wrong, I like our apartment. But I do sometimes wish that I could personalize our home a little more.
Now that our kids share a bedroom, our third bedroom is used as their playroom. It has been amazing, but I haven't really figured out how to decorate it in a toddler/renter-friendly way. I don't want to hang a bunch of frames because I don't really want to punch a bunch of holes in the wall. And I don't want to do anything too fancy because duh, toddlers don't even care. But I care, and I wanted to come up with something that was cute, but also spoke to the fun and wildness of the playroom.
I grabbed some Washi Tape and got to work!
First I scoured Pinterest for some cute printables that I could use in the playroom. I found seven that I loved, so I printed them out in different sizes.
Then I printed my favorite picture of the littles from our family photo session we did in October. Those two just make me melt.
After trimming off the edges of the printables, I tried to find the best arrangement. I am a fan of gallery walls that are random and sort of scattered, so I just made it up. But you could easily do rows or a circle or something.
Then I grabbed my Scotch® Expressions Tapes and got to work! I just used the tapes as frames for the photos! It was so easy, and it turned out exactly how I imagined it in my head.
One hint I will give you to make it easier to hang the photos. I used a small piece of Scotch® Create Double Sided Tape on the backs so that I wouldn't have to hold the photos in place while I taped the edges.
One of my favorite things about this super simple DIY is that it doesn't have to be perfect. If your lines aren't straight or the edges look ripped, that's totally fine! That's how it should be! It's more fun that way.
Just tape all around the edges of your photos, and voila! You've got a cute gallery wall!
Thanks to Scotch® Expressions Tapes, I now have versatile, functional, and fun decorations in my kids' playroom! It's simply inspired, wouldn't you say?
And because I know you're dying to know where I found all these cute printables, here are the links so you can download them for free yourself!
US Map | Wonderful | Small & Simple |Raindrops | Globe | Alphabet | Dream Big
Now go make your own crafty DIY project with Scotch® Expressions Tapes and tell me all about it!