How to prevent your baby from becoming a picky eater. Great ideas to make sure your child doesn't become a picky eater!
This post is sponsored by Gerber.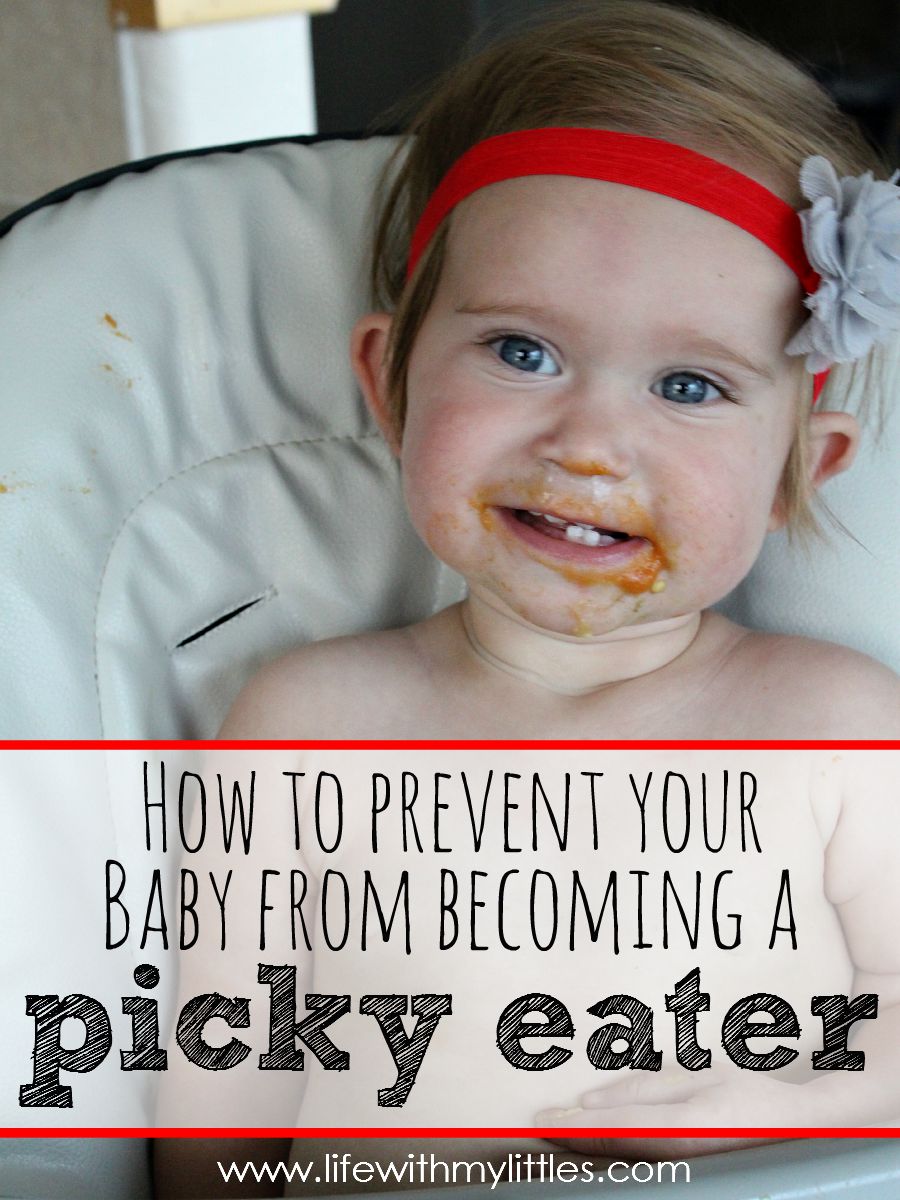 Growing up, I was a super picky eater. Like, ordering grilled cheese at every restaurant kind of picky eater. Now that I am a parent, I am determined not to let my kids get that way. With my son, we have made sure to give him a lot of different foods, and not give in when he says he wants cereal instead of what we make him. We make him try all kinds of fruits and veggies, and I almost always give him what we are having for dinner instead of making him something different. It's a lot easier on me and so far, he will eat most anything.
We have been doing the same thing with Little A, and now that she is one, our hard work is paying off! It's so important to develop your child's palate early, and if you give them a lot of variety and don't give up, they are a lot less likely to turn into a picky eater!
Today, I want to share some tips to help you prevent your baby from becoming a picky eater. Because if there's one thing I know about, it's how someone becomes a picky eater!
1. Start early with a wide variety of fruits and veggies. We have used Gerber baby food for both of our kids. Gerber First Foods come in lots of fruit and veggie flavors, so you can give your baby lots of different things. Our kids both started with carrots, and then moved through a few vegetables before starting different fruits. It's important to try lots of things and not just stick with one or two your baby really likes. If you only do a few things, your baby is going to learn to only like a few things! Which is step one to becoming a picky eater!
2. Keep trying, even if your baby doesn't like it. It can take up to ten tries for a baby to learn to like something. And trying while they are babies is going to be a lot easier than trying when they are older! So even if they don't like peas one day, try again! And again, and again! Because if you don't want baby to be a picky eater, be persistent and keep trying. And be patient. It's normal for babies not to love everything you give them at first.
3. As your baby transitions to solid foods, give them new textures and let them try lots of new foods. Gerber Third Foods Lil' Bits Recipes are perfect for helping your baby learn how to eat multiple textures at the same time. They come in ten new flavors, 7 fruits and 3 veggies, so you will be able to keep giving your baby lots of variety. .
They are made with perfectly sized soft bit of fruits or veggies that help your baby learn to chew more than just once.  And it's important to give your baby a chance to learn how to chew before they are 10 months because children who have not been exposed to "lumpy food" that require mashing and chewing before 10 months of age have experienced difficulties transitioning to more advanced foods. They are the next step for babies who have mastered eating regular pureed baby food, and the step before moving on to eating more advanced table foods.
It can be hard for your baby to go straight from pureed baby foods to table foods, and Gerber Third Foods Lil' Bits Recipes are the perfect way to transition them. Chewing is an essential milestone in a baby's development, and Gerber Third Foods Lil' Bits Recipes offer a gradual texture progression which helps babies learn the skills they need to transition to table food.  It makes a big difference to have an in-between step! And babies love them! Little A couldn't get enough of the Sweet Potato Apple Carrot & Cinnamon flavor. She screamed at me to give her more in between bites!
4. As your baby transitions from Third Foods to table foods, give them what you are eating. Don't make them something different. You want to keep giving them a variety of foods. Unless you are having something like soup, serve the same thing to your baby. Giving them Gerber Third Foods Lil' Bits Recipes before moving to table food will make a big difference because they will know how to chew and mash their food, and they will have experience with eating things that have multiple textures, just like table food does.
5. When you go places, bring lots of healthy options with you. One thing I love about Gerber, and especially about Gerber Third Foods Lil' Bits Recipes, is that they are so portable. They come in convenient plastic tubs, which moms (including me!) prefer. And they are resealable, which makes it easy to keep them in your diaper bag.
After your baby switches to table foods, bring healthy snack options like cut up fruits and veggies when you leave the house. A few months ago we met up with a friend and she had brought little containers of fruits and veggies. I thought it was such a great way to get your child used to eating healthy!
If you want to prevent your child from becoming a picky eater, you want to always have options for them. Leaving the house isn't an excuse for them to be a picky eater!
6. Don't give up! Some days your baby won't want to eat anything you give them. That's okay. Especially as your baby turns into a toddler, they might decide they only want to eat waffles, all day long. But it won't last, so don't give up. Just always offer them a wide variety of foods and keep giving them what you are eating. Because it will make a huge difference in whether they become a picky eater or not!