Asking your toddler questions while you read is a great way to improve their reading comprehension and help them learn without them realizing it! Here are some ideas of questions to ask your toddler when you read together.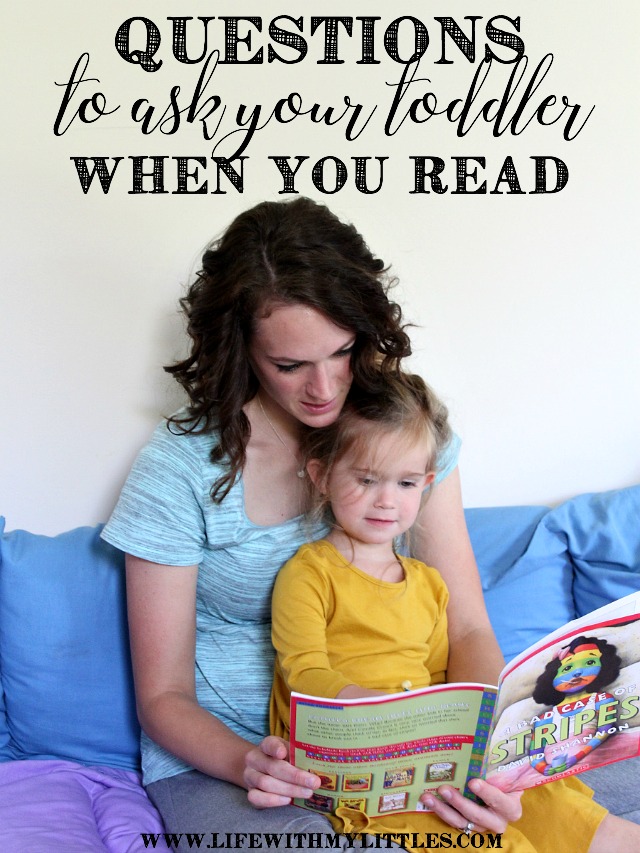 One thing I've always tried to do when reading with my kids is ask them questions. I love watching their little faces as they think about the questions and try to answer them. Asking them questions when you read together helps their reading comprehension, helps them learn without realizing it, and helps bring another dynamic to reading. But it can be hard to come up with a variety of questions to ask your toddler when you read.
Lucky for you, I've done the hard work for you and have put together a list of different questions to ask and things you can talk about when you read together!
Questions to Ask Your Toddler When You Read:
What color is that?
Show me something blue (or any other color on the page).
How many ____ are there on this page?
Can you count the ____?
Can you find an A (or any other letter)?
What letter is that?
Can you find a circle (or any other shape)?
What shape is that?
How do you think [the character] feels?
How would you feel if that happened to you?
What do you think will happen next?
What is happening on this page?
What did you like about the story?
What was your favorite part of the story?
Would you want to do [something in the story]?
What would you have done?
It's so important to ask questions when you're reading and help encourage your child to pay attention and learn without them even realizing it. When it comes to being read aloud to at home, more than eight in 10 children across age groups say they love or like reading a lot because it was a special time with their parents. You can make reading a happy habit at home when you do it often and put a little effort in.
And if you need some new books to read together, The Fantastic Scholastic Book Giveaway Promotion that is in Walmart stores everywhere is a super easy way to get some free ones! All you have to do to get a free book is buy a participating Kellogg's product, send a picture of your receipt via text (to 89332 with keyword BOOK) or email (to book@kfr.com), and then use the free book credit you get to redeem for a free book of your choice at www.KFR.com/FreeScholasticBook! You can collect up to 90 titles to build your home library, and there are over 80 full-length Scholastic titles for beginning readers to teens. One box equals one book, and it's super easy to redeem, especially if you're already used uploading receipts and sending them through other rewards programs like IBOTTA or EBates. Hurry though, because you have to purchase products by 9/30/17, send the receipt by 10/30/17, and redeem your credits by 11/30/17, so make sure you get to Walmart this week to participate in the program!
I let each of my kids pick a few books using our codes. It's worth the time allow children to choose the book that's "just right" because the right story at the right time can open a child's eyes to new worlds and ideas. Reading should be a FUN experience and finding the right books is the key.
One book Little A picked out was "A Bad Case of Stripes" and we've had a lot of fun reading it together and pointing out all the different colors and talking about why you shouldn't worry what other people think about you. I can definitely tell a difference in how much my kids enjoy reading with me when we talk about what we read and when I just read the words on the page.
Hopefully these questions can help make the time you read with your toddler even more special! And make sure you check out The Fantastic Scholastic Book Giveaway Promotion before it ends!
This is a sponsored conversation written by me on behalf of Kellogg's. The opinions and text are all mine.