These thirteen pregnancy must-haves are great for making your pregnancy more comfortable and enjoyable! Some great essentials for pregnancy here!
This post contains affiliate links.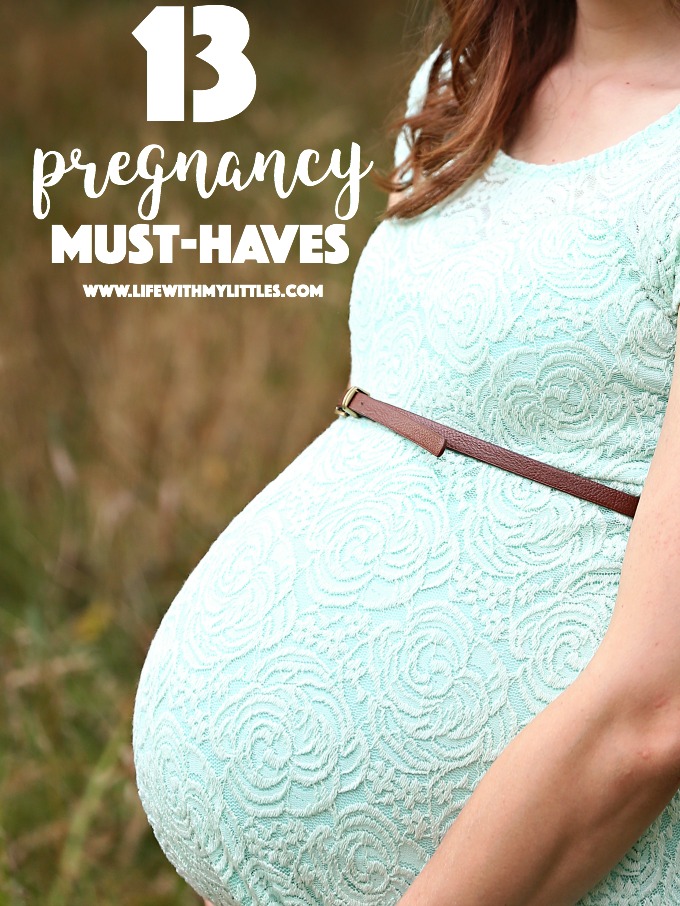 I was so clueless with my first pregnancy. Excited, but very clueless. I didn't have any pregnancy must-haves on my radar, and even though I did a lot of reading about how to prepare for my baby, I didn't do much to prepare for my pregnancy.
Now that I've been pregnant three times (and I talk about pregnancy all the time on my blog), I know exactly what I would recommend every pregnant woman have on hand to take care of herself and, not only survive pregnancy, but enjoy it! Here are 13 pregnancy must-haves that every pregnant woman should check out.
1. A pregnancy countdown shirt. The easiest (and one of the cutest) ways to take weekly bump pictures is with a pregnancy countdown shirt! I finally got one with my third pregnancy and I LOVED it. You can get one here
, or you can even DIY it with this tutorial my friend Katie put together.
2. Pregnancy pillow. Yes, you could definitely just use a body pillow or a bunch of regular pillows throughout your pregnancy. But an actual pregnancy pillow is a dream. I got the Boppy pregnancy body pillow
and it made a huge difference. So much easier than trying to arrange pillows under your bump and between your legs.
3. Stretchy pants. I don't just mean maternity pants with a big belly band here. I mean stretchy yoga pants with an adjustable waistband that you can wear no matter how big your bump is, postpartum, and even a year after your baby is born. I got some lightweight pants with a drawstring waistband from Target that I LOVE.
4. A bigger bra. One of the positive body changes that accompanies pregnancy is an increased breast size, which means you're probably going to need to go up a cup size (or two). Get one that's comfortable and will provide support, because you're definitely going to need it!
5. Prenatals that don't make you nauseous. Prenatals are usually big and taste like vitamins (duh), so if you have a hard time swallowing pills, or you're just extra sensitive, try some gummy prenatals instead! I've heard good things about SmartyPants gummy prenatals
and OLLY gummy prenatals
, so you can try those if regular prenatals aren't your thing.
6. Preggers
. How about the best pregnancy guide ever? You bet I'm throwing my own book on this list! It's a straightforward, candid, informative, relatable, laugh out loud guide to pregnancy. Besides making you feel like you're not alone in all the unfortunate parts of pregnancy, it's full of helpful tips and suggestions to help you get through pregnancy! Whether it's your first baby or your third, it's definitely one of my pregnancy must-haves!
7. Stretch mark lotion. I've used stretch mark lotion with all three of my pregnancies, and even though it hasn't completely prevented me from getting stretch marks, I absolutely think it has helped minimize their appearance! I've used both this body butter from Sephora
and Palmer's Cocoa Butter Lotion
that's specifically for stretch marks.
8. Antacids. HEARTBURN. It's real, guys. And it sucks. Make sure you have some antacids on hand, because they are going to become your very close friend over the next nine months. I personally like Tums in the tropical and smoothie flavors because they are delicious and taste like candy, but there are lots of different brands you can try. Keep them on your nightstand!
9. Chocolate. Yup. One of the best gifts I've ever received while pregnant was a bag of Lindor truffles
. Pregnancy is hard emotionally and physically, and eating chocolate is a fabulous way to treat yourself! So keep a little stash of chocolate for bad days, and don't tell anywhere else where it is. You deserve something special!
10. Water bottle. Getting dehydrated when you're not pregnant is bad, and getting dehydrated when you're pregnant is extra bad. I always drink more when I have a water bottle by my side, and I definitely recommend having a good water bottle with you at all times when you're pregnant!
11. Sour hard candy. That first trimester is rough. One thing that helped me a lot with each of my pregnancies was sour hard candy. Sour lemon candy, especially, but any sour hard candy will work. I don't know why, but the sourness helps you with nausea, so it's on my list of pregnancy must-haves! (Here are 8 other things that can help with morning sickness!)
12. Loose shoes. As you get further along in pregnancy, your feet will probably get a little swollen. Trust me when I say you aren't going to want to wear tight shoes! If it's summer, wear some flip-flops or other open sandals, and if it's not, make sure your shoes aren't too tight!
13. Foot soak. Going along with the last must-have, get some foot soak for those poor swollen feet and cankles. I like Dr Teal's
, but there are lots of other kinds you can try, too. You can either sit on the edge of the tub and soak your feet there, or you can get a cheap little foot bath like this one
so you can soak your feet while you sit on the sofa. Either way, it's going to help a ton!
There you have it! Thirteen pregnancy must-haves that will help make your pregnancy a little more enjoyable and comfortable. Hopefully it's not too hard to enjoy, right? Yay for making a baby!