Currently May 2018: What's going on this month for Life With My Littles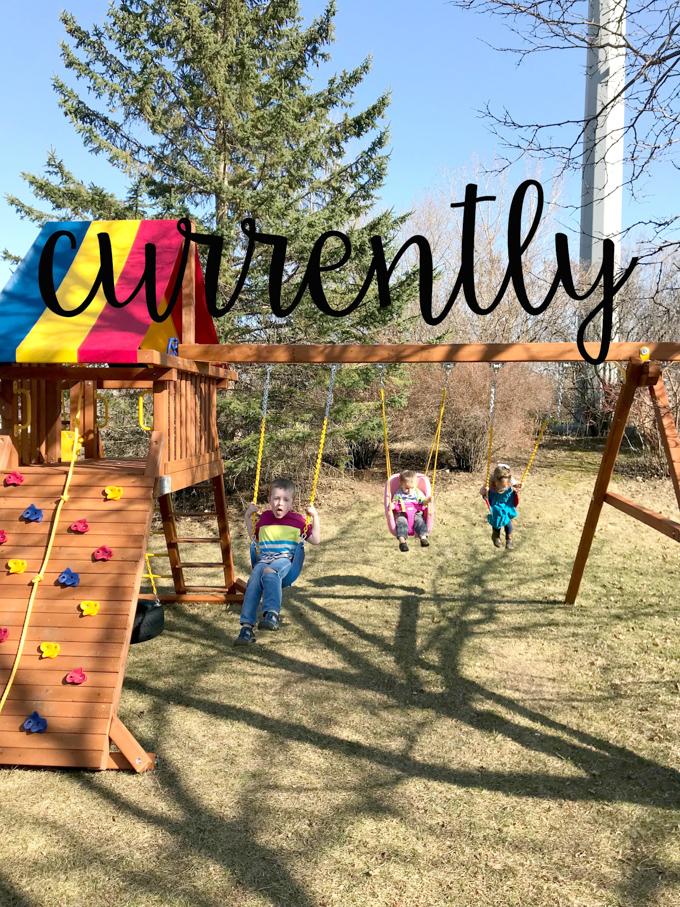 Guys! It is FINALLY feeling like spring! About a month and a half too late, but I'll take it! We had snow on the ground until last week, which is CRAZY. We had the biggest snow storm ever in April here in the middle of April, which sucked. I thought I was done shoveling, but NOPE! I definitely missed winter in Texas after the first three months of winter here. But I've finally packed away all of the winter things and spring and summer and fall are going to be wonderful!!
April was such a fun month. We didn't really do anything big but we had a very nice Easter, Little J started learning how to read, I started working more on getting a system set up for saving papers for the kids (which I'll be writing about later this month), my husband and I celebrated our eighth wedding anniversary, I sewed Jedi robes and a Princess Leia costume for the big kids, and Little R can now stand up on his own and is super close to walking. Which, he's 15 months so it's got to be coming soon, right?
Also, can you believe it's MAY? Goodness. Little A has her dance recital this month and Little J is almost done with preschool. Mother's Day is in a week and a half, and I'm sitting here like "Didn't we just have Christmas?" That feeling is probably the snow's fault though, right? Yeah, let's go with that.
Here's what's currently going on for us this month:
Growing our garden! We started a bunch of seeds indoors and I've had them growing in the office with this fancy light I put above them. It's been fun showing the kids new sprouts and how different the leaves on each plant are. We've got lots of flowers, a few fruits, peppers, herbs, and lots of vegetables. Did you know it takes asparagus three years before it actually becomes a viable crop? Yeah. So we're planting now haha. We're waiting on getting some big pine trees taken down and then we're going to build and plant and I can hardly wait! It's going to be HUGE!
Submitting to Barnes and Noble this month! WHAT!? I know. My big goal for this year is to get my book on shelves at Barnes and Noble. I know that most people buy books from Amazon, but there's just something that says "I did it" about having my book sold in such a big, well-known bookstore. Like, a legit bookstore. I still love going into Barnes and Noble! Anyway, I made a few slight tweaks to the cover and like one edit in the interior, so now it's perfect and ready to be sent to them. It takes three months (according to their website) so we'll see what happens!
Camping in tents for the first time in over ten years. Yay! We were actually supposed to go twice this month, but we rescheduled one of the trips because Little A has a mandatory dance practice and it's probably going to be too cold, still. So we have one trip scheduled this month with our best friends, and we are so excited! I grew up going camping with my family every summer, and my husband and I have never gone camping in tents together, so it should be a lot of fun!
Preparing for Little A's first dance recital! AH! I can't believe it. Our Cute Lil' Tappin' Mouse is getting ready for her recital in two weeks. She's definitely improved since the beginning of the year (even since Christmas) and it's going to be so fun to see her do her dance (or freeze up and just stand there) on stage. We definitely need to do some at-home practice before the big day, but I'm really excited!
Spending time outside. We got a playground installed at the end of last month, plus we got some patio chairs and a nice table/fire thing, and we have some fun outdoor activities planned this month besides camping. It's been a super long winter so we are really ready to be outside. The first day that it was actually nice I saw more people outside than I think I did the entire winter! Little R hasn't even really gotten to play outside since he wasn't crawling or even really rolling until it started snowing last year, so it will be fun to watch him and see what he thinks of grass and being free in our yard. I know Little J and Little A are going to be outside basically all day long this summer!
Working hard on the business side of my blog. I've been really trying to put the focus of my job back onto my blog, since that's the part I love doing and that's where the money comes from. I've been creating new pictures for almost every blog post (which, I have over 400 so it's taken a LONG time) so that there's a pinnable, eye-catching picture for Pinterest, and I'm almost done with that. After that, I'm going to revamp my newsletter, which I'm super excited about, too. I'm just excited to keep growing and making Life With My Littles a fabulous resource for all mamas!
That's what's currently going on with us this month! Hope everyone has a great May!!