Not sure what to buy for potty training? Here's a great list of potty training essentials that will make learning to use the potty a lot easier!
This post contains affiliate links.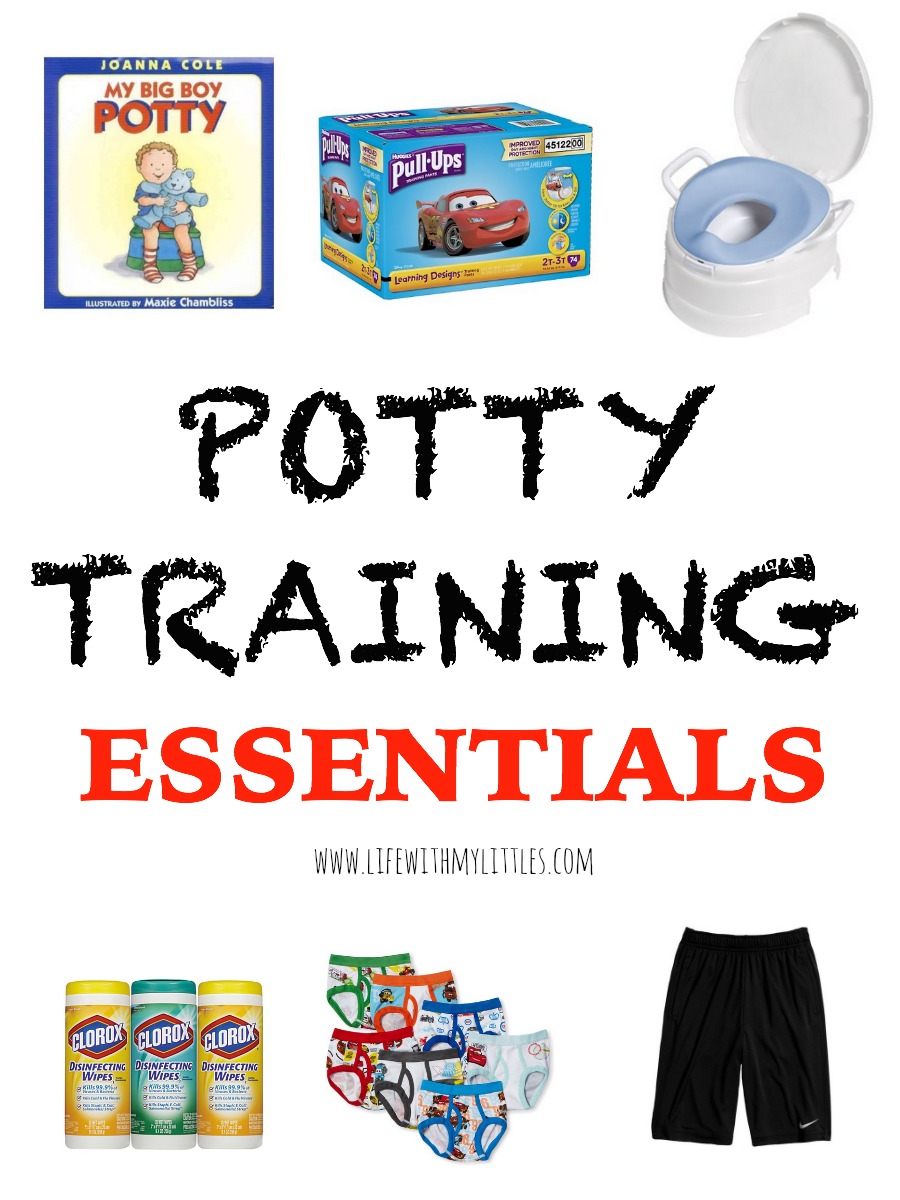 When we decided to potty train our son at two, I did a lot of studying and preparing for what we were getting ourselves in for. Despite my preparations, he was not ready and we failed miserably. Six months later we tried again and our son was successfully potty trained.
Potty training isn't complicated, but it does take a lot of time, effort, and patience. There are also a lot of things that we had on hand that really helped make it easier.
As we get ready to start potty training our daughter, I am trying to refresh myself on everything we did with our son that worked well. Today I want to share some of our potty training essentials with you guys, too, in the hopes that maybe they will help you on your potty training journey!
1. Potty with a seat that fits on the toilet
. There are lots of different kinds of potties out there, but the kind I would recommend the most is the kind that is both a tiny toilet and has a seat that you can lift off and fit on the actual toilet. It's perfect when they are first starting because they have their own little potty they can sit on, and then once they start figuring out how to use it and get comfortable with the idea, you can just put their own little seat on the big toilet with a step stool by it. Yes, cleaning the little bowl is gross, but if it makes them comfortable and helps them go, it's worth it!
2. Training pants
. Huggies, Pampers, or store brand, these are a must. Super easy to pull up and down, but not quite as absorbent as a diaper, you definitely want to start with these before moving to actual undies. I have heard that some kids just go right to undies and that's awesome, but that's not something I would recommend trying first. Plus, we have our son sleep in training pants at night just in case he has any nighttime accidents, since that's not his fault. Huggies come with Lightning McQueen and Pampers come with Thomas for boys, so they were both a big win in our house!
3. Pants with a stretchy waistband
. If you want to encourage your toddler to learn to pull their pants down on their own, you're not going to want them to have to fuss with buttons and zippers. It's so much easier having pants with a stretchy waistband that just slip on and off. We have found that athletic pants work great, and they are always easy to find at the store!
4. Books about potty training for you
and for your child
. Before we even started our potty training journey, I read the book The No-Cry Potty Training Solution
. It helped me know when it was time, some good tips, and some helpful problem-solving ideas when things went awry. We also got My Big Boy Potty
for Little J since he didn't have any older siblings that he could see on the potty. We wanted to show him that not just mommies and daddies use the potty, and this was a great book to help him. He also loved reading it while he was just sitting there on the potty, too!
5. Clorox wipes
. Guys, no matter how ready your child is, you're going to have accidents. And I highly recommend getting some clorox wipes to clean up any spills when your child just doesn't make it. If you have a house with carpet, I would recommend a carpet cleaner like the Bissell Little Green ProHeat Carpet Cleaner
. Super easy to use and it helped our house not smell like pee when the accidents were on the carpet.
6. Tracking chart and stickers
. I tried to find a picture of our potty training chart but no luck, so I'm just going to have to describe it to you. For Little J, I got a big white posterboard and drew the outline of a train on it. Then I wrote "The Potty Train" on it and hung it on the wall next to the bathroom. Every time Little J successfully used the potty, he got to put a sticker on the chart! It was so much fun for him and for me as the chart got filled up, and he was so proud of himself. Plus the reminder of it on the wall I think helped us both keep potty training on the mind. Obviously you can just do whatever shape you want, but if your son is into trains like mine, he'll love a big train. And use your child's favorite character for stickers and it will make it a lot more fun!
7. Reward system. M&M'S
work great, and so do little bite-sized candy bars. You have to have rewards, guys. We first started by giving Little J a little mini candy bar every time he went potty, but then we realized he was eating a ton of chocolate (duh). So we switched to M&M's, and eventually, we were able to stop with the candy/treat every time and just do the stickers on the chart. We also had a big reward in place that we reminded him about a lot. We told him that if he was potty trained by the time he turned 3, we could go to Disneyland. Oh man, that worked! Your reward can be something smaller, but it does help a lot to give them a little more incentive!
8. Undies
. Last, you will need undies. When you give them to your child depends on your child. Some kids won't even care if they pee in their training pants and that might be an indicator that undies might be better. But we waited a while to put undies on our son so that we weren't constantly having to wash undies every day when he had accidents.
So there you have it! Our potty training essentials. Potty training is hard, but it's so worth it in the end. And just remember that it will happen one day! They can't wear diapers forever!