Life With My Littles Baby #3 Pregnancy Update: 37 Weeks
I received free product in exchange for this post.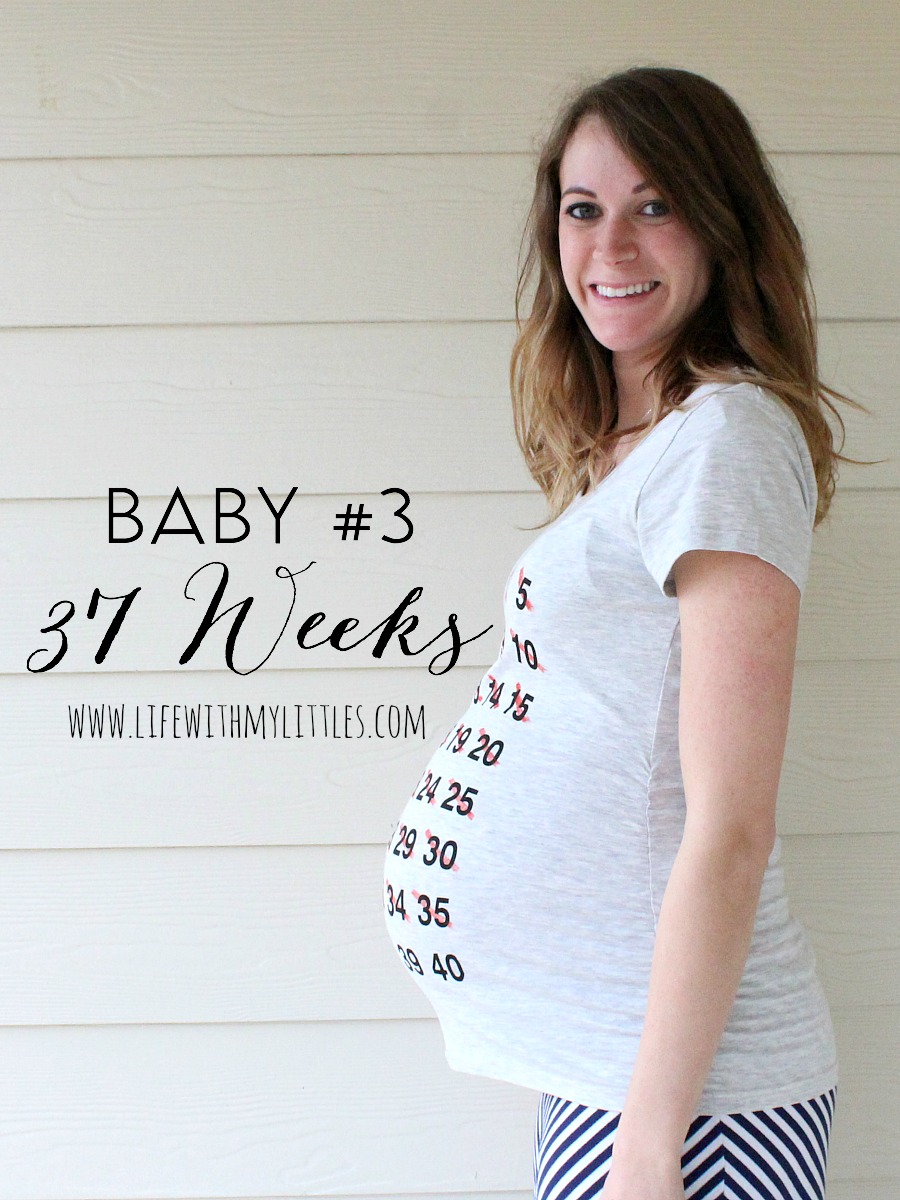 Hello again and welcome to my last (hopefully) pregnancy update! I only have three weeks left until my due date, and I am 100% ready for our little man to be born. And by 100% I mean physically I am super ready, but like 75% mentally and emotionally ready! It is crazy that it's so close, but the kids (especially Little J) are excited for him. He keeps telling me that he is ready to meet baby brother and how he wants to hold him. And he kisses my belly all the time, which I love.
Last week I started going to the doctor every week, and yesterday I was measuring on schedule. I've been two weeks early almost every appointment since 17 weeks, so now I'm normal I guess! My first two babies were 7lb 10oz and 7lb 11oz, so I'm assuming it won't be too different with this little guy. But we'll see!
And last week my husband had his second week off of intern year so we decided to take a trip to The Great Wolf Lodge. It was fun to do one big last thing as a family of four, even if I was 36 weeks pregnant! Luckily I had a maternity swimsuit from when I was pregnant with Little A, and I wasn't even the only pregnant lady there! I probably was the only one who was 36 weeks though haha!
I'm currently not planning on doing anymore pregnancy updates, so you better really enjoy this one! I can't believe that we are less than three weeks from the due date. CRAZY. I don't know if it's just because this is my third pregnancy and I've had so many other things going on, but it has gone by so fast. How are we basically almost done? AH!
How Far Along: 37 weeks as of Sunday. So close! Like, less than 20 days to my due date close!
Size of Baby: A durian, or Swiss chard. I'm pretty sure I've seen both in the grocery store, but I've never bought either. And probably never will. Chard is gross.
Gender: I probably should've taken this off of here after the first two times I said he was a boy, but I guess if anyone knew has joined us it's still helpful for them to know! Yes, we are having another boy!
Movement: Sometimes I'm like "I should really be doing kick counts" but then he moves so much every day that I'm not even worried about it. Usually when I'm laying down to fall asleep he is moving a ton and it's getting painful now, so that's a bummer. He sure loves those ribs.
Sleep: When I am asleep, I sleep well, but I get up at least 6 times a night to pee. I tried not drinking after 4pm but it didn't make any difference, so yeah. I think I'm getting up at least every 2 hours. So it's kind of prepping me for when I have to feed a newborn every 2 hours!
And speaking of sleep, I got my second Bump Box over the weekend and it was full of great things to help baby sleep once he comes! I've always wanted to try a SwaddleMe, and the lotion and room spray smell so good! My kids already stole the Sandra Boynton book away! Stinkers! If you're looking for a great gift for yourself or a pregnant mama friend, check out Bump Boxes!
Workouts: I wish I could say yes, but it's been so sporadic. When I do work out, I've been doing prenatal workouts from Body Fit By Amy. She has a great weightless workout and then some stretches and strength training.
Maternity Clothes: Yes, and I'm super excited to be able to wear my normal shirts again. I will definitely miss maternity pants, but lucky for me my sweatpants and leggings are still acceptable to wear after he's here. And I've actually gotten some really cute tees and skirts since getting pregnant that I haven't been able to wear yet.
Symptoms: I MOVE SO SLOW. Like, a snail's pace. Or like an 80-year-old woman in house slippers. It's pathetic. I pee all the time and I'm having tons of Braxton Hicks. Some of them have hurt, but nothing concerning. Really bad heartburn every night no matter what I eat. Basically feeling very uncomfortable. I went into this pregnancy thinking I was going to try not to complain as much as the first two, but for reals, pregnancy is no joke. It's hard and it sucks sometimes.
Cravings/Aversions: Anything with hot fudge. Basically anything sweet. Especially ice cream. No aversions still (and honestly, I don't think I'll have any!).
Missing Most: Being able to bend over or sit on the floor with the kids while they play.
Nursery: FINISHED! With the exception of moving the kids toys out and the recliner in, and then two pictures on the shelves that I can only do after he's born (initial and photo). It's perfect 🙂
Like I said, this might (aka will probably be) my last update. I have a few more posts coming before I take two weeks off for baby's birth, so you don't have to say bye just yet. And when I come back I'll be sharing his birth story and the nursery reveal, so definitely make sure you watch out for those! Yay babies! Also, because I love seeing the growth throughout pregnancy, here's a little collage of some of my bump shots! They range from week 9 to week 37.