Looking for an alternative to allowance? Here's how we encourage good behavior and manage rewards for our children.
This post contains affiliate links.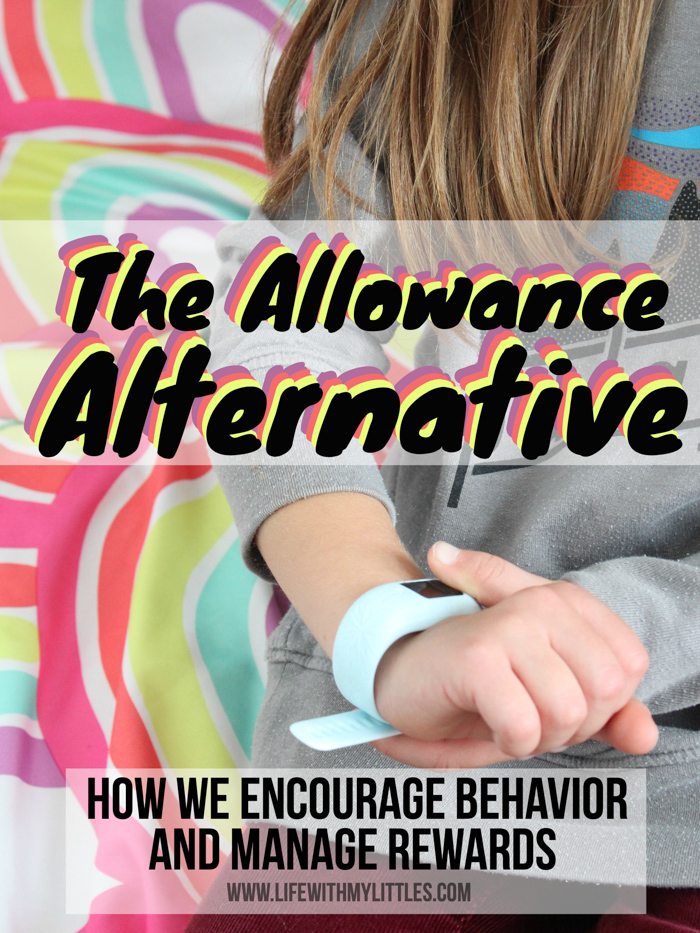 Last Christmas we got our son (who was six at the time) a Garmin Vivofit Jr. 2 Kids Fitness Tracker. It's a little band kids wear that tells the time and keeps track of their activity and steps.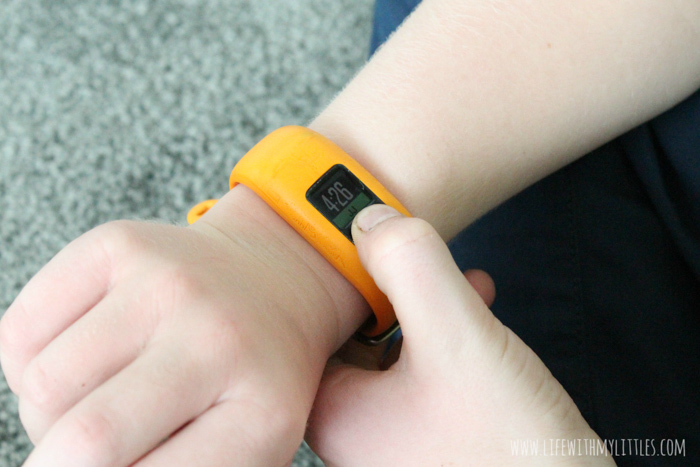 We originally got it for him because it looked fun and he wanted to be "like Daddy" and track his steps. But after we got it and used it for a few weeks, we realized it's so much more than a step-tracker. We even got our daughter one for her sixth birthday!
First of all, no, this post isn't sponsored. We bought our kids' Vivofit Jr. 2 bands with our own money. But there are so many features and they've been so handy to keep track of our kids chores and things they're working on that I try and share how cool they are with everyone! (Seriously, two of my in-person friends have gotten them for their kids because they're so great!)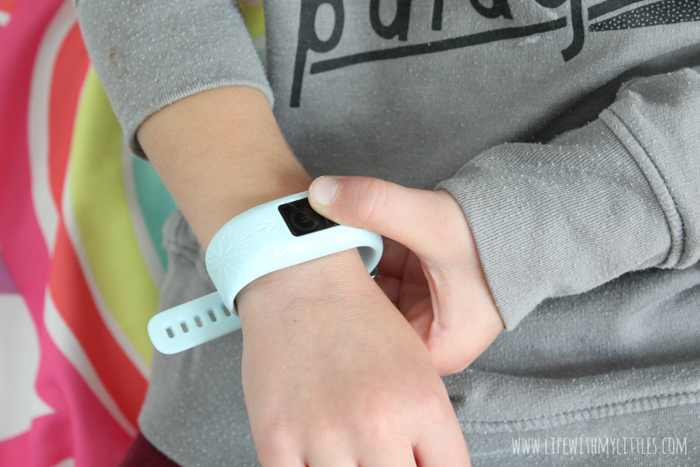 And that leads me to the whole point of this post. For a long time, getting my kids to make their beds, clean up, and brush their teeth was such a struggle. We would tell our kids they needed to work on being kind or keeping their rooms clean, but we didn't have any good incentive program for them. Chore charts only worked when our kids were little. Allowance has always seemed hard to keep track of, and we never have cash on hand anyway. We needed an alternative to allowance, and with Garmin, we figured it out!
With the kids' Garmin Vivofit Jr. 2 bands, everything changed. You can link the bands to an app on your phone and not only will the app tell you about your kids' activity levels, you can also add chores to check off each day, and rewards they can get by cashing in coins from doing chores.
Here's how we use the Garmin Vivofit Jr. 2 bands as an alternative to allowance:
First, enter chores or things you want your kids to work on into the "chores" section of the app. Assign each chore coins that your kids will receive after they complete the chore.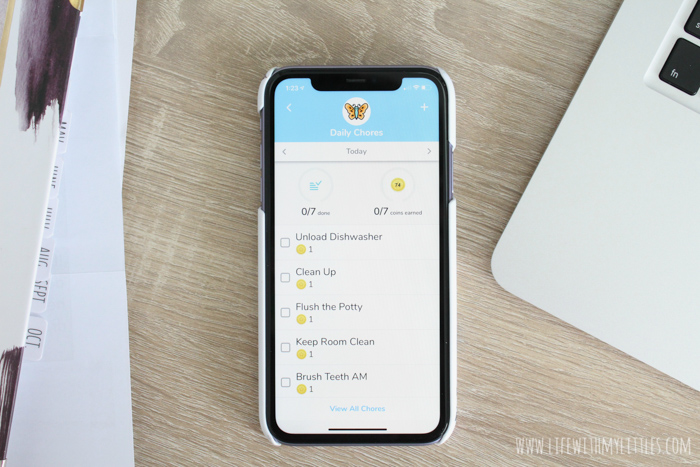 Then enter rewards into the "rewards" section of the app. You can choose from rewards in the app, or type in your own. Choose how much each reward is going to cost, a picture to represent that reward, and anything else about it (like when it can be redeemed or any other little detail). This way, your child can't just spend allowance money on whatever they want–you both have to approve the rewards!
Some of our rewards include specific LEGO sets (100 coins for every $10 the set is worth), Happy Meals from McDonald's, extra TV time, or other things our kids are saving up to earn.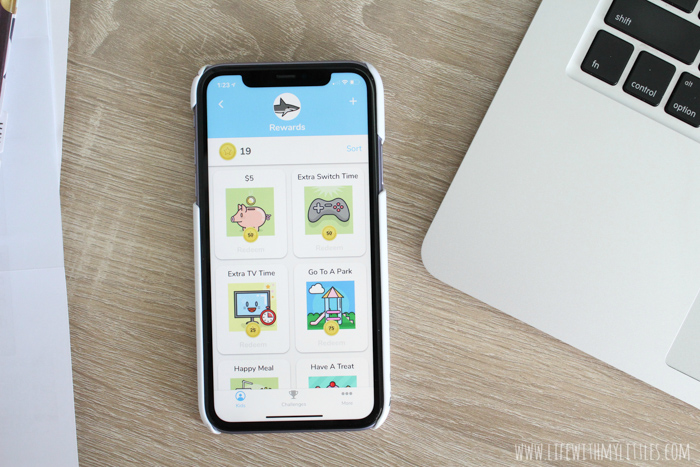 Every night, mark the chores your kids completed. If they controlled their temper, give them a coin. If they made their bed, give them a coin. You get the idea. They also get to play a game if they get at least 60 active minutes that day. That's my kids' favorite part.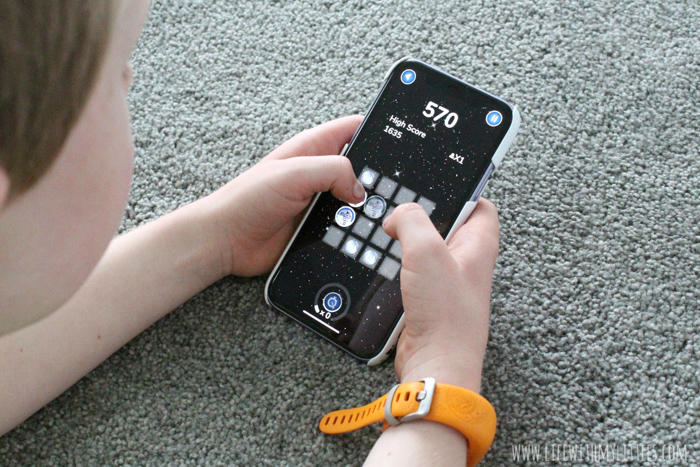 As your child completes more and more chores every day, they'll get more coins to spend (obviously). Once they have enough, they can cash them in and get a reward!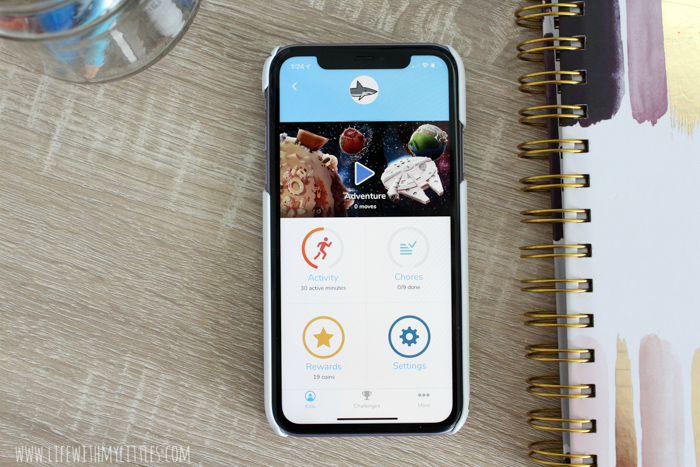 It seems super simple, but it's so much easier than keeping track of chores on a printed calendar or trying to remember how much allowance your child earned each week.
Once our kids master what they're working on, we take that chore off and add something new. It's made such a big difference when we can remind them that they're working on things and trying to earn coins.
This simple system has revolutionized the whole system of "allowance" in our house. It's such a great alternative to allowance, and is so much easier to keep track of. There are so many features and even additional bands you can buy once your child finishes their "adventure" (or they can just start it all over again).
If you're struggling to get your kids to willingly do things around the house, if you're tired of always reminding them to be kind or clean their rooms, or if you just don't want to give your kids allowance, this system is the answer!