Is your family getting your best, or are they getting your leftovers?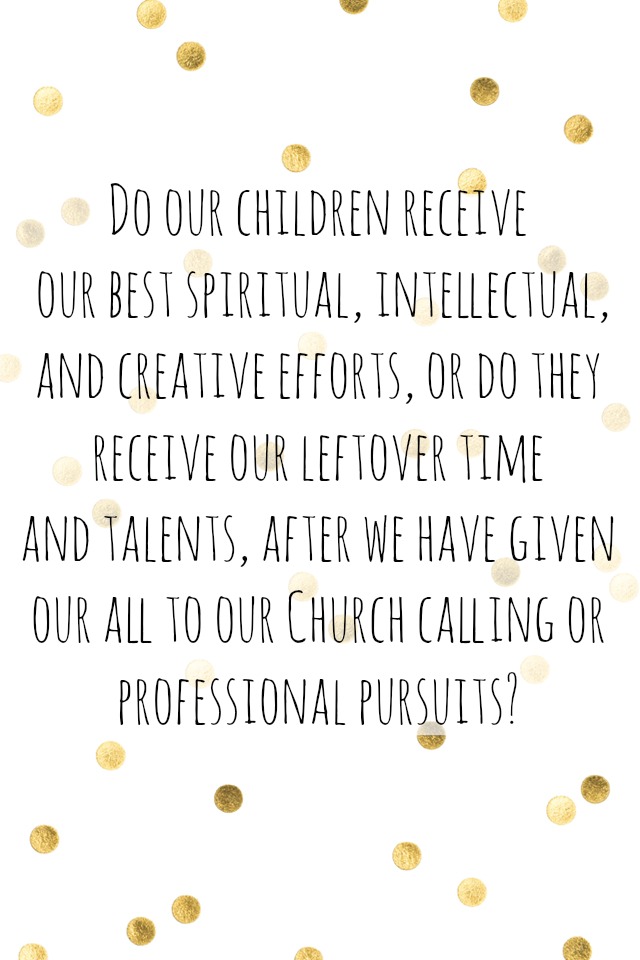 The first weekend of every October our church holds a semiannual General Conference. I love sitting down to watch with my notebook and pen after thinking and praying all week about the questions I want answered. Something I was praying to know this time was how I can be a better wife and mother to my family. I got my answer in the Saturday afternoon session of conference in a talk by Tad R. Callister called "Parents: The Prime Gospel Teachers of Their Children." 
There was one line in particular that really stuck out to me and made me have a "mommy moment," so much so that I wanted to share it with you today.
"Do our children receive our best spiritual, intellectual, and creative efforts, or do they receive our leftover time and talents, after we have given our all to our church calling or professional pursuits?"
Regardless of whether you go to church or have a job, I think this applies to everyone. Really ask yourself if your family is getting your best, or if they are just getting your leftovers. Are you giving them your full attention, or are you giving them half of your attention while your other half is focused on things that don't matter as much?
I think we can all do better, and when I heard this during conference I knew it was exactly what I needed. Our families are our number one most important thing, and we should be giving them our best, not our leftovers.