Currently April 2017: What's going on this month for Life With My Littles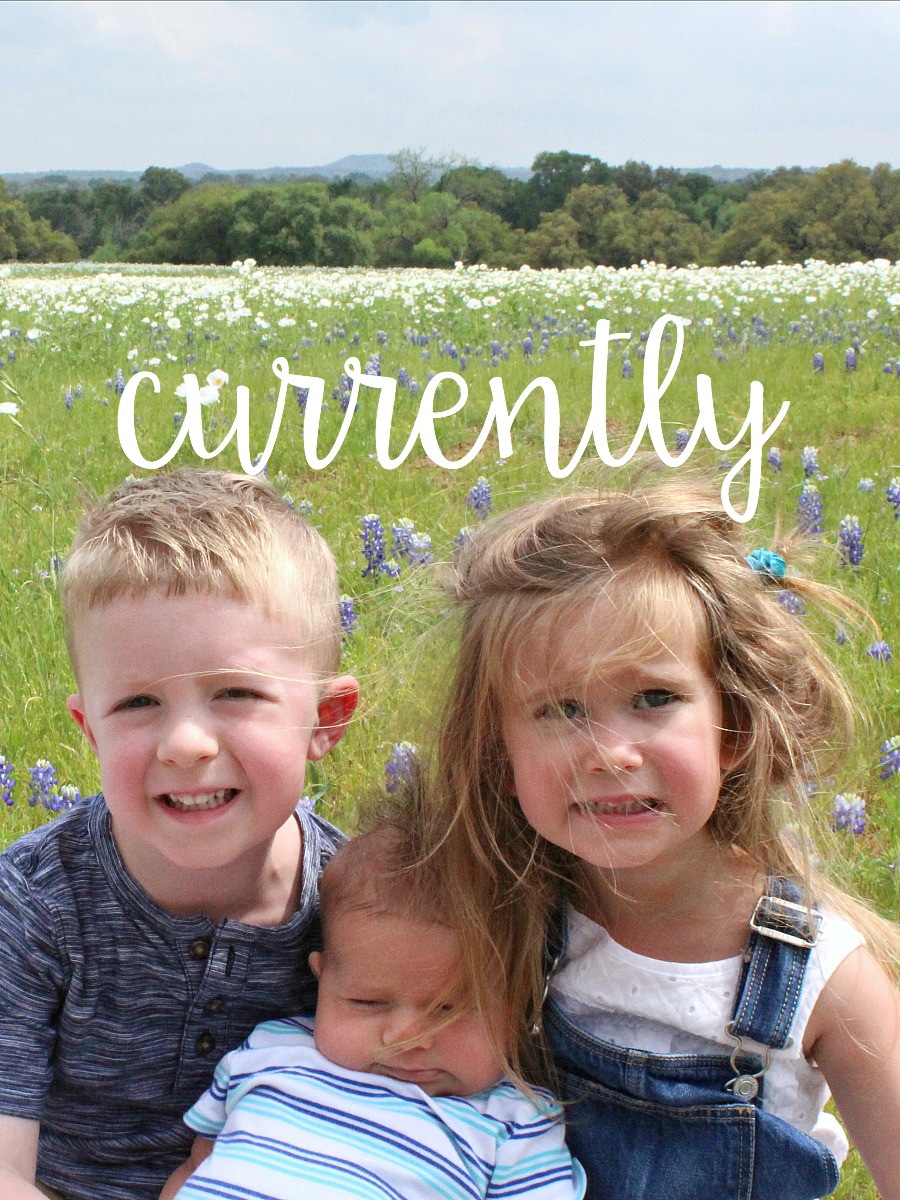 Hola, mamas! I can't believe our little baby boy is already 2-months-old! And oh goodness, it has been a long, but crazy, fast two months. But it also feels like it has gone by slow. My husband was on a rough schedule in March, and with baby boy's colic and not sleeping well, we barely made it through most days. The last week has been a lot better, but most of the month was hard! We also celebrated Little J's fourth birthday (with a Cars cake of course!). I can't believe I have a four-year-old! Madness, I tell you.
Anyway, I'm glad March is over. This month we've got some fun stuff coming up, and I'm hoping I'll start figuring out more of a daily routine with three kids!
Here's what's going on this month:
Learning to let go. Life with three kids is a beast. Honestly, having three kids kicks my butt most days. I love each one of them and I wouldn't change anything, but it is tough to get everything done that I need to and that I want to. So I am quickly learning that I don't have to vacuum every week or clean up toys more than once a day. It's okay if the pillows on our sofa aren't exactly where I want them or if the kids beds aren't made every day. I am learning to relax and that it's okay if we are in pajamas until dinner and if there are crumbs on the floor. I'm a clean person so it's hard for me, but priorities, you know. My kids are most important and I need to give them the most time. I'm also unfortunately learning to let go of spicy foods, because any time I eat anything remotely spicy, Little R gets very fussy. Which is super unfortunate because I love salsa on my breakfast tacos! Oh well.
Grateful. For so many things. I'm grateful for what we are able to give our children (like their amazing new playground, fun vacations, new clothes, new toys). I'm grateful for the absolutely beautiful earth we live on. Last week we drove out in the country and found a stunning field of white poppies. It was one of the most beautiful things I've ever seen. I honestly almost cried a little bit because I was so overwhelmed with its beauty and gratitude for it. I'm also grateful for my healthy family, our home, and warm weather.
Loving Moana. If you haven't seen Moana, you need to right now. It's SO CUTE. We love it in our family, and I really want the soundtrack. I'm currently working on a parody of the song "You're Welcome" that Maui sings, so I'll let you know when that's done. But it really is such an amazing movie. Both kids love it, I love it, my husband loves it. It's adorable. My mom was super nice and bought it for us when they were visiting last month, so we watch it quite often, which I am definitely not complaining about.
Watching Little J learn how to play t-ball! He did soccer in the fall and loved that, so we signed him up for another sport to try! He actually got a t-ball stand for Christmas and has been practicing with Daddy. Anyway, he started last weekend and it was so cute! The league he is in is perfect for his age because they don't keep score and each inning everyone gets a chance to bat. They also get to try out different field positions, so it's seriously perfect for kids his age.
Surviving on Diet Dr Pepper and Diet Mt Dew. I am TIRED. Little R is FINALLY only waking up twice a night (most nights), but I am still tired. Up until like last week he was waking up 4-6 times a night. It was rough to say the least. Now he usually wakes up 3 times after I put him down at 7 and then again around 6 am. Luckily Little J and Little A sleep through the night almost every night, and my incredible husband would get up with them in the morning before work and put a show on so I could get an extra hour of sleep. But I am finally understanding why moms complain about being tired so much. The struggle is real, yo.
Eager for April. There are so many fun things happening this month. First, is the Cars 3 Road to the Races tour. When I found out about this I almost cried (true story). Little J has been obsessed (I do not use this word lightly) with Cars and Lightning McQueen ever since December of 2015 when he saw Cars 2. He had a Cars birthday cake when he turned 3, he was in heaven when we went to California Adventure last spring and met Lightning, Mater, and Red in Radiator Springs, and he was Lightning McQueen for Halloween last year. Not to mention he has toys, decorations, clothes (undies, pajamas, shirts, shoes), books, and eating utensils all Cars. Back to the point, to promote Cars 3 coming out in June, there is a tour going around the country where you can meet life-size Lightning McQueen, Cruz Ramirez, and Jackson Storm (new cars in the movie) and take pictures with them, as well as do some other super fun activities and watch a short clip from the new movie. And it's coming to our city next week. Little J tells everyone that Lightning is coming to his city, and we are for sure going to be among the first in line that day. And of course Easter is in April, and my husband's third and final week of vacation of intern year is this month and we are going to visit my parents in Colorado. My husband also has a normal schedule in April with weekends off, so that will be nice before he goes back to a longer schedule in May and June.
Anyway, that's what's going on for us this month! Make sure you follow along on Instagram to see more of what we're up to!