Baby boy's nursery reveal! An adorable, minimalist nursery with bright colors, felt balls, and DIY felted words.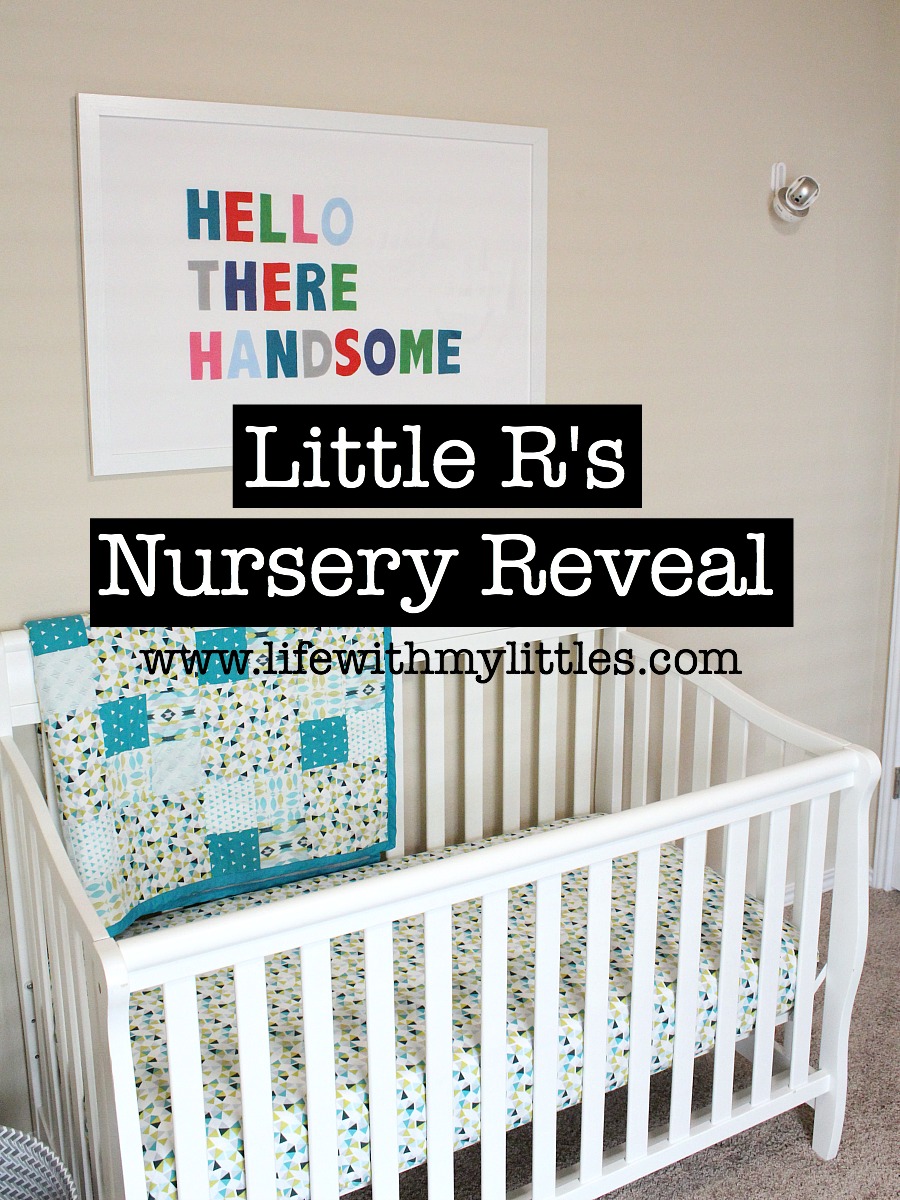 Today I am super excited to share Little R's nursery reveal with you guys! It took a long time to get it together because while I knew a few things I wanted to include, I never really had a "vision" like I did with Little J or Little A. But I am happy with how it turned out, and I did a lot of DIY projects to make it special for our new little man. There's not a ton of decor, but we like things more minimalist around here! I might add more to it later, but this is good for now 🙂
You may remember that last year I got the cutest felt balls from Hello Maypole. I picked a bright, rainbow pack because I wanted to use them in the kids' playroom when we moved into our new house. They were going to be my inspiration for all of the decor, and I was super excited to put it all together when we moved. Then we found out we were going to have a baby, and I had to change my plans! I still decided to keep the felt balls in the nursery though, and when I was picking out fabric for Little R's quilt I tried to find fabric that had some of the colors of my felt balls. But the inspiration for the nursery was no longer 100% my beautiful felt balls.
Anyway, I got the fabric for the quilt from Jo-Ann (I searched online but couldn't find any I loved, so I got lucky when we went to the store!). It is the nicest and fanciest quilt I've ever made, and I am really proud of it. I used this tutorial from Diary of a Quilter. I also sewed the crib sheet using this tutorial from How Does She (crib sheets are mega easy). And I sewed the changing pad cover using this tutorial from View From the Fridge. The curtains are just blue blackout curtains (which light colored blackout curtains don't do much, but I didn't want something super dark to start him off with) from Target that I sewed some extra fabric onto. The grey and white weave baskets are from Target, too. I also made the mobile using my felt balls and this tutorial from Interiors by Sarah Langtry. The big giant felted word thing (not sure what to call it) I just made by printing letters in a font I liked, cutting them out of felt, and then gluing them onto a white posterboard. The shelves are from IKEA and I used the felt balls again to make the little garlands. The bear print is from We Lived Happily Ever After, the alphabet print is also from We Lived Happily Ever After the feather print is from Oh So Lovely, and the "Wild and Free" print is also from Oh So Lovely. They were all free downloads, so that was legit. I got the Families are Forever print from Aimee Ferre as a bonus when I got my Living Christ print for my office. You'll also notice there's an empty frame, and I am currently waiting on a print from our amazing session with Stephanie Hansen Photography, and the R monogram I just cut freehand. The moccasins are from Freshly Picked.
As far as furniture goes, the recliner is the same one we got from Homemakers four years ago when Little J was born. The Graco crib is also the same one we got four years ago when Little J was born. And the dresser is from who knows where but I've had it since I was a super little girl and it's still in great condition. It could probably be cleaned and repainted, but who has time for that.
Also, one of my favorite parts about the whole nursery is that my husband installed a dimmer switch for me so that I can dim the lights to very low for nighttime feedings and changings. This was a tip my husband's aunt gave me four years ago and I've always wanted to do it and now that we have our own house, we did! Yay!
Okay, now on to the pictures!
So that's Little R's nursery! Like I said, I am very happy with the way it turned out! I may add more to it as he gets bigger, but for now, it's perfect!