Ideas for a little boy train birthday party. Complete with food ideas, decorations, party favors, and keepsake ideas!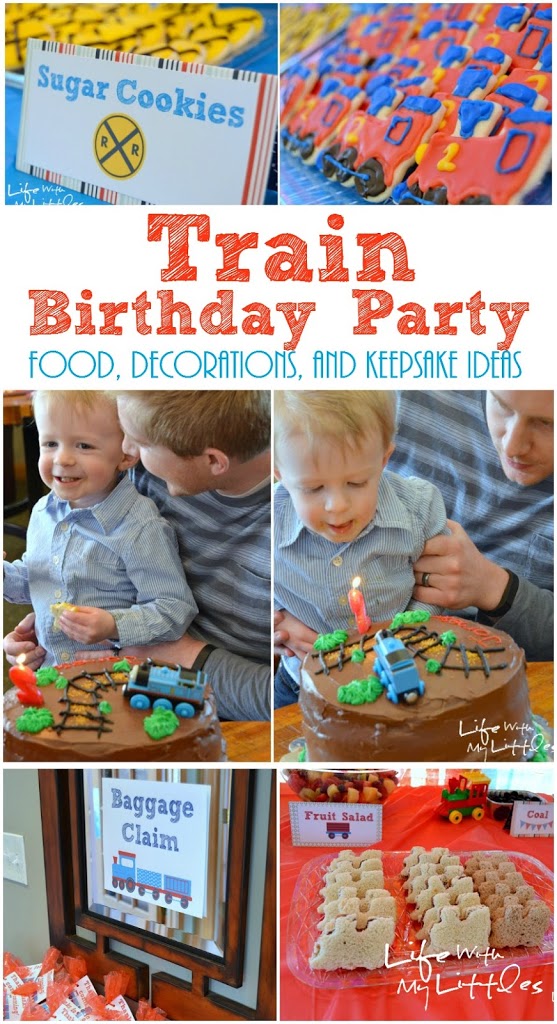 Choo choo! Little J turned two!
Yes, my oldest child is now two years old! If you follow me on Instagram, you will have seen all the pictures a few weeks ago from Little J's second birthday party. He is completely obsessed with trains, so I knew I had to do a train theme. We moved away from Iowa on Friday, so I wanted his party to kind of be a last big get together with all of his friends. So yes, I did go all out. And yes, it was SO worth it!

First of all, I had been planning this party for months. I knew I wanted it to be perfect, so I knew I needed to start early. The Mister thought it was a little silly that I started in January for a March party, but let's be real. I had to! So I scoured Pinterest for all train parties ever, and found great ideas. We also went to a birthday party in January for Little J's friend Jack that gave me some inspiration, too. So when I sat down to write out everything I wanted, it was a big list. And I took 11 pages of notes to finally get me to the end!
Anyway, everything came together amazing! It was perfect from start to finish, the kids all had fun running around and playing together, and Little J smiled the whole time. I didn't have any games or anything for the kids, but we brought over Little J's basketball hoop and punching bag thing. So they had something to play with, but it didn't take me a lot of work!
I designed all of the signs myself. I did buy a train clipart set off of Etsy from Little Prints Parties. I used the images for my signs, invitations, and decorations. So when you see cute little trains in the pictures, that's where they are from! I made all the food (including the sugar cookies) and the decorations. It was a lot of work, and I was in the kitchen for three days straight, but it really paid off!
And a big thank you to my friend Alli for taking these amazing pictures! Go visit her Etsy shops here and here.
Okay so first, let's start with the entry. I made a cute little sign and used electrical tape to make a railroad on the floor of our apartment clubhouse. Then above the doorway I made a double-sided banner that read "Arrivals" as you walked in.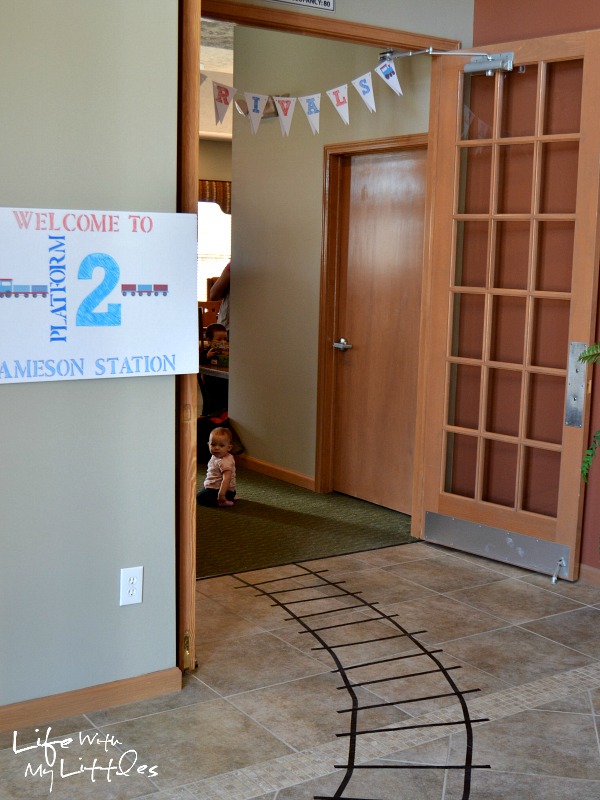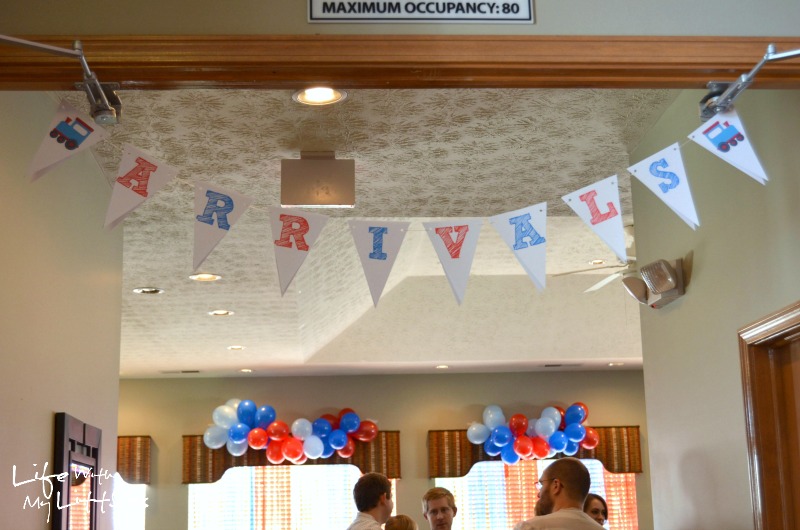 Then when you walked in, there was a little table with "The Little Engine That Could" with a picture of my son and a sign telling you to sign his birthday book!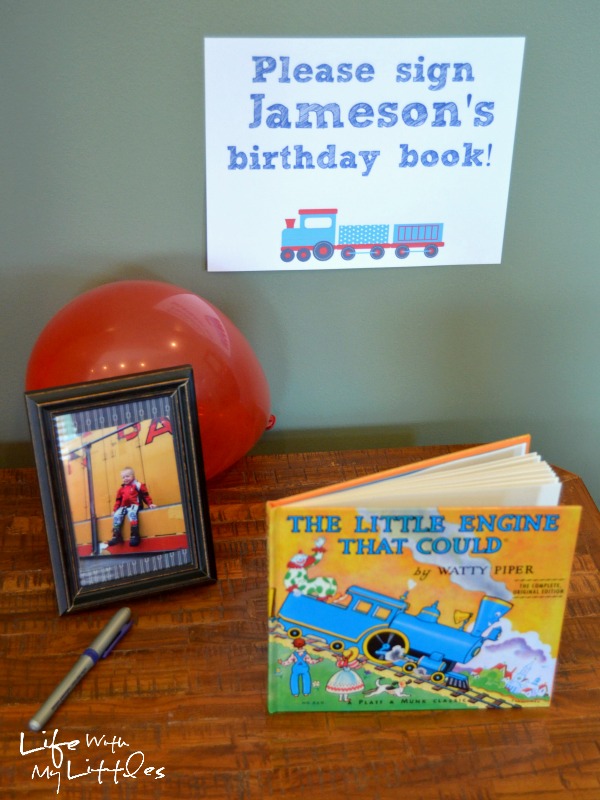 I made some little centerpieces for the tables that had pictures of Little J on a train and then some cutouts of the clipart I bought. I also made a little "2" since he turned two. And thanks to my sister for suggesting I use Easter basket filler to fill them! Genius!
Okay so the food. I hung some balloon banners above the tables to try and hide the ugly valances our apartment clubhouse has. Then we hung some streamers and I made some railroad crossing signs out of foam board and paint. I am keeping those signs for Little J's new room!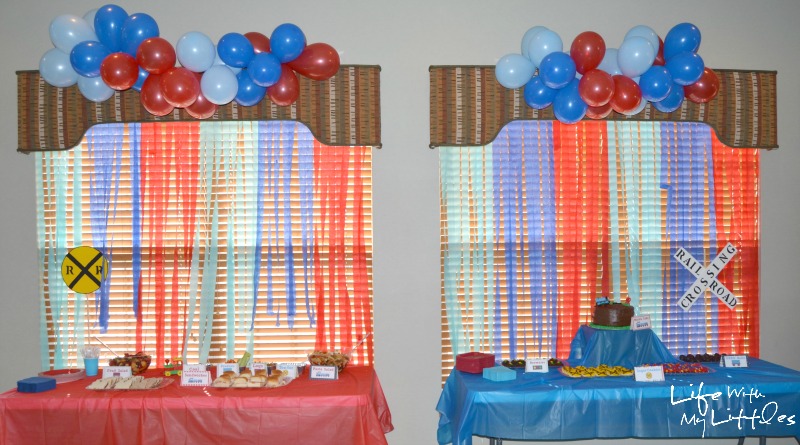 I had a regular food table and a dessert table. The regular table had fruit salad, pasta salad, PB&J sandwiches in train shapes for kids, turkey and cheddar sandwiches for adults, and then a cute little train with coal (olives), produce (carrots and celery), logs (pretzels), and tender (ranch dressing). The containers are just mini loaf pans with wheels I glued on!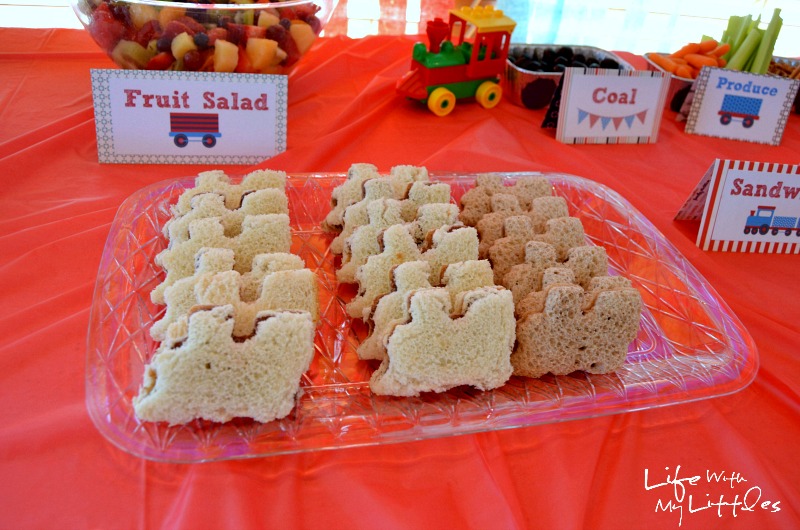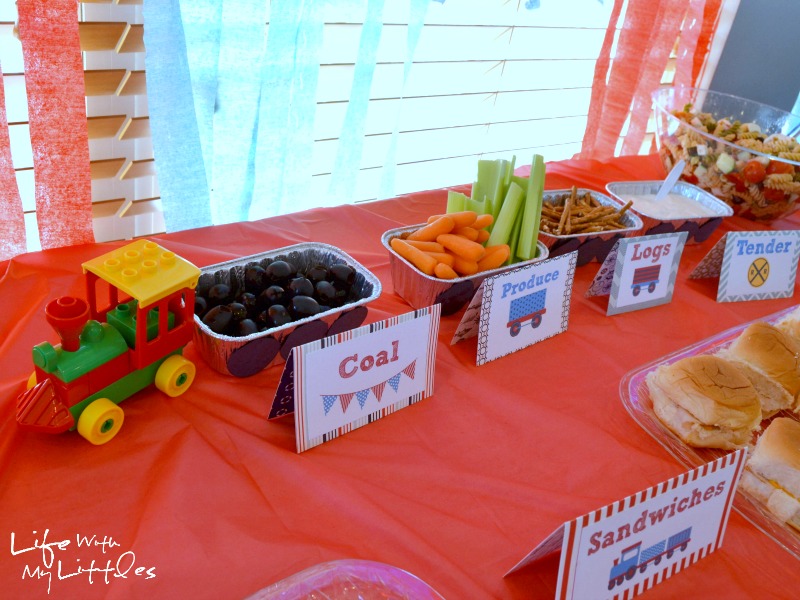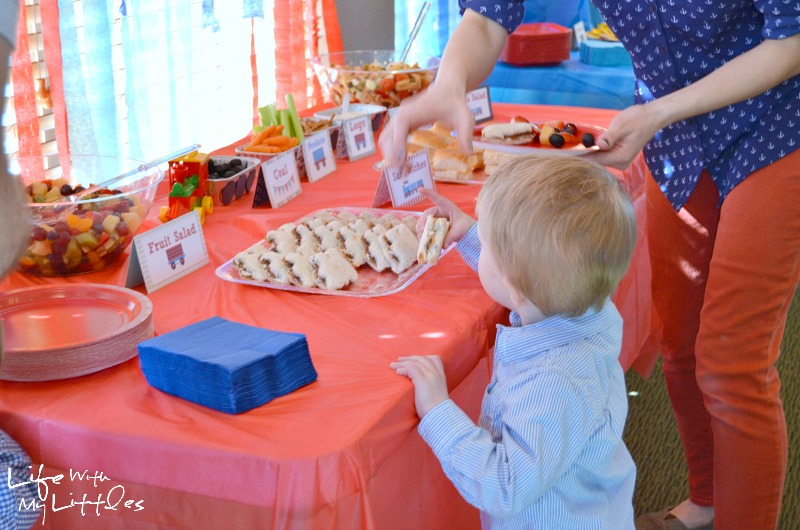 The dessert table was my special baby. I love dessert, so I had to make it good! We had OREO Cookie Balls, traffic light brownies, railroad crossing and train-shaped sugar cookies, and a giant four layer marble cake with chocolate mousse filling. I made everything myself, and my pride and joy were those sugar cookies. One day baking, one full day frosting. But completely worth it!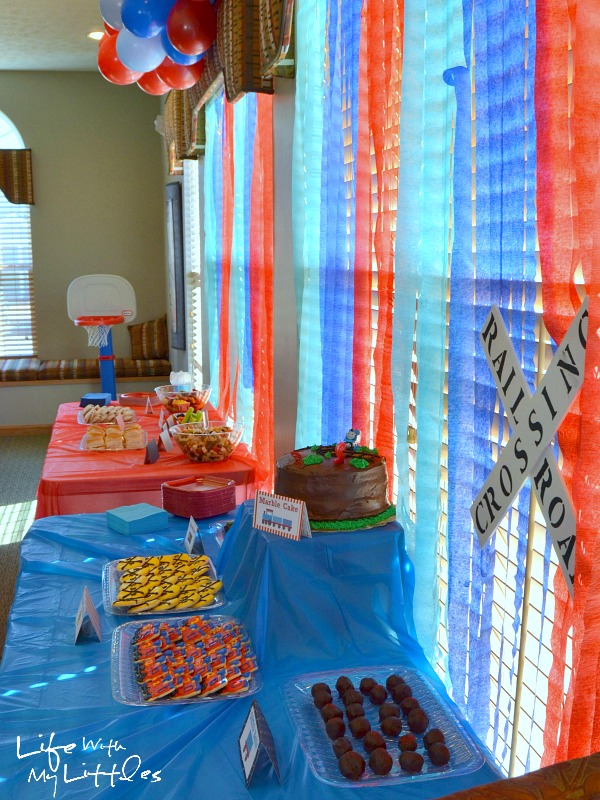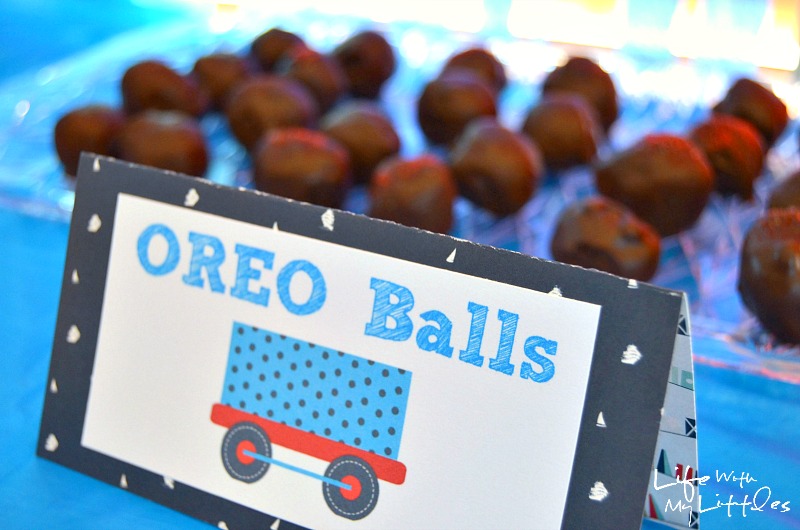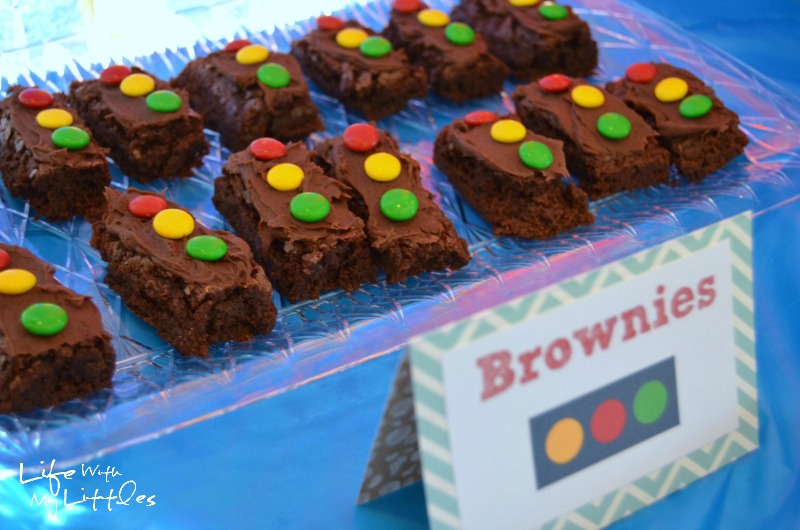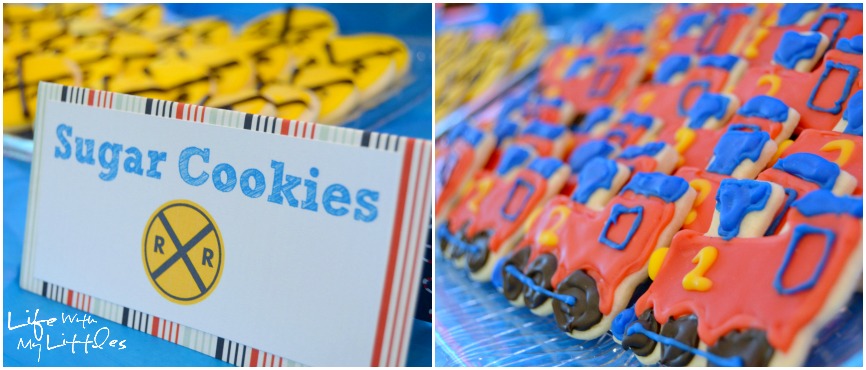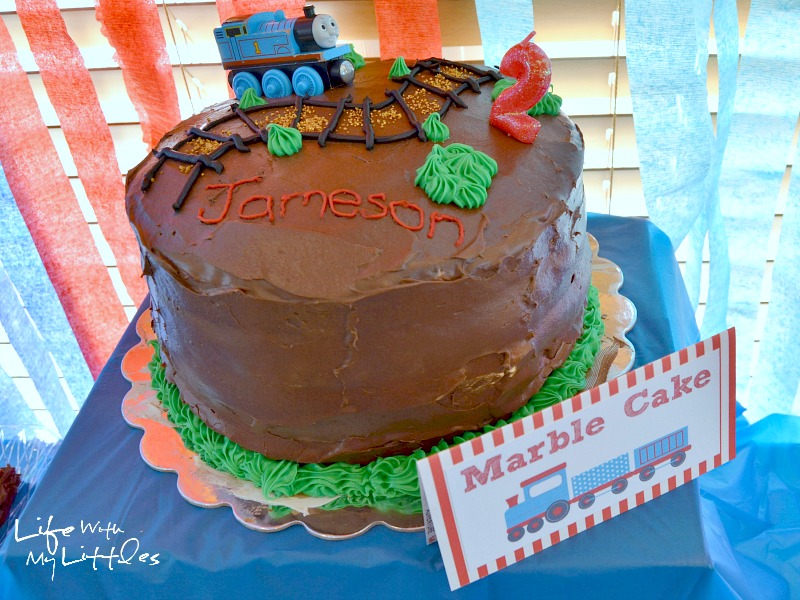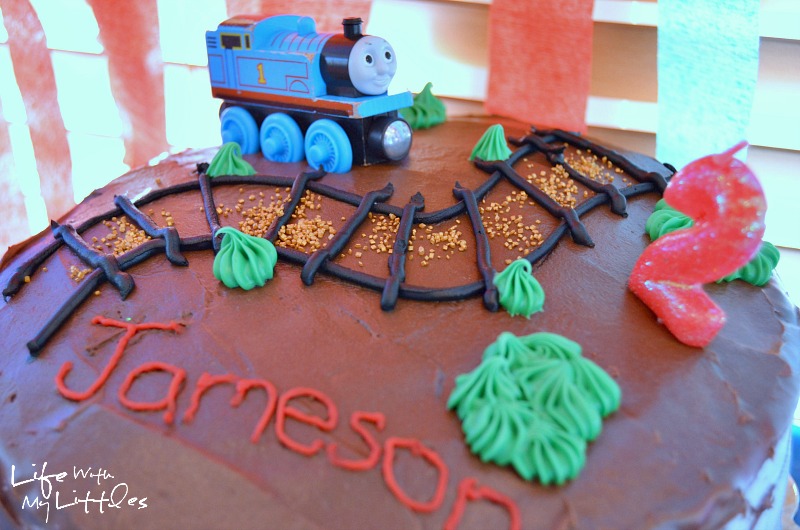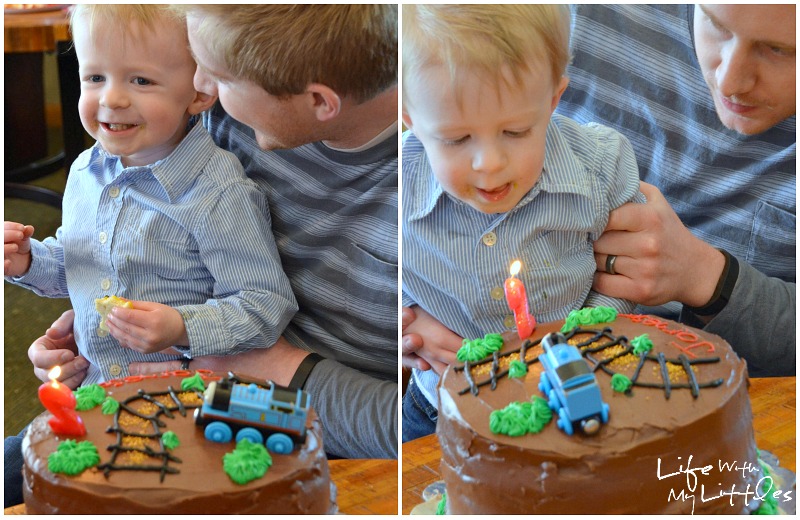 I also made a little drink station where we had water in a water tower and diesel fuel (rootbeer).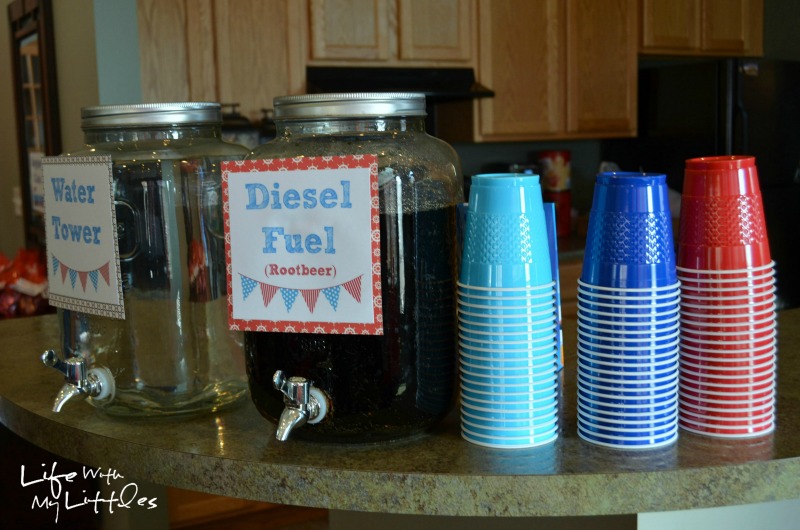 On the way out, I had the "Baggage Claim" where you could pick up your party favors. I just put some candy and graham crackers in bags. I didn't want all my friends to hate me so I decided to forgo giving their children train whistles as favors.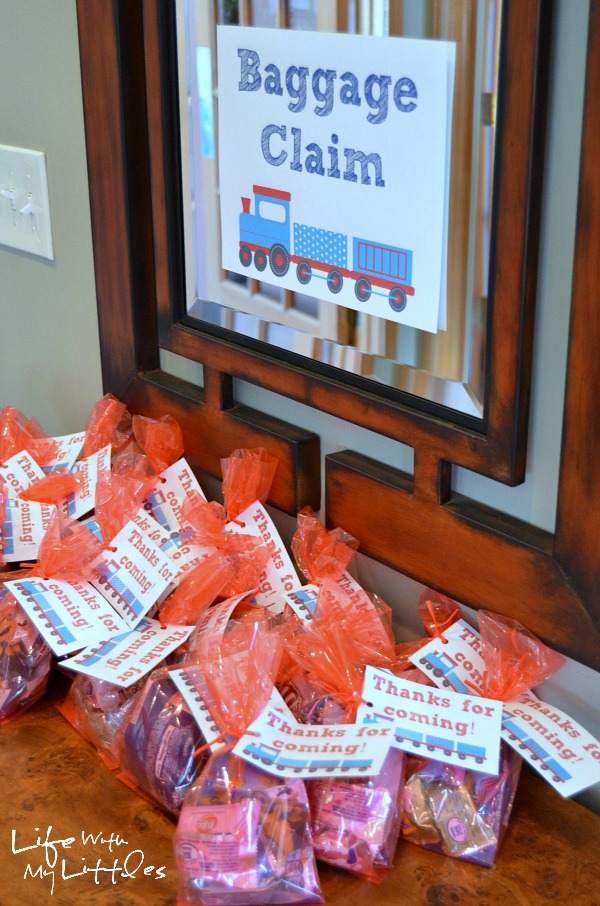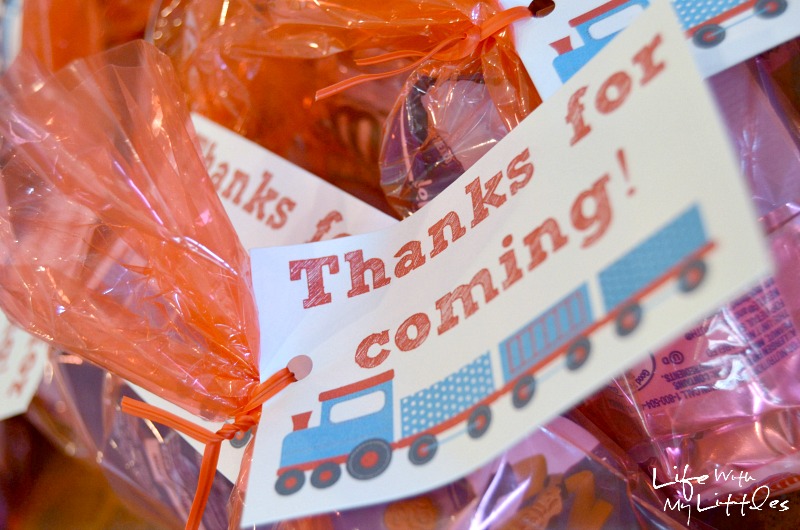 Then there was the other side of the banner that said "Departures" as you were leaving.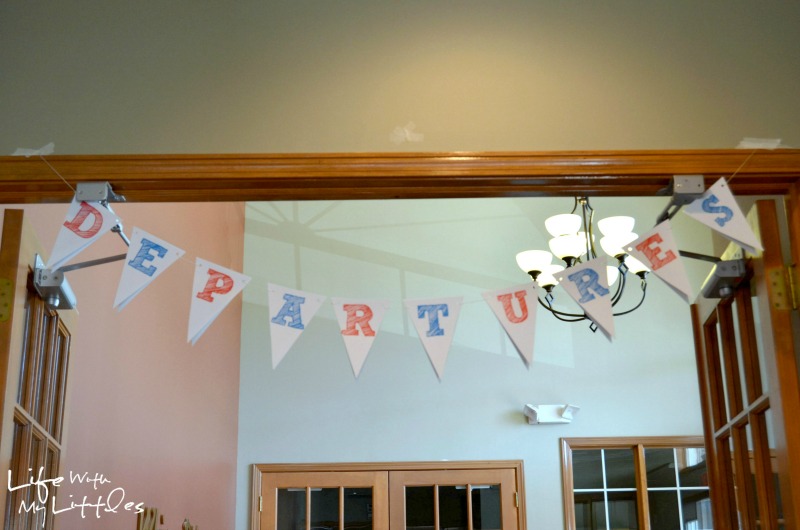 And now because my friend Alli took such cute pictures, here are some more pictures of Little J and his friends all enjoying the party!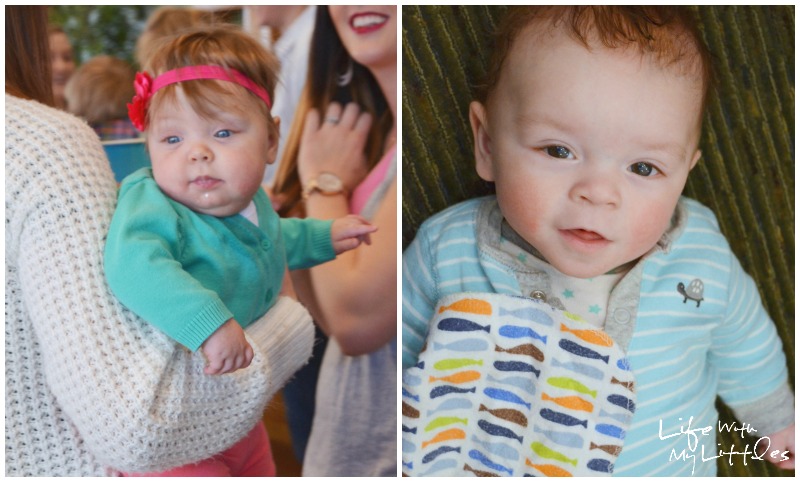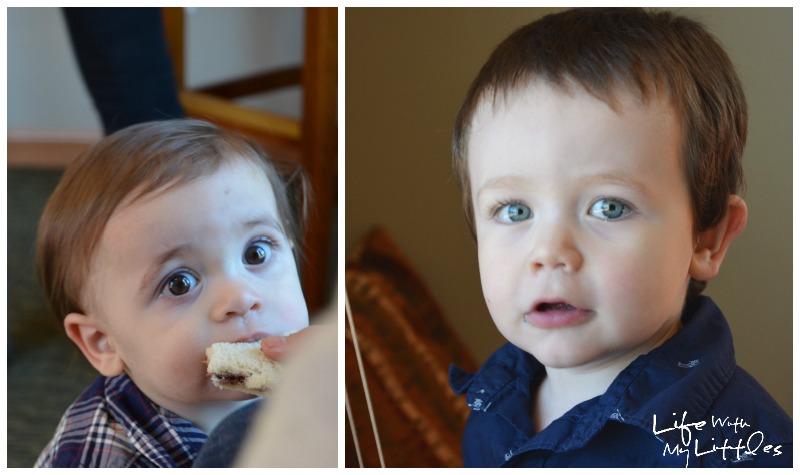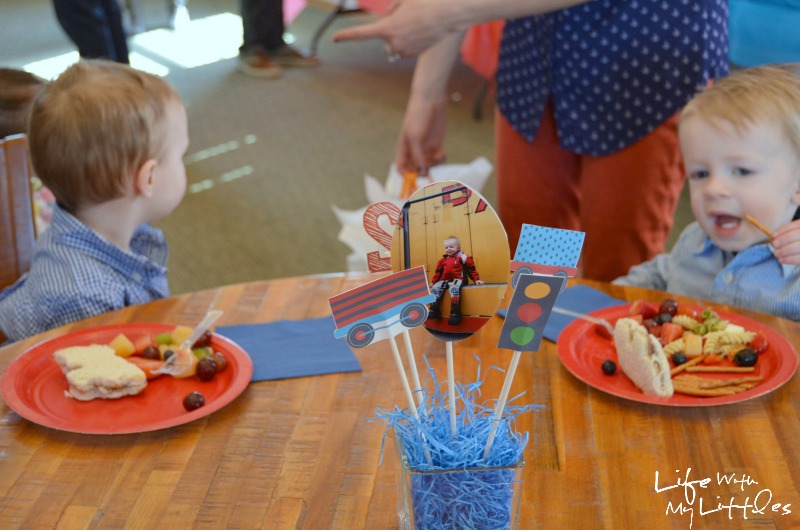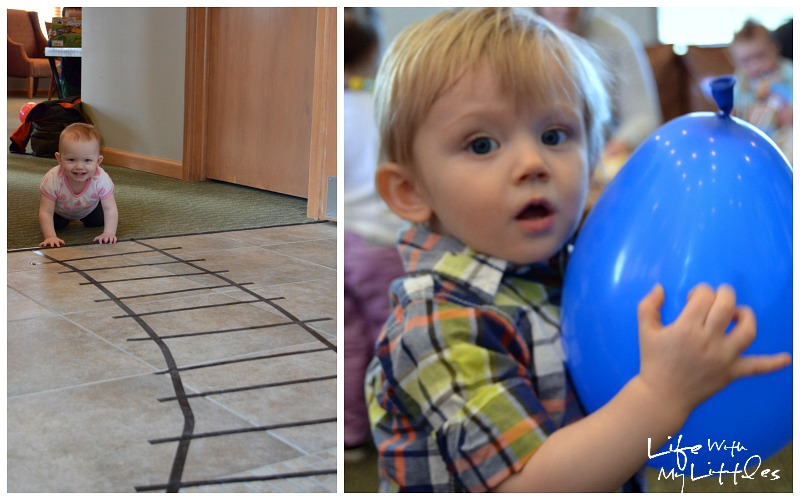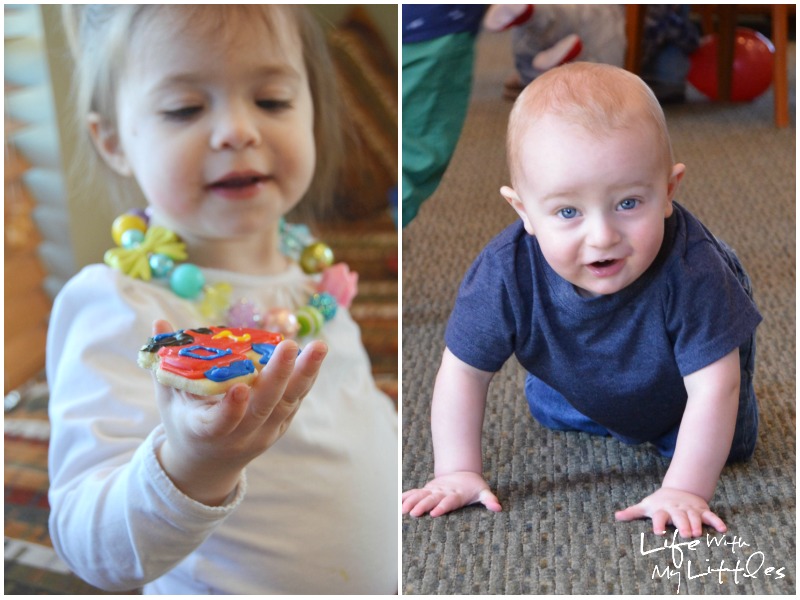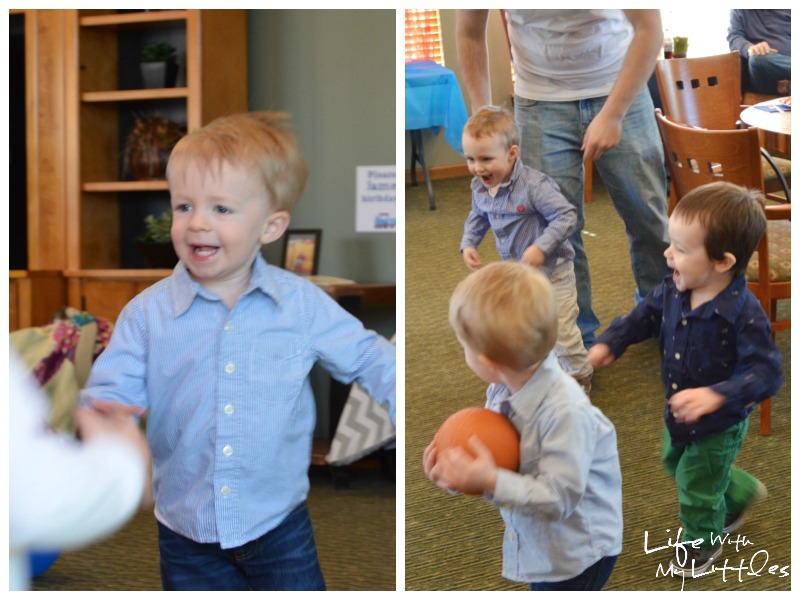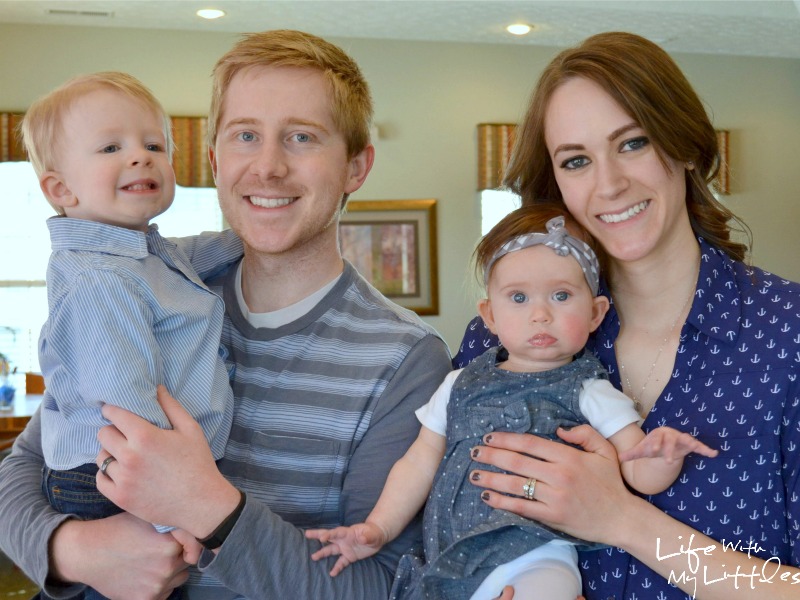 It was SUCH a fun party! When Little J walked in before his friends got there, he looked around and saw all the trains and got super excited. It actually made me get a little teary because he knew it was a train party and he knew it was for him. It made me feel like I did a good job! He was running around smiling and laughing the whole time, so he definitely had fun. I am so glad the party turned out the way it did, and I am so glad all of Little J's friends were there. It was fun for everyone!
I can't believe I have a two year old!!!