If you're looking for a gift idea for a 2-year-old girl, this is the post for you! 12 perfect birthday gifts for 2-year-old girls!
This post contains affiliate links.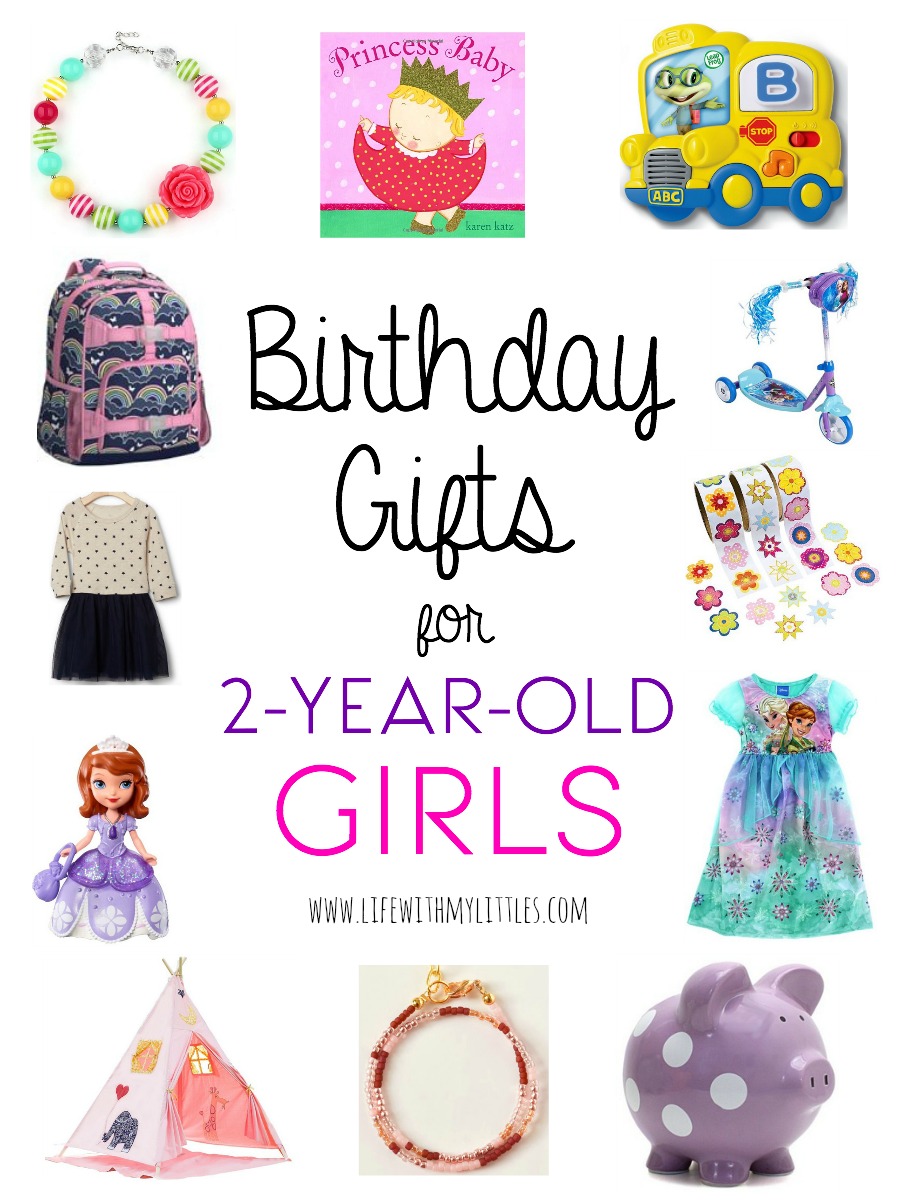 In just two weeks, my baby girl will be two. TWO. I know it's so cliche to say, but time really does fly by! One minute you are cradling your sweet newborn in your arms and the next they are turning two and sleeping in a big girl bed. It's exciting, but also sad.
Little A is at such a fun age. She loves doing anything her brother does, and she loves princesses, ponies, and dancing. We initially thought she was going to be a little bit of a tomboy, but she loves dressing up and wearing bows and bracelets and fluffy skirts. She doesn't care if she gets messy or her hands get dirty, and she is always up for coloring, playing outside, or eating. She is so much fun to have around and I love watching her be silly and play with her big brother.
Anyway, I have done a lot of thinking about what to get my sweet girl for her second birthday, and I think I have come up with the perfect list of birthday gifts for 2-year-old girls. If you need ideas on what to get a little girl for her second birthday, these are sure to be a hit:
1. Bubblegum necklace
. I know this sounds weird, but it's a big, chunky necklace with beads that look like bubblegum from a bubblegum machine. They are super cute and come in every color imaginable. There are tons of shops on Etsy that sell them and you can buy them on Amazon
, too. I think they are perfect for a 2-year-old because they have big beads and if they break, you aren't going to have 1,000 tiny beads to pick up. Some have textured beads, some flower beads, and some just have a bunch of colors! I love them!
2. Anything related to their favorite character. By two, most kids have a favorite character. For my son, it was Thomas the Tank Engine. For my daughter, it's Sofia the First. I'm totally down with it because I actually think Sofia teaches a lot of great things and I sort of love it when princesses come on the show. It's one of the less annoying kids shows I've seen, so I am cool with my daughter loving it. Anyway, whatever your 2-year-old loves, you'll be safe getting them things related to that. We are getting Little A a stuffed animal Clover
, and I know she's going to carry it around everywhere she goes!
3. Stickers. I don't know what it is about stickers, but 2-year-olds LOVE them! My daughter will sit still in church for a whole hour if I give her endless stickers. And since stickers are cheap and come in sheets, they are a great gift for 2-year-old girls.
4. A scooter. Our daughter has always loved trying to ride her brother's scooter, so we just got her her very own Frozen Scooter
and she LOVES it. I was planning on getting it for her birthday, but we couldn't wait so she got it two months early. Anyway, scooters and helmets are great outdoor gifts for 2-year-olds who love to be active (which is basically every 2-year-old, am I right?). I also recommend the Micro Mini Kick scooters. That's the kind our son has and he loves it, too.
5. A nightgown
. Is there anything cuter than a little girl in a nightgown? I know a few little girls who have nightgowns and they love them, and I know that my daughter would love one, too. Plus, you can get them with different princesses on them so your little girl feels like she's going to bed dressed as a princess!
6. Magnetic letters. Our niece just turned two and we bought her these magnetic letters
from LeapFrog. One of Little J's friends had them and he loved them, so we thought they would be a great gift for 2-year-old girls, too! They are a great educational gift, and bonus, these are the number one best-selling magnetic letters on Amazon!
7. A backpack. Obviously they aren't going to school when they are two, but my son has had a little backpack since he turned one and he seriously would use it everywhere if he could. They are perfect for going on car rides, mini trips, plane rides, or even a day out with mom or dad. Little J has the cutest Pottery Barn Kids backpack, so I got Little A one, too. I just couldn't resist!
8. A piggy bank. If your daughter doesn't already have a little piggy bank, then this is a great idea. Little A has yet to get a piggy bank, but I know she would love to start collecting little coins and dollars just like her brother. Plus, piggy banks are so stinkin' cute these days that I bet you could find one just for your little girl.
9. A teepee
. Is there anything cuter than a kid's teepee!? I have been eyeing them for a long time and I think they are perfect for playing in, reading in, or just sitting in! There are tons of different shops on Etsy that sell them, and there are cheaper versions on Amazon
, too, so no matter what your budget, you can find one that's perfect for your little girl!
10. Dresses or skirts. I think this is around the age that little girls start loving to wear twirly skirts and dresses, because I think that if Little A had more, she would always choose to wear one. I would love to sew her a few myself, but until then, any birthday gifts she gets that are dresses or skirts would make her very happy! And I am pretty sure that goes with any little girl!
11. Bracelets. One accessory that my daughter wears almost every single day are her Little Pretties bracelets I bought her last Christmas off of Etsy. They make tons of super cute bracelets that are so dainty and girly, and like I said, my daughter loves hers. Bracelets are a GREAT gift for a 2-year-old girl!
12. Books. Books are always a great present for any kid, any age. And my daughter is in a stage where she'll just sit in front of the bookshelf and read books. Books are a great gift because they last and can be passed down to other children. Any gift that can help teach my daughter is a good gift in my book! Little A's favorite book is Princess Baby,
but there are so many amazing books out there that it's hard to get this one wrong.
So those are my twelve ideas for birthday gifts for 2-year-old girls. If you have a special little girl in your life who is turning two, she's sure to love any of these gifts. And I think they are all parent-friendly gifts that won't annoy the parents, either! Which honestly, is a big part of gift giving!!
Anyway, happy birthday, Little A!!