Invitations are so important when you're planning a Pinterest-worthy party! Check out these tips, plus more in the how to throw a Pinterest-worthy party series!
I received free product in exchange for this post.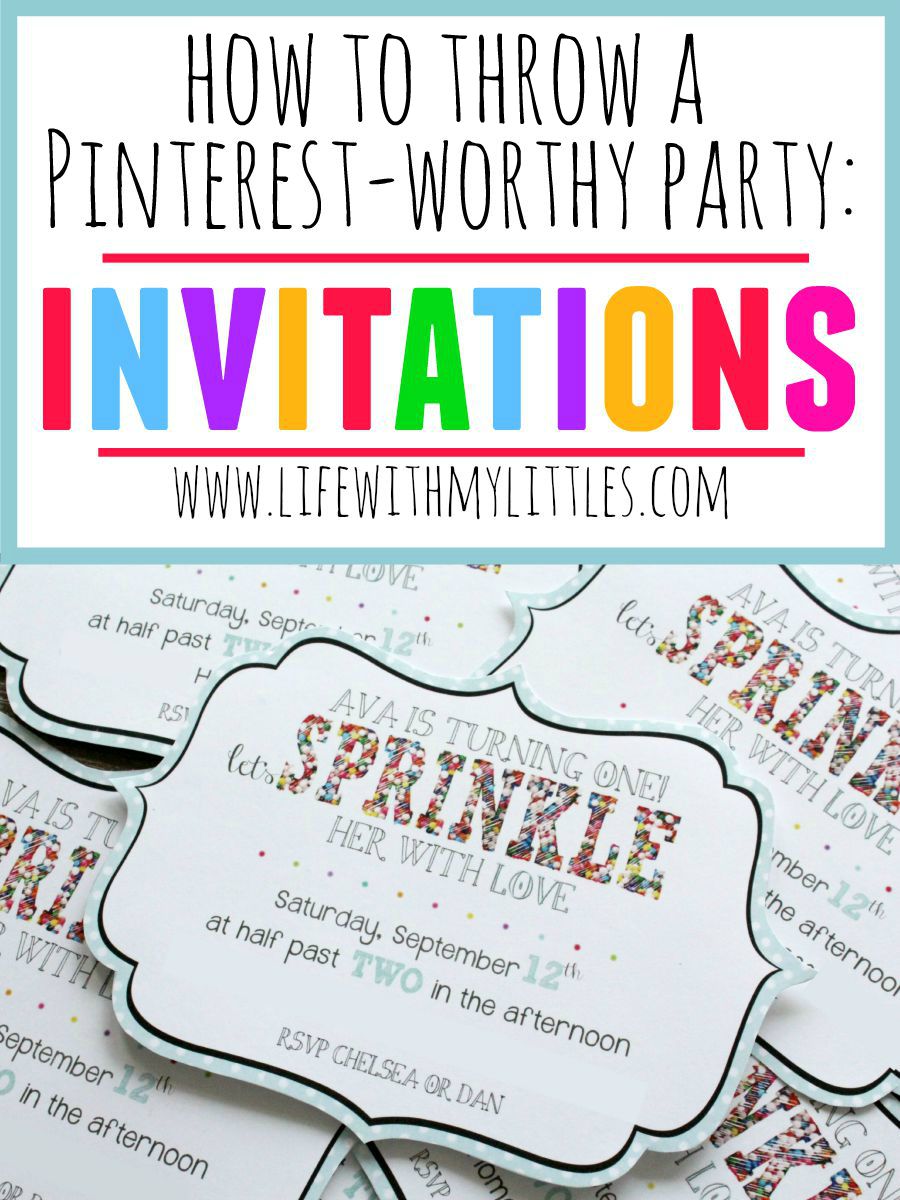 Welcome to the second post in my "How to Throw a Pinterest-Worthy Party" series! Today is all about INVITATIONS!
Invitations are more important than you might think when you are throwing a Pinterest-worthy party. Not only do they tell your guests when the party is, but they set the theme for your party! An invitation is the first impression your guests get of what the party is going to be like, and you want to make them good. If you are throwing a Pinterest-worthy party, you want Pinterest-worthy invites, right!?
Here are a few tips for your invitation:
Make the theme clear. Above all, you want the theme to come across in your invitations. Little A's birthday party was a sprinkle party, so I wanted to make sure that there were sprinkles on the invitations. Plus, there's the cute phrase "let's sprinkle her with love." The theme is clear. For our son's second birthday party, his invitations said "Choo choo, guess who's turning two!?" The theme, people. Make it clear.
Don't settle on your invitations. You want something that you are going to love. The invitations for Little A's party are from the amazing Dana and her Etsy shop, fromtheNORTH (she also just started a blog which you can read here). These beautiful invitations were a custom order, and she did an amazing job! I just told her the theme and the information from the party and she put together these beauties!
I highly recommend checking her out because she seriously was super fast and made me exactly what I wanted. Custom invitations are going to make a big impression on your guests, and they are the perfect detail for throwing your Pinterest-worthy party!
Send your invitations 3-4 weeks in advance. You want to make sure that people have enough time to get work off, clear their schedules, and plan to attend your party. If you send the invitations out too close to the date of the party, you will have fewer RSVPs because people will most likely already have things scheduled.
Use envelope fillers. These are seriously the easiest things to make, and they really make a big impression! I used some rainbow polka-dot paper inside my envelopes. First, cut out some rectangles that are slightly smaller than the inside of your envelope.
Then put some glue on the back of your paper.
Then just slide your paper into your envelope (below the licky-sticky part) and then press.
It makes a big difference having a pop of color inside your envelope!
It really is that simple. Invitations are such a simple way to start your party off right, and it really makes a big difference when you get some custom-made!
Come back Friday to read all about decorations for your Pinterest-worthy party! And check out the intro post for this series where I give you some general tips for throwing the best Pinterest-worthy party!