How to survive your husband's third year of medical school written by a med school wife!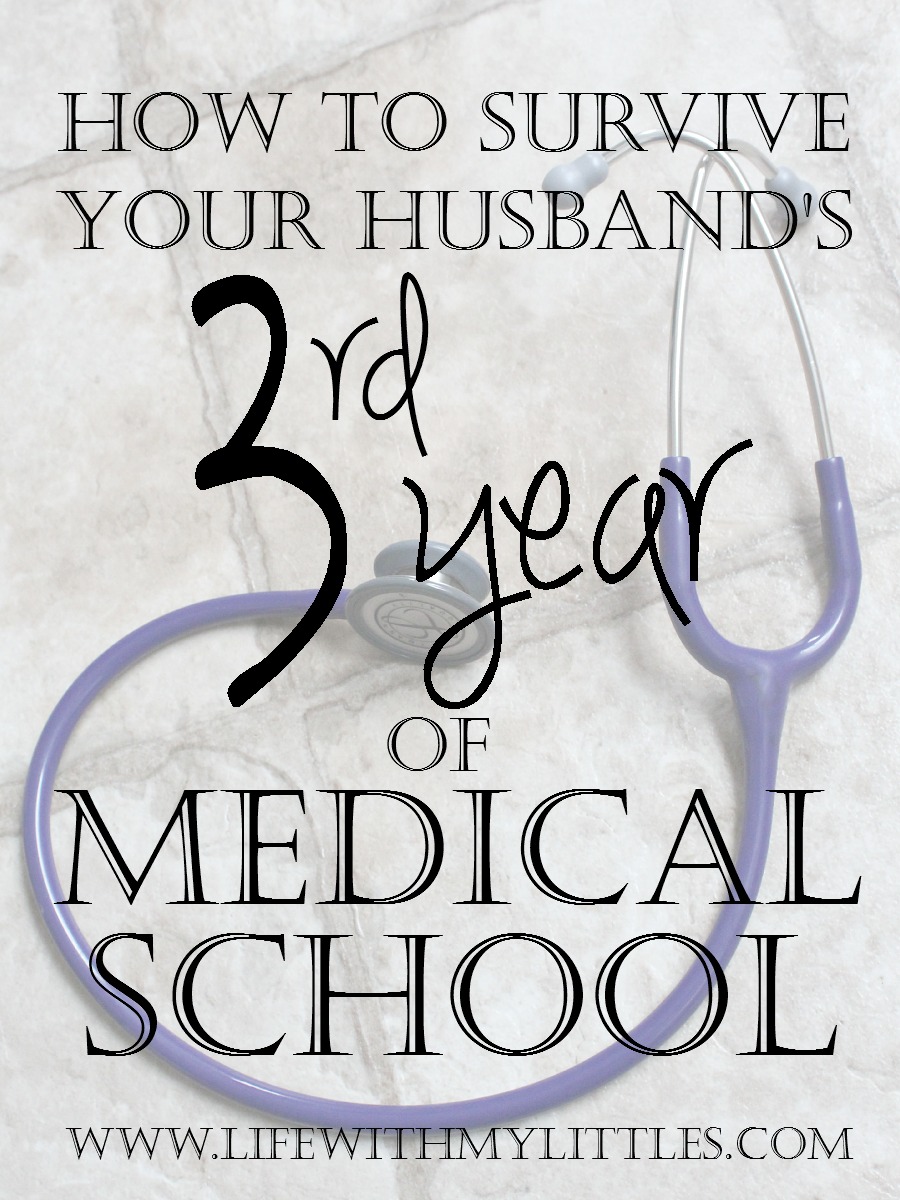 Wow, I cannot believe that I am actually writing this post! The Mister has taken his Step Two boards, and has finished his third year rotations. The fact that I can write this post means that we now only have one year left of medical school! Insane! In 10 short months, I will officially be calling the Mister "Dr. Johnson." Because you can bet that I will for sure be calling him that all the time, no matter how much he protests!
If you haven't already seen my first two posts in this (very spaced-out) series, you can read about how to survive being a med school wife during first year and second year. And now that we are done with the third year, I am back to share some tips on how to survive your husband's third year of medical school!
First, I want to tell you two things about why the third year of medical school is different and very important.
Third year is a lot different than the first two years of medical school. Instead of going to labs and lectures every day, medical students start their rotations, where they are in clinics and hospitals learning from doctors in different specialties (this is different than residency, because they are not getting paid and they try a lot of different things). For example, they rotate in OB/GYN, Family Medicine, Internal Medicine, Surgery, and Pediatrics. Along with other specialties too, depending on what the medical student wants to do after graduation.
Third year is also the year you need to figure out what specialty you want to do. This is important because it will determine what residencies you will apply to and interview for in your fourth year. So get ready, because it's an exciting year!
Now, here are some tips to help you survive your husband's third year of medical school.
1. Know what rotation he's on. Every rotation is going to have a different schedule, and every rotation is going to have it's pros and cons. For example, the Mister's surgery rotation he was on call a lot, and for his emergency medicine rotation, he would work five days on, two days off. Knowing what rotation your husband is on and what the schedule is going to be like will be helpful for you. Some days will be super long and some days will be easy. So know what to expect. It will help a lot.
2. Let him talk about the things he sees every day. Some days are going to be super interesting, and some days are going to be boring. Let him tell you about them, even if you don't understand half the words he is saying. One thing I have learned about being the wife of a medical student is that they need support. So let him talk to you about medical things because he might just need to tell someone how crappy or how awesome his day was. Even if you don't understand the complicated procedure he is trying to describe.
3. Get involved in helping him choose what residencies to apply for. This seems obvious to me because duh, you will be living where you go for residency, too! No, you don't get to have the final say in where you go because of the wonderful Match, and no, you shouldn't pick his specialty for him, but if there is a residency for that specialty somewhere you absolutely do not want to live, let him know! It's important to know which residencies are four years versus ones that are three years, or which ones have better programs and more fellowships if that is something your husband might be interested in. There are a lot of factors that go into choosing what residencies to apply for, so keep an open mind but also tell him how you feel, too. If you don't want to live in a particular place, tell him. There are probably a lot of other residency locations you can look into.
4. Give him time to study. Yes, he is finished with Step One! But oh no, Step Two is coming up and guess what, not only is there a written part, but there is a physical examination where he is graded on how he interacts, treats, and diagnoses ten fake patients in a row. The good news is that there is a little less pressure on the written part and that the physical examination is pass/fail, but you still need to give him time to study. Third year is not one giant party every night he's home. Because oh yeah, he also will have tests at the end of most of his rotations. So let him study!
5. Be a fake patient. Speaking of that physical examination, your husband is going to need to practice on someone so he can know what questions to ask and how to do his physical exams and how much time it takes him to write his SOAP note after he leaves the room. So be a fake patient for him! The Mister had a great book that had a bunch of fake patients and their answers to questions and all of their fake vitals and everything. All I had to do was pretend to be someone and read the answers to their questions while the Mister asked me questions and did a physical exam. It really helped him get the practice he needed, and I actually sort of enjoyed being the fake patient!
6. Help him figure out what rotations he is going to set up next year. In a medical student's fourth year, not only do they do audition rotations with different residency programs, but they also still have to have a few specific rotations. And since doing audition rotations in the beginning of the school year is the best time, it can be complicated trying to make sure you get all your rotations you need to. It can also be hard because some of those audition rotations are a month long and if you are like us, you don't want to schedule two month-long audition rotations in a row. Because it is not fun to be away from your husband for that long.
I hope those things are helpful! And you can apply several of the things off the lists from the first year and second year to surviving your husband's third year of medical school, too. I'm not including them because I am assuming that you are a pro at surviving having a husband in medical school now.
Now, congratulations on getting through the first half of medical school as a med school wife, and good luck with the next two years! You've got this!