A letter to my sixteen-year-old self. What I wish I would've known ten years ago.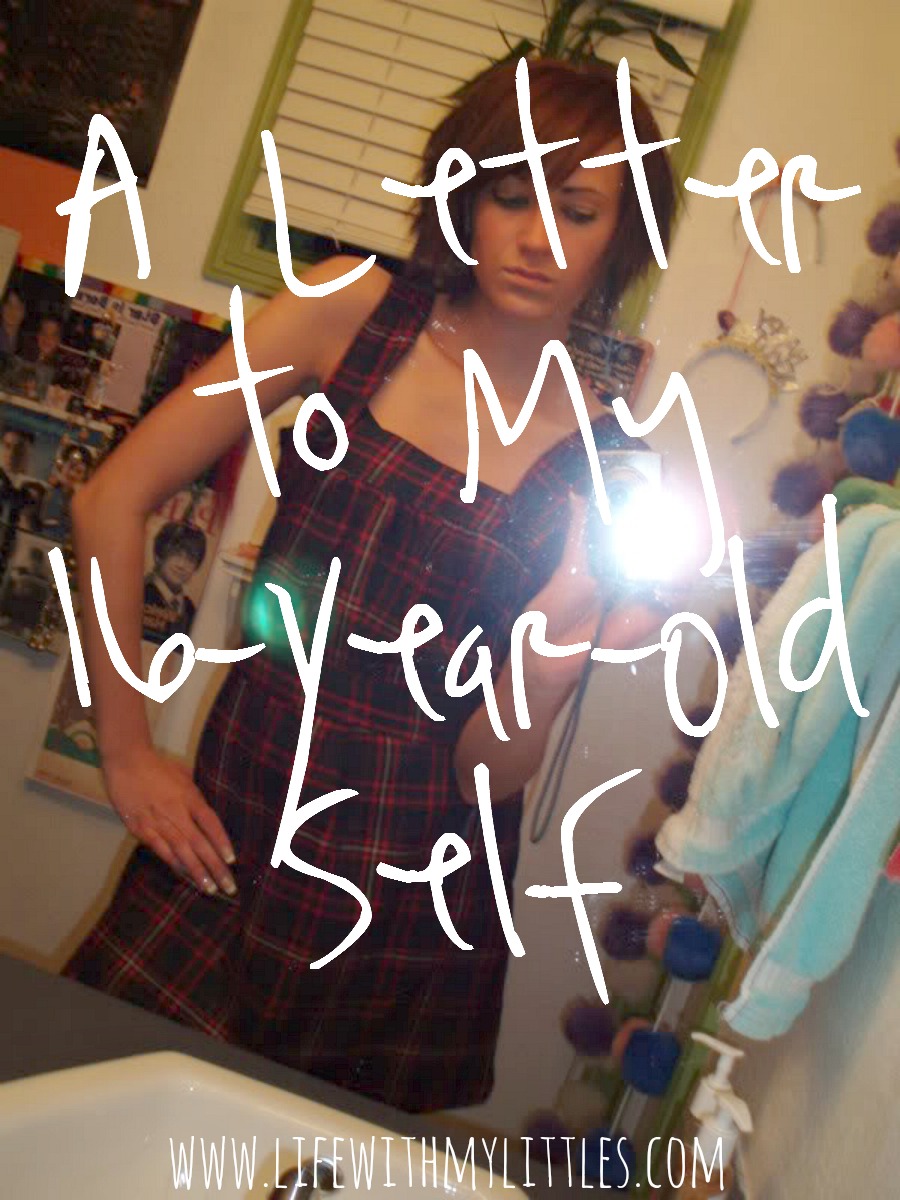 Tomorrow is my 26th birthday! I feel like I am not old enough to be 26. I remember having friends who were a few years older than me and I always thought they were so much older. But now I'm older than they were when I met them so I guess that makes me old? Let's just say no and say that old is now 50+ (sorry Mom and Dad).
Anyway, I wanted to write a letter to my 16-year-old self for my birthday post. Because let's be honest, think about how you were at 16 and I guarantee you laugh at yourself now. And these tips could also be used as advice for 16-year-olds today, too. Not like they would listen to anything I had to say, but oh well. Anyway, here is my letter to myself ten years ago.
Chelsea,
Greetings from the future. For reals though, it's me (er, you) ten years later. I am now 26 and no, that's not old. I'm not going to tell you what your future has in store other than that you are very happy, and things are a lot different than you thought they would be. Now that I have lived through what you are going to experience the next ten years, I have some tips to give you to make your life better.
1. Minivans are actually cool. I know you love your little Honda Civic and think it's the coolest thing in the world and you never want to get anything else. Yes, Expecto Patronum is a super awesome name for a car. And yes, it is a good car for you right now. But don't brush off minivans. Because one day, you will have one. And you are going to absolutely love it. The automatic doors that slide so you won't hit other cars, the extra seats in the back, the removable middle seat, and all that space in the back row! Plus, it has a rear wiper (which you've always wanted). They are amazing, and you will never regret getting one.
2. It's okay to get married young and have kids fast. I know right now you do not ever want to have kids. And I know you look down on people who get married young. But guess what, if the right person comes along, you are going to want to lock that up ASAP. And that's perfectly okay. You don't have to travel the world and you don't have to graduate college before getting married. And kids are tiny versions of the best of you (and the worst). They are super fun, and it's way different when they are your own kids than when they are someone else's. So don't forget that. And don't hate on young wives.
3. Listen to your parents. Yeah, they are old and don't dress cool and are super embarrassing, but they've been through what you are going through. They've survived high school, they've been on bad dates, and they have learned a thing or two about how to help you out. So listen to the rules and advice they try to give you. It will prevent you from getting in some tough situations down the road.
4. Study what you love, even if it's impractical. One thing I will not argue with you is that archaeology is super cool. Some might discourage you from studying this in college, but go for it! If you love something, study it. You are going to love learning about archaeology in college (I will tell you that about your future), and it might even lead you to better things. So if you're passionate about it, study it. Don't listen to what other people say.
5. Love your body. One day, ten years later, you are going to love your body. I know it's hard to be satisfied with how you look in high school (and as a woman, even), but you are beautiful. Your body is going to do some amazing things (namely, make people) and you need to start loving it now. Stop thinking you are fat, because you're not. Stop obsessing about tiny details, because you are the only one who notices them. Love your body, and be happy with how you look.
6. Be healthy and work out. I know you laugh at this one because you love eating tons of pizza and cookies and hate any form of working out. But it's so important! There are so many different types of exercise, and there are definitely some that you will love. So start trying some new things, start eating better, and stop eating so much junk food. Yes, it's delicious, but moderation, girl. It's actually important and not just some dumb stuff you don't have to worry about because you have a high metabolism. So get on track.
7. Date a few boys, but don't get serious. Since I have been where you currently are, let me just tell you that every boy in your high school is dumb and gross, and there is someone a lot better coming along. Stay away from those boys in your German class (like, all of them please) and don't lower your standards just because you are bored and want to have a boyfriend. I promise, one day you will look back and go "eew" at all those boys, except for one. So wait for the one, don't get serious until then, and also, you should probably just drop your German class (you only need two years of language anyway).
8. Trying to be emo is not cool. Stop taking so many selfies of yourself looking sad. Stop trying to make your hair look messed up. Stop wearing tight tees that are too short and skinny jeans with Converses. Stop trying to look sad and disinterested in class. You love school, so stop pretending. I'm going to allow you to still listen to your favorite bands, but stop putting emo lyrics as your away messages on AIM. It's dumb, and you will be embarrassed by it later. You're not being cool, I promise. Just stop.
9. Give up modeling. Just do it now. If you don't, you might be convinced to chop off your hair for a hair show and then totally regret it. You also might be told that even though you are 5'10" and under 120 lbs, you need to lose some weight. Which will be very unhealthy. So just give it up now. It's not going to get you anywhere, and you have so many more important and meaningful things to do in your life.
10. Be nice to your little sister. I know she seems like an annoying little brat right now, but in two years when you leave for college, you are going to miss her more than anyone else. You two are going to become best friends, and she is the only person that you have known for their entire life (so far). One day you will admire her and want to be more like her, so why not just start now. Be nice to her, and I guarantee she'll teach you a thing or two. And then later you won't feel bad about being so mean and always making her buy you pizzas.
11. Keep an eternal perspective. So many things in this world are temporary. There are only a few things that last forever. Things that will make you upset today are really not as big of a deal as you think they are in the eternal perspective of things. Keep your eyes on the future and your goals, and make choices based off of that. Don't worry if today you have a giant pimple on your nose or if you are having (gasp!) a bad hair day. Those things are so temporary, and really not a big deal. If you make good choices now, you will have a happy future. Don't forget that.
So those are my tips to help make your life easier. I know you probably won't follow this advice (because you don't like to follow anyone's advice right now), but just have faith. Be a good friend, sister, daughter, and student. It's going to work out and one day, you will be happier than you ever thought you could be. I promise!

Love,
26-year-old Chelsea