How to Survive a Third Trimester Road Trip: Tips to make the best of traveling in the last weeks of pregnancy!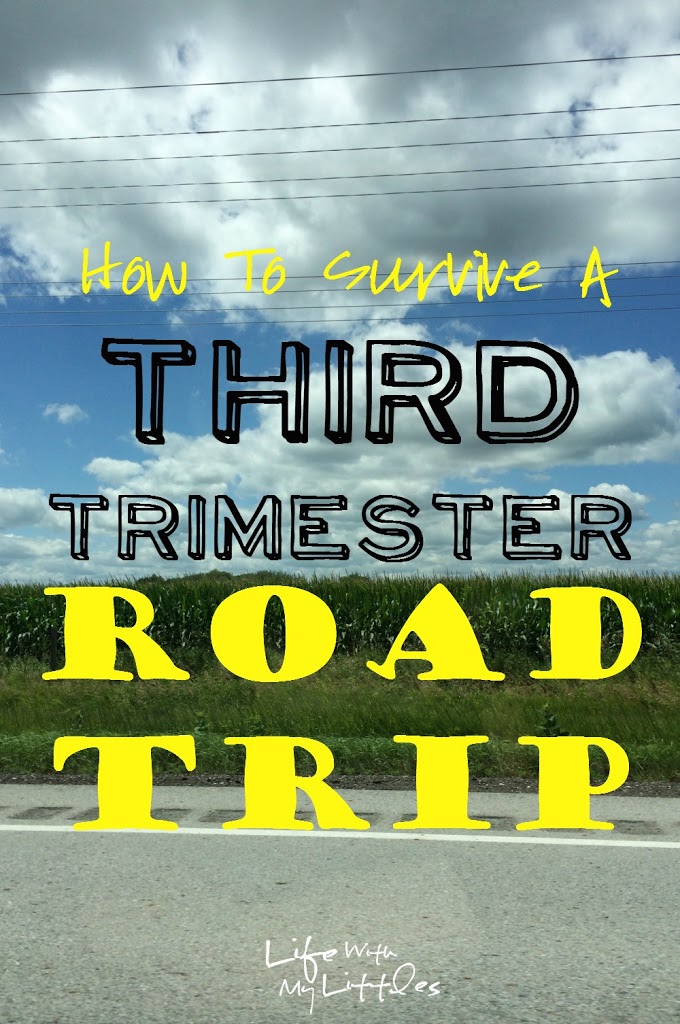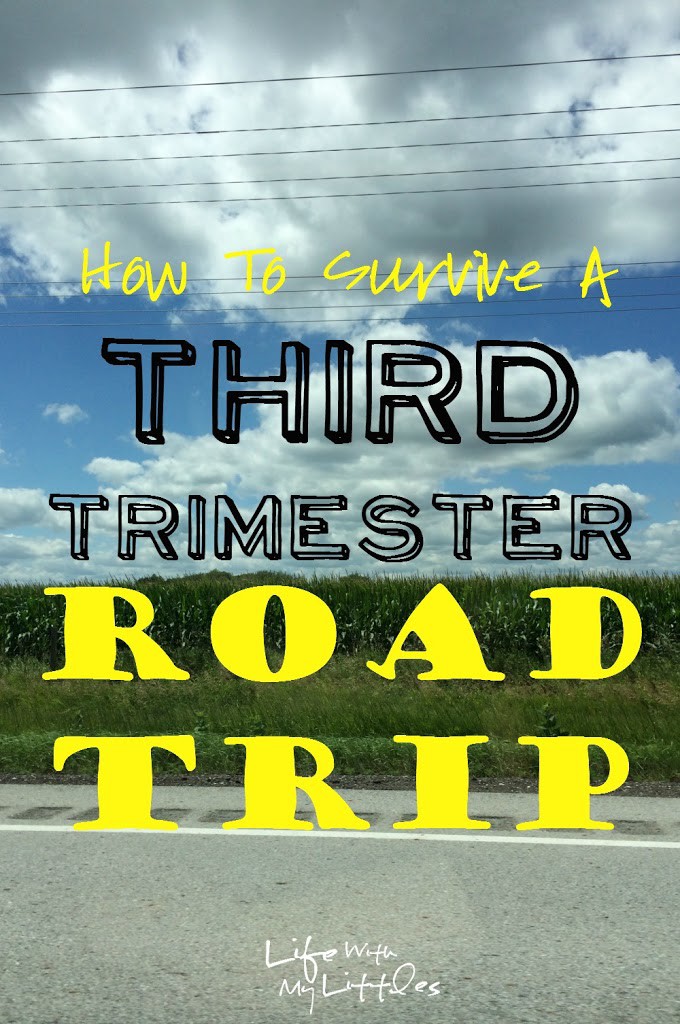 Two months ago my husband and I drove from Iowa to Colorado to Idaho, and then back to Colorado, and then back to Iowa. Oh, and I was 32-34 weeks pregnant. Driving over 3,000 miles in two weeks while in your third trimester is quite the adventure. It was long, uncomfortable, and it was a relief when we finally got back home! Along the way I learned several ways to make a road trip better during your third trimester, so here they are!
1. Plan on Stopping. A lot. With growing baby pushing on your bladder you will have to pee a lot. So just plan on stopping every hour or so. Add extra time to your plans because if your navigation says it will take 10 hours, you will take 12 hours. Trust me. Just plan ahead and plan on stopping.
2. Wear Pants with a Loose Waistband. I highly suggest wearing sweatpants or tie-pants that aren't tight. You want to be as comfy as possible, and the maternity pants with the over-the-belly band can be hot and uncomfortable when you are sitting in a car for a long time. I just wore some old sweatpants that fit below my belly and that are really loose and they were perfect.
3. Wear Short Sleeves and Bring a Sweatshirt. Any woman knows that you are extra sensitive to temperatures when you are pregnant, especially in the third trimester. So if you are going to be in a car with other people who have normal temperature feelings, you want to make sure you will be able to adjust without making everyone else adjust. So wear short sleeves in case you get hot, and bring a sweatshirt in case you get cold.
4. Wear Flip-Flops or Slip-On Shoes. Do not wear socks. Your feet will get hot, you will want to take your shoes off, and if your feet get swollen from sitting for so long, you will want to make sure you don't have shoes that are too tight or constricting. Depending how far you are in the third trimester, you may be so swollen that you won't even be able to wear shoes other than flip-flops. And even if you can wear sneakers, it's so much better not to on a road trip.
5. Drink a Lot. I know this may seem like a bad idea in a car on a road trip, but when I told my doctor I was going to be going on a road trip, she was very insistent that I drink a lot. Yes, this will contribute to stopping a lot, but you don't want to get dehydrated and start having contractions. Trust me.
6. Flex Your Legs and Your Bum. Sitting in a car for a long time can cause blood clots in your legs, so every 20 minutes or so, my husband and I always say "Flex!" and we both flex our legs and our bums. It helps with cramping, too, and it is even more important when you are pregnant and can't get up and walk around a lot.
7. Bring Snacks and Drinks. Especially snacks with protein. If you come prepared with snacks and drinks, it will be a lot better (and cheaper) than paying for snacks and drinks at gas stations. And you can bring a wide variety in case you decide you want something sweet, something salty, or something more filling. It's a lot easier and you won't always have to go buy things when you stop.
8. Walk When You Stop. When you stop for meals, try and make sure you walk around. It will help you feel more relaxed, especially if, no when, you get uncomfortable and your legs, hips, and butt start going crazy. Even just a little walking around when you stop will really help.
9. Wear Compression Stockings. Okay, so this isn't for everyone, but if you have varicose veins (thanks baby) or bad swelling, it will really help. This was something my doctor strongly encouraged and it helped a lot. Without the stockings, my veins would have hurt, gotten worse, and my legs would have been way more swollen. They helped a lot. So if you have varicose veins or your legs are pretty swollen already, you really want to check them out. They are worth it.
So there you go! I made it across five states and back, and so can you! Even though it's really hard and not the best way to travel, sometimes you have to take a road trip in your third trimester, and now you can have the best drive possible!
Do you have any other tips about how you can survive a road trip during your third trimester?