How to baby-proof your Christmas tree and keep it safe from your little ones! If you've got a baby or toddler this Christmas, this is a must-read! Great, helpful tips from a mama of three!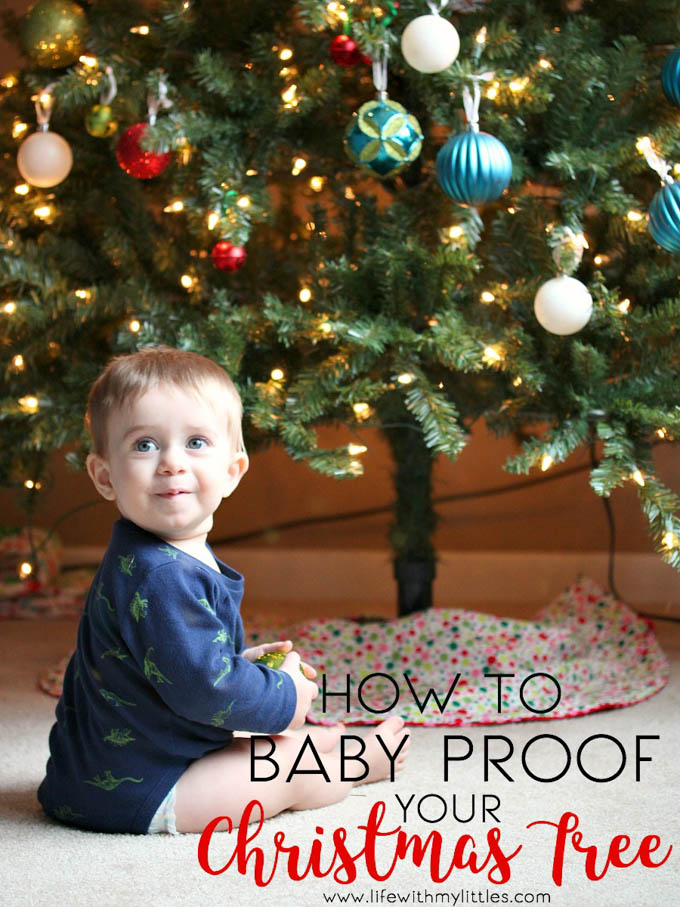 I love having a baby during Christmas. There are so many fun "Baby's First Christmas" activities to do, keepsakes to make, and pictures to take.
But having a baby during Christmas can also make things a bit more challenging, particularly if your baby is mobile! If your baby (or toddler) can roll, crawl, or walk, one thing they're probably going to get into is your Christmas tree.
Luckily, there are some easy things you can do to make it a fun, safe thing for them to be around!
How to Baby-Proof Your Christmas Tree
Put your tree somewhere it's not in the way
We usually put our tree off to the side or behind a sofa in the corner, but one year we put our Christmas tree in the dining room behind the baby gate so our kids couldn't get to it. That way, they're less tempted to play with it (and everything on it).
Use a fake Christmas tree
Fake Christmas trees don't lose needles, are softer, and don't have a dish of water at the base for babies and toddlers to make a mess in. We've always used fake trees and it's so much easier when you have a baby or toddler crawling around.
Use shatterproof ornaments
Tiny hands like to grab, especially when they see bright, colorful ornaments within reach. Obviously you don't just want to decorate the upper-half of the tree, so when you buy ornaments, try and get shatterproof ones. The bulk of our ornaments are plastic, so even if my kids get them, (or they get thrown on the ground) they won't break.
Don't use tinsel
Tinsel is a major choking hazard for little kids, and if you have a baby or toddler who puts everything in their mouth, you absolutely don't want them getting their hands on tinsel. No, no, no. Tinsel is bad (and not cute, if you hadn't heard).
Use ribbon to hang your ornaments
Most ornaments come with sharp wire hangers, and obviously if you're trying to baby-proof your Christmas tree, you don't want to use those. I threw all of those away and now all of our ornaments are hung up with ribbon!
String lights up the middle instead of on the edges
If you don't have a pre-lit tree, try and tuck the string of Christmas lights back into the branches of your tree so they aren't easily accessible. You don't want your baby grabbing a string of lights and ripping the whole thing off (or chewing on them and getting electrocuted).
Hang fragile or keepsake ornaments up high
A tradition in my family growing up was to pick out special yearly ornaments, and we've continued that tradition with our kids. They're a little more fragile and sentimental than our plastic ball ornaments, so we keep them up high where they can't be played with (and subsequently broken).
Don't put presents under the tree until Christmas Eve
If you wrap presents and put them under the tree before it's time to open them, they're probably going to get ripped, chewed on, or opened. You obviously can't tell a baby who doesn't understand "no" not to touch the presents, so just don't put them there. Honestly, I don't think I'd even trust my four-year-old not to open presents under the tree!
Christmas with a baby or toddler is so much fun. It's fun as an adult, but it's even more special watching your kids experience Christmas. Hopefully these tips on how to baby-proof your Christmas tree will help you as you trim your tree this year! Merry Christmas, mamas!