The long-promised home tour from Life With My Littles is finally here! I love the simple and modern style of home decor. And she tells you where everything is from! So helpful!
I received free product in exchange for this post.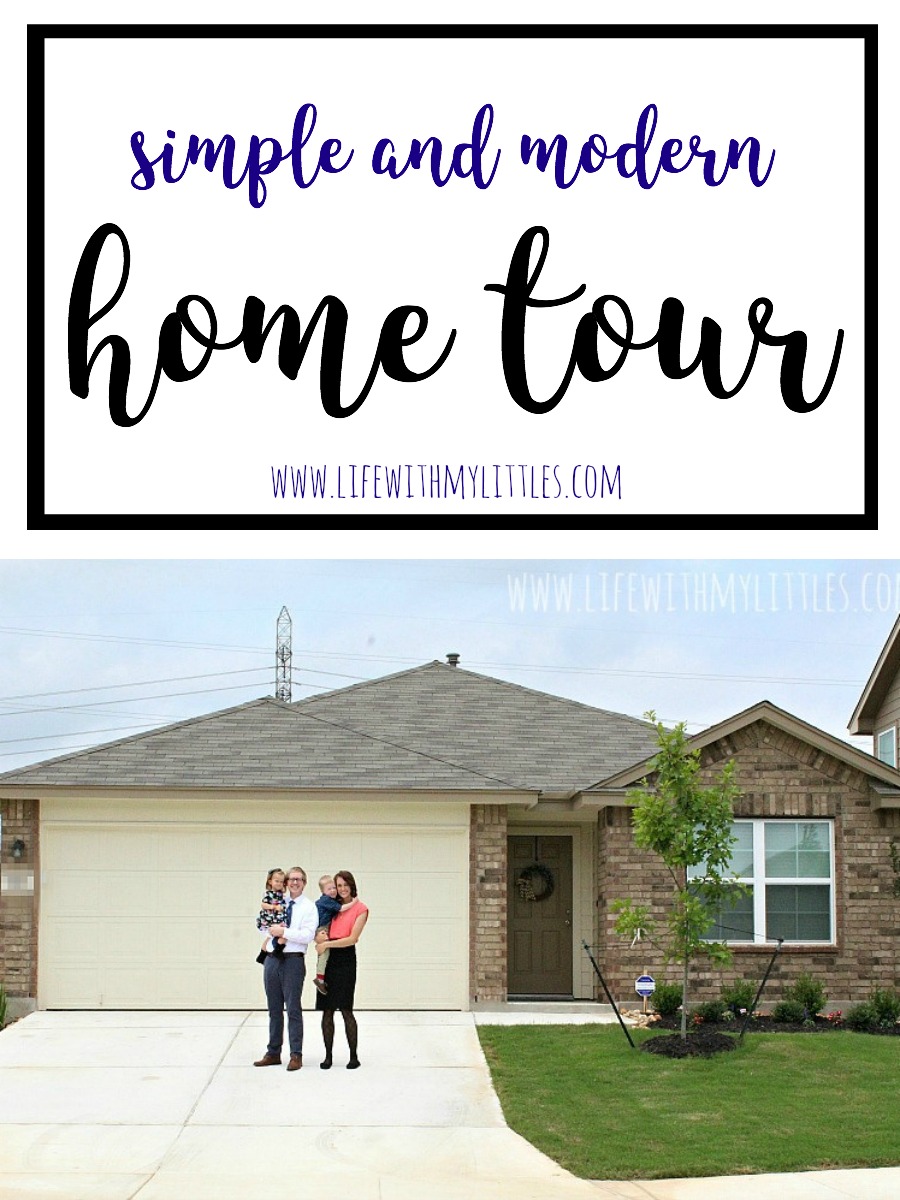 Okay, first of all I have to apologize. I have been promising you guys a home tour as soon as we moved into our house back in May. And I really did intend to get it up sooner, but we still have areas that are completely decorated and aren't totally how I want them to be yet. But I decided that it's just time that I go for it and show you what we've got, because if I keep putting it off it may never happen. And I can just update this post with pictures as we finish decorating each room.
This is the first house we've ever lived in (up until now, we've lived in five apartments), and it's so exciting that we can customize our home basically any way we want now. I've had a lot of fun putting things in that are special to us and that really make me happy. I decided early on that if I didn't love something, I wasn't going to use it in our decor, and I am really happy with the things we have right now.
Also, I am not a professional home stager/photographer. Yes, I cleaned my house a little for you guys, but don't be too critical if you see crumbs in the kitchen or toys on the floor. Real life, right there. And I want to mention that even though I'm not an interior design blogger, I love looking at home tours on my favorite blogs so I wanted to contribute mine.
ENTRYWAY
I'll start with the entryway because I've never had one before and it has been fun making it ours. Our rug is from Target and the pattern was something I knew I wanted even before we were looking for a house. I love it and have the same one in the kitchen. We also have a little sign above the front door that my husband got me for Christmas a few years ago. He's good at gifts 🙂
I wanted the perfect entry table, and I couldn't find one anywhere that wasn't wildly expensive. So I decided to BUILD ONE MYSELF. Yeah. Crazy, I know. So I built a table using a modified version of these plans from Rogue Engineer. I loved the one they built, but since this was the first thing I've ever built and I've never used a saw before, I didn't trust myself making it that fancy. And I painted it the same color as our dresser I redid (see below). I used Behr Indigo Ink and mixed it with BB Frösch Chalk Paint Powder because it is amazing and makes painting furniture super easy.
The painting hanging on the wall was painted by my grandma in the 70s. It was in my grandparents' house until my grandpa died in 2010 and then I got it. My grandma painted a lot and this was the one I wanted after my grandpa passed. The frame was super dusty and dirty so I cleaned it and it looks so much better now.
The decor on the table is again, something I love. The globe is from Target and as soon as I saw it I knew I wanted it. The little J block is from Hobby Lobby or Michael's (I can't remember and I'm blaming it on pregnancy). The dinosaur is like a cardboard one from Target that you are supposed to decorate, but I like it how it is. And I love dinosaurs and thought it was a cute addition.
The two books basically describe my husband and I perfectly. The first is The Return of the King (my husband LOVES Lord of the Rings, so I had to incorporate it somehow), and the second is Harry Potter and the Half-Blood Prince (because Harry Potter is life). The lantern and candle inside are super special too, because they are from POTTERY BARN. Yeah, I know. My husband got me a gift card using our credit card points and I got to go pick out some special decorations for our new home. So I chose this gold lantern and a candle that smells super good but probably won't ever get burned. Worth it.
OFFICE
The office is our little front room of the house that is right off the entryway. We've never had an office before either, so it's really nice having a designated area for me to work and for my husband to do anything he needs to do. My husband and I both have a desk, there's a nice big window, and we finally have a real bookshelf (as opposed to those lame, super cheap bookcases from Walmart, which, by the way, we have had many). Our bookshelf is from IKEA and on top we have my husband's undergrad and medical school diplomas. Of course the bookshelf houses my Harry Potter series and lots of other books and journals. We also have a little closet on the side where I keep my sewing and crafting things. And we have a little file cabinet with our printer on top.
My husband's desk is actually my desk from when I was growing up, and it is super heavy and over 20 years old.
Above his desk we hung a picture of his dad who passed away 2 1/2 years ago from his LDS mission, and our little Father's Day gift from this year (tutorial here). We want to frame his diplomas and hang them here eventually. That or get a map of Middle Earth and the Ron Swanson Pyramid of Greatness.
On my side of the room, I have a cheap little IKEA table as my desk.
My favorite part of the room is my wall! Besides our little Shutterfly calendar that I made for Christmas last year, I have three gorgeous prints. The first is a custom calligraphy my friend Lexie made for me (check out her floral design Insta here). The second is a gorgeous floral watercolor by Natalie Malan, and the third is a beautiful print of "The Living Christ" by Aimee Ferre. I hung them in frames I spray painted gold, and I am so happy with how they turned out. Eventually I'll probably add more to this wall, but it's perfect for now.
HALL
In the hallway by the garage I hung up our keys on this little key hook from Target. I had one that I made 6 years ago that we were using before, but I hated it and always wanted to replace it so I just bought a new one.
Then on the other wall in the hall I hung up our artwork display I made last year (tutorial here).
We like to draw and do little crafts and I love this little board with clips as a way to hang and display them in our home. Plus, my kids love seeing their artwork hanging up in a visible place.
KITCHEN
When you come out of the hall you get to our big master area. It has the kitchen and dining area and living area, with small halls off the side for other rooms. The kitchen is seriously everything I've ever dreamed of. As someone who has always lived in small apartments with very limited counter and shelf space, it's a dream.
The cabinets are dark, we have stainless steel appliances, we have an island with a breakfast bar, a PANTRY (like a real, giant pantry!), and a refrigerator that has an ice and water dispenser and is way bigger than any dumb apartment fridge.
I haven't done much to decorate it because it's basically perfect as it is, but I did get a fruit basket from Target, a cute soap dispenser from Kirkland, and we laid a rug down like the one that's in the entryway. Also, those are pumpkin cream cheese muffins. Yeah.
Our breakfast bar has four chairs from IKEA and we eat basically every meal there. They are perfect.
We also have a little nook in the wall on the side of the kitchen that was the first thing I decorated. As soon as we knew we were going to buy our house (probably even before then) I started dreaming up what I wanted to do with it. The whole inspiration was a tiny boxwood wreath from the house we were staying in in Minnesota in January. I found the exact same one at Target and stored it under my bed months before we even moved in.
I hung the wreath on a frame I got from Michael's that I turned into a chalkboard using chalkboard spray paint on the glass. I love it so much!
I also hung up my favorite picture of the kids from last year's family pictures, a J that my sister got me several years ago, a clock we've had ever since we got married, and a FAMILY sign my husband got me for Christmas one year.
On the little ledge part I added some more boxwood decor from Target, a little basket, a lantern, and a wooden sphere thing. I can't remember exactly where I got each thing, but it was either Target, Hobby Lobby, or Michael's.
DINING
This dining table was my birthday gift a few years ago, and I love it so much. Up until then we were just using a small little round table that had been in my family since I was little, and four mismatched stools around it. It was not ideal when we had people over for dinner. But this table from Homemakers is like a dream. I love the color, I love the farmhouse style, I love the bench, and I love that it's big enough for our whole family and more.
On the wall between our kitchen and living space, I hung up some baskets from Hobby Lobby and our growth chart I made (tutorial here). I made one two years ago that got accidentally thrown away when we moved from Iowa to Idaho. I had to remake it last year, but it doesn't have the marks from when Little J was really little. I was upset at first, but I'm over it now. And I love the way these look on the wall together.
LIVING SPACE
First of all, I want to talk about the rug. I had this pattern and these colors in my mind for months. I searched and searched for a big rug that would provide some soft cushion on our tile and finally, we found this one from Rugs USA. I love the way it looks and how soft it is, but it does looks threads a TON and I feel like I am always picking them up, which is annoying. But I am very happy with it despite that.
Our big sofa and recliner are from Homemakers and were actually the first furniture purchase we ever made after getting married. The green sofa by the window is a hand-me-down from my parents. We are actually hoping to get a new sectional soon and we'll put the recliner in the baby's room before he's born, but until then, this is what we have. And I want to eventually hang up some curtains on this big window, but I'm not sure what I want for them yet.
On the wall above the sofa I have some of our family pictures from last year hung up. I don't think this wall is quite finished yet, and it actually was different last month, so we'll see what happens there.
Now, my favorite place in the house (I think I said that already, but oh well!). I was on the hunt for a big dresser to redo for our TV stand, and while we were in Iowa from my husband's graduation from medical school my friend Marianne actually texted me a picture of this old, beat up, cream dresser that someone was selling for $10 at a garage sale. I immediately asked her to get it for me and being the amazing, kind person she is, she and her husband loaded it in their truck and put it in our garage. When I got home, I cleaned it and wiped out the inside (it smelled like your grandparents' house) and started searching for a color to paint it. I settled on Behr Indigo Ink and mixed it with BB Frosch Chalk Paint powder (yes, same as the entry table). I did it all during my first trimester which sounds amazing but was really because my husband was not happy about it taking up his garage space. Anyway, it turned out GORGEOUS and I am very proud of it. If you could be in love with a piece of furniture, I'd be in love with this dresser. The handles are all the original ones, just cleaned with vinegar. I thought about painting them but decided I liked the kind of worn, vintage look they gave it. (And I know this first picture is mega blurry, so I'm sorry!)
We bought a new TV in June for Father's Day, which was exciting because we've been using my husband's TV that he had before we even met. We mounted it and then I hung up a few things that I love. The "hello" sign is from Hobby Lobby, the arrow print is from Home Decor Drawing on Etsy, we have a very outdated family photo from Little J's second birthday, a photo from one of my favorite days when we were in Idaho last year when we got square ice cream at the Rainey Creek Country Store in Swan Valley, a beautiful watercolor of the Idaho Falls Temple where my husband and I were married from Temple Minded on Etsy, a little heart waterfall design I made using a heart punch and pictures my kids drew using blue markers and crayons, and then a little quote from The Office that I designed and printed at Office Max. Like I said, I only wanted to decorate my home with things I love, and this gallery wall is a good testament to that.
KIDS ROOM
Okay, so this is so much a work-in-progress. This room, along with the baby's room, the hall closet, and the kids bathroom are all rooms I have future plans for. But since things cost money, I am doing them one at a time. Eventually we'll move more of their toys in here and out of the baby's room, but now it's pretty empty. Here's what I have so far. First, the bunk bed. We actually weren't planning on getting one for the kids for a while, but Little A transitioned out of her crib so easily that we just figured we'd set it up. And it worked out way better than I could've imagined. They both wait until I come into their room to get out of bed, and Little J never climbs down the ladder by himself (and Little A has never tried to climb up it). The actual bunk bed is from IKEA and it's perfect for them. Not super tall, but sturdy and simple. Little J of course has Lightning McQueen sheets and Little A has Sofia the First sheets.
The only other real decorations I have in their room are these Cars signs from Hobby Lobby that were above Little J's bed before, and this polaroid poster I made with pictures of Little J and Little A from the time Little A was born until a few months ago. They are all shots from my Instagram account, and I printed them using Square Snaps. The frame is from Michaels. I love the way it looks in their room and I love that it shows a bunch of super fun memories. They love looking at it too, which I think is super cute.
Their closet I am actually pretty proud of, so I'll share a quick shot of that. Let me give you some background and tell you that originally, this room was their playroom and then the room that is going to be the baby's room that's our temporary playroom was their room. So I had the closet all set up for their toys at first. But when we found out baby #3 was on the way, we had to make some changes. So I moved all their clothes in here (thank you IKEA bins), and had to do some reorganizing. It turned out good and I think even though there's tons of stuff in here, it looks organized!
KIDS' BATHROOM
Again, a work-in-progress. It sort of has all of the bathroom things that we used in our old bathroom so it's not really cute and doesn't even really have a theme. So we'll see what I decide to do here.
PLAYROOM/NURSERY
So this room is going to eventually be the nursery for baby boy, but until then, it's a makeshift playroom for the kids. Little A's decorations that were in her nursery are still on the wall, and the only real thing I have that is going to stay is the felt ball garland. The felt balls are from Hello Maypole and they are the Sprinkles on Top colors. I love them so much and they are going to be the inspiration for little man's room. I'm going to focus on the aqua, green, and yellow colors, but I also want to have the other colors in little places of his room, too. I'll of course update this part with pictures as I get things up, but for now, I apologize this is a lame room. The kids toys will eventually be moved to the big blank wall of nothing in their room, so that will help make their room look less boring.
LAUNDRY ROOM
First of all, I have a laundry room!! Not a laundry closet, not a laundry/bathroom hybrid, an actual room devoted to laundry. It's amazing. My of course favorite thing about this room are my washer and dryer. We got our very first washer and dryer last year from Dan's sweet grandparents, but when we were loading them onto the truck one started falling apart and we realized that the other wasn't going to work in our laundry room because it was electric or gas or something. So we gave them to some friends and began the search for a new washer and dryer. We originally had planned on getting cheap ones that were floor models, but then we found these amazing beauties for a very good price and my husband let me get them because he is super nice and basically the best ever. Anyway, they have been a delight since the first wash. This little towel shelf thing is from IKEA and we use it for towels and sheets because we don't have a linen closet anywhere in our house. Which is weird, but whatever. This fits great between the washer and dryer and works for us.
The only other thing in this room was a simple shelf above the washer and dryer, and I think eventually I want to put in some cabinets or something, but for now, I am using some little racks to give me some more storage and make it look less cluttered. I also have our cleaning things like brooms and vacuum and stuff in here, as well as our iron and ironing board hanging on the back of the door to save space.
MASTER BEDROOM
This space is pretty much done, with the exception of our dresser that doesn't match and the giant TV we never use. I'm not sure what we're going to do with that, but for now, it's cool just chillin' there.
I'll talk about our bed first. My husband got me a new comforter set last year for Christmas, and I love it. It's a lot lighter than what we had before and the colors are peaceful and cool and kind of remind me of the beach. We've had our bed/headboard ever since we got married, and unless we eventually upgrade to a king bed (which who knows), we'll probably stick with it because I like it.
On the sides of our bed are windows with some sheer white curtains and little nightstands from IKEA. We've never had nightstands before, so this is a big deal to me!
My big project in here has been the wall decor. On one side we have a gallery wall, and on the other we have some picture ledges. The gallery wall has some wedding photos, some prints I designed, one of our engagement pictures with "The Family: A Proclamation to the World" overlayed on it that we got as a wedding gift from my husband's aunt, an anniversary print my husband got me for our 5-year anniversary, a big wooden & from Michael's, and map cutouts from the four states we've lived in together.
On the other wall are our picture ledges from IKEA filled with prints I found on Pinterest, made myself, and got from Etsy.
On the top ledge, from left to right, we have a Texas print (I can't remember where I found this), a LOTR quote I designed, an "I love you" print, a vintage Yellowstone travel poster from The World Travelers, and a little "hooray" print.
On the lower ledge, from left to right, we have an arrow print, a picture of my husband and I from our family pictures last fall, a "Home is wherever I'm with you" print, an Idaho print from Armada Supply Co (they have all 50 states and come in lots of beautiful colors), and an "All of me loves all of you" print.
MASTER BATH AND CLOSET
Now if you're amazingly still with me, we come to the last part of our home tour, the master bath and closet.
I love our bathroom and closet because our bathroom is off of our bedroom, and the toilet has its own separate little door so my husband and I can both be in there and still have privacy. I want to put some floating shelves in here eventually.
Then we have a tub and shower that are separate (what!?) and I got a little Pottery Barn candle and bath salts (decoration ONLY!) to put by the tub.
<a data-flickr-em
Then we have our closet. First of all, compared to most girls, I have like no clothes. My husband actually has more clothes than me. But our closet is huge and amazing, and we both have our own sides. Here's his (complete with a sneaky little girl hiding).
And here's mine. We used some IKEA bins in our closet for storage, and then we also have an IKEA shoe rack on the floor for my shoes (the rest of our shoes are on an identical rack in the garage). And seriously, I don't have a lot of clothes. These are my maternity shirts, workout tops, short-sleeve tops, and long-sleeve tops, and sweaters. It's not hard to get dressed in the morning.
So there you have it! That's our home! We love it and are thrilled to be living in our very own house. We've made it our own and will continue to do so probably until we move in four or five years. It's the perfect little house for our family, and we love being able to have a garage and a backyard. If anyone reading this is dreaming of living in a house instead of an apartment, I promise it will happen one day. It took us six years after getting married to finally be able to buy a house, but it was worth the wait 🙂