Life With My Littles Baby #3 Pregnancy Update: 20 Weeks
I received free product in exchange for this post.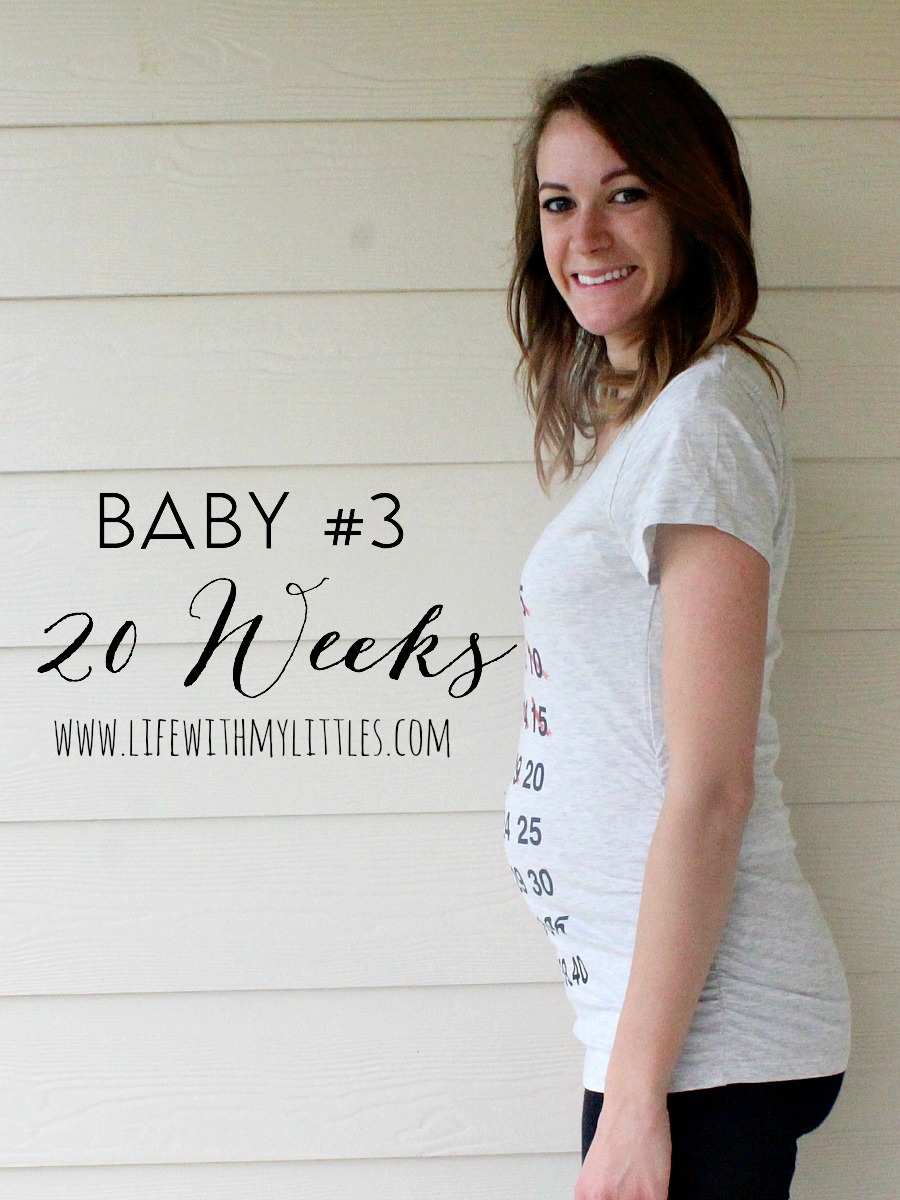 In case you missed it, on Monday I announced that we are having a baby boy! Little A and I are going to be outnumbered! I am super excited and even though I would've been happy either way, my little heart was just filled with such joy and excitement when we saw that baby #3 is a boy. Yay! I recently went through old photos and kept looking at Little J's old baby clothes and thinking how cute they were, so I'm excited to get those out and in baby's little closet!
And also, I'm sorry some of these pictures aren't the clearest. They are my "I got home at midnight after being on a plane by myself with two kids while pregnant" pictures. Real life, guys.
How far Along: 20 weeks. I'm halfway there!!! This pregnancy has seriously gone by so fast. I feel like my baby bump is way too big, but then I remember that I'm 20 weeks and halfway there haha.
Size of Baby: A small cantaloupe! Which is sort of weird because we got a cantaloupe and ate it all last week. If only I had realized it sooner!
Gender: BOY! Woo! We ordered a dozen Krispy Kreme gender reveal donuts to tell the kids, and it was a lot of fun watching Little J's face light up when he finally saw the blue filling inside! Also, boy names are way easier, and we know 100% the middle name already. And probably the first name, too. But I don't like to officially decide until baby is born, so we'll probably come up with some back-up names just in case. Also, that's why I am holding a car in some of my pictures 🙂
Movement: Yes! It started at the end of 17 weeks and I've been feeling a little more every week. It's always on the lower part of my belly, which makes sense because of how he was positioned in my ultrasound last week. But Little J got to feel him move while we were watching a movie last week and it was really fun. It's cool because this time around he actually gets that we are having another baby. When I was pregnant with Little A he didn't really get it since he was so small.
Sleep: Finally! I'm only getting up to pee like once a night now instead of 6 times so I'm finally getting to sleep better. And with the help of my pillow between my knees and my pillow in front of my belly, I am pretty comfy the whole night! At least as long as I don't overdo it and stay on my feet too long during the day. If I am up too much cleaning the house or doing things like that then my body hates me at the end of the day.
Workouts: I'm doing really well working out actually! I get a few videos in most days M-F so that has been helping me feel good. And I'm not a huge fan f pregnancy workouts, so I've just been doing my favorite Blogilates videos with a few modifications.
Maternity Clothes: Yesssss. Can we just wear pants with a stretchy waistband all the time? I mean maternity pants are basically yoga pants but with jean material, right? Anyway, I got some super comfy skinny jeans from Old Navy and they are actually long enough because you can buy longs there, which is a must for me. The kids and I visited my parents in Colorado last week and it was like 20 degrees cooler there so I was of course wearing pants. Even though it was like 70 still. Thanks, Texas living. Also, can we just talk for a second how adorable this "Preggers" shirt is? You'll understand in a few months why I love the term so much, but this shirt is super comfy and so soft and not super thick so it's perfect for pregnancy. You can check it out from ILY Couture here.
Symptoms: Mostly just my stupid veins and a growing belly. The second trimester is nice because you don't really have to deal with too much stuff. I do have breakouts like constantly so that's a bummer, but it's manageable.
Cravings/Aversions: I feel like maybe nothing? If I had to pick something I was craving it would be either sweets, pumpkin (understandable), or grapes. No aversions currently. Bring on the food.
Missing Most: Weirdly enough I kind of miss running. I haven't actually been a steady runner since like last summer, but I was looking forward to running when we moved here and never got back into it because I was so tired. I feel like I shouldn't start now since I'm halfway into pregnancy, but oh well. Things are good right now so I'm not really missing anything else.
Nursery: Planning is underway! Now that I know we are having a boy, I am using my Hello Maypole felt balls to get the color scheme figured out. I need to find some fabric and I want to do a bunch of cute prints and actual decor. Little J's nursery was okay, I was proud of Little A's nursery even though it still was kind of plain, and this time I want to be able to make it something I really love.
Best Part of the Week: Well I am going to say best part of last week because it was for sure finding out baby's gender and getting to see baby boy on the ultrasound. I love seeing their tiny little spines and their heart beating. And of course, telling the kids was fun, too. I used a special order of Krispy Kreme's gender reveal donuts and we told the kids that evening. It was delicious and super cute.
Can't Wait For: Gosh I am not even sure. I just want to enjoy this time with my two kiddos before things change. It's gone by so fast already! I guess I'm excited to have everything all set up and for us to be ready to meet him. Which I know is far away, but oh well.
Well that's all for me! I'm excited to be able to do a pregnant Halloween costume this year, and you can bet I'll be sharing it with you on Instagram. Thanks for following along, mamas!