Fired-Up Fettuccine Carbonara Bake: With bacon, pepper-jack cheese, and peas, it's one of those easy pasta recipes you can't help but make over and over!
This post is sponsored by Ragú.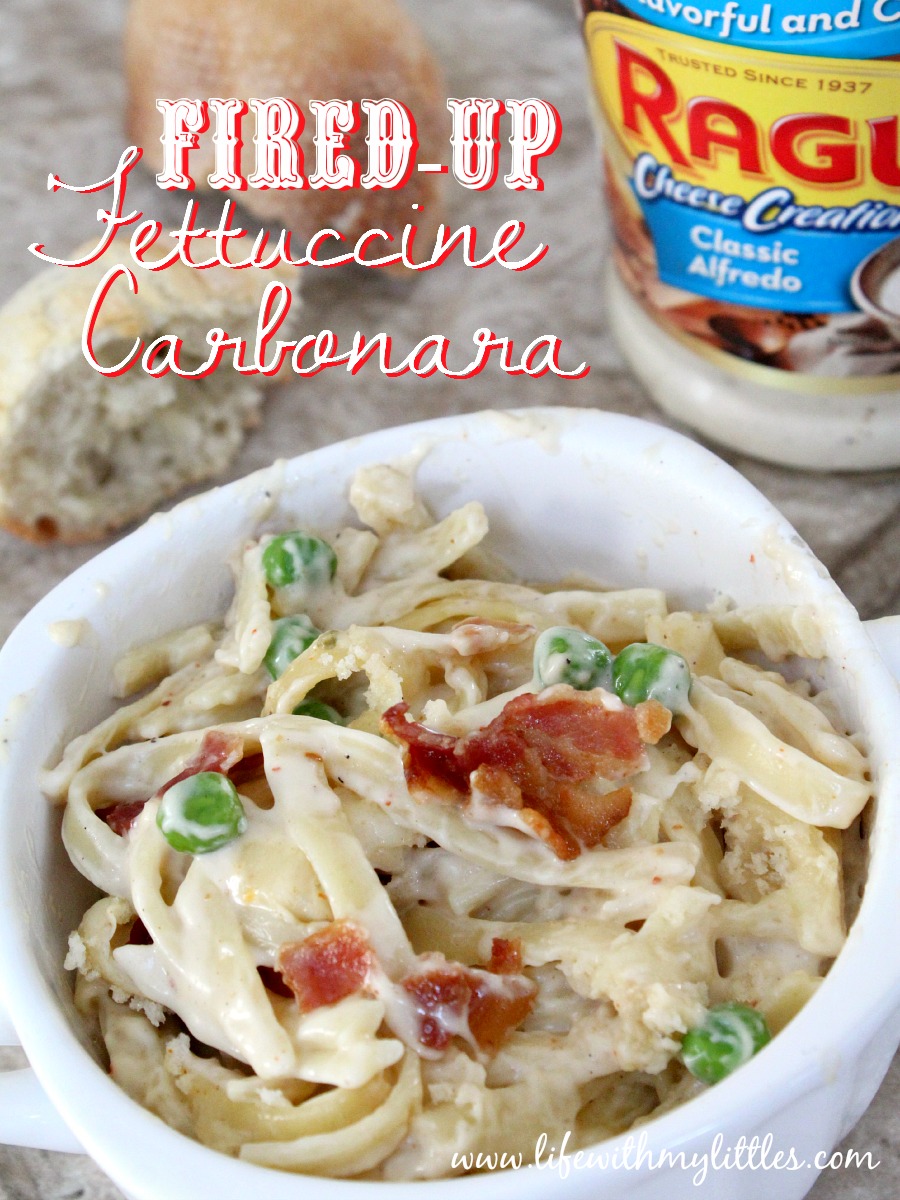 One of my favorite things to eat, hands down, is pasta. I cook it at home all the time and even when we go out to eat I almost always order pasta. I just think it's that good. And my favorite pasta sauce is Ragú. So when I had the chance to come up with my own spin on classic fettuccine carbonara using Ragú Classic Alfredo, I absolutely jumped at the chance! It was a lot of fun to experiment and come up with my very own New Tra-Dish.
If you've ever had classic fettuccine carbonara, you know it is pretty simple. I wanted to keep my recipe simple, too, but add a little spice and change the way it's served. I am a big fan of oven-finishes on my pasta, so I topped my carbonara with extra cheese, bread crumbs, and bacon before letting it get nice and bubbly for 15 minutes in the oven. It came out PERFECT.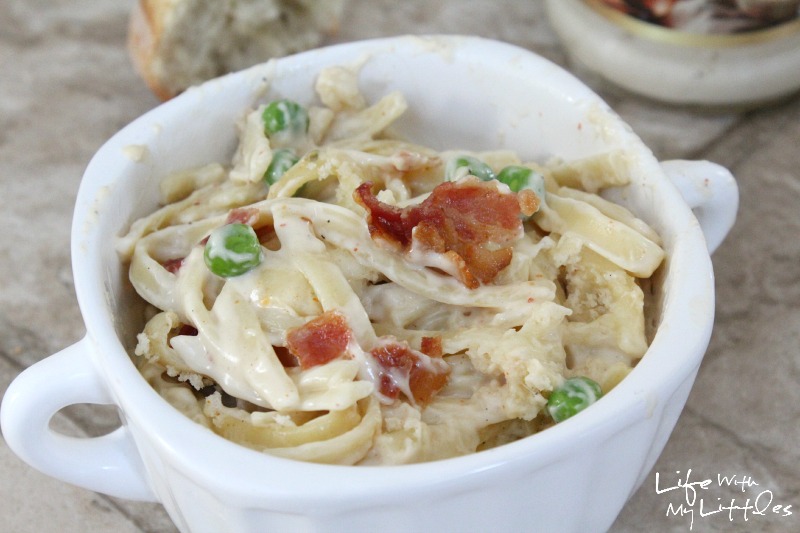 Before I go on, let me just say that after one bite, even the Mister was hooked. He's not as big on pasta as I am, so for him to tell me immediately that he wanted me to make this again is a big deal. And not only that, but he told me twice that this dish was restaurant-quality. TWICE! Oh yes, my friends. This is a delicious, simple recipe that only takes 35 minutes from start to finish and will have your family thinking they are out to dinner.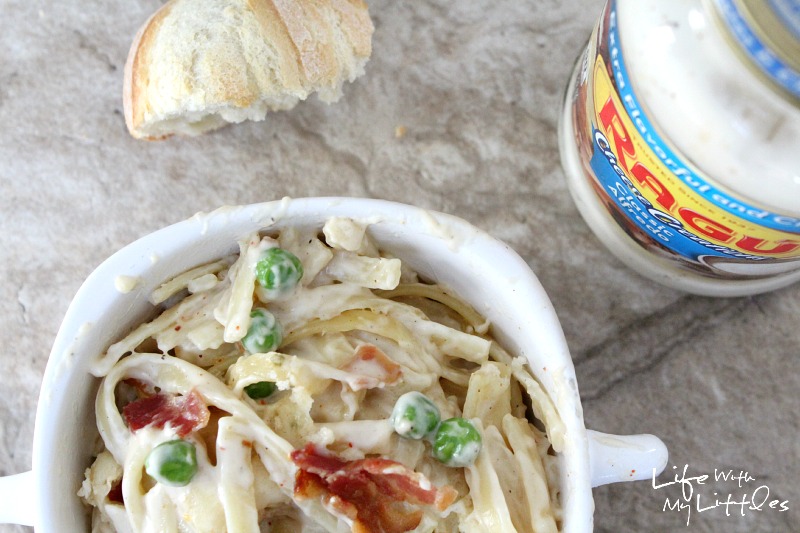 I loved using the Ragú sauce as my base because it was already creamy, cheesy, and delicious. The Ragú Classic Alfredo sauce is definitely my go-to alfredo sauce, and it is good both on its own or with a twist like this dish. My husband almost always adds salt and pepper to his food, and he didn't even want to when I used the Classic Alfredo sauce! I highly recommend checking it out, because you may not go back to whatever sauce you were using before!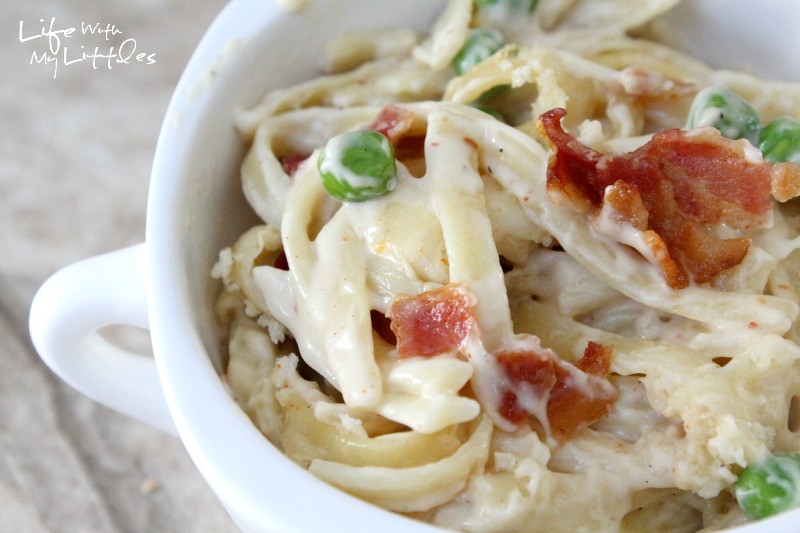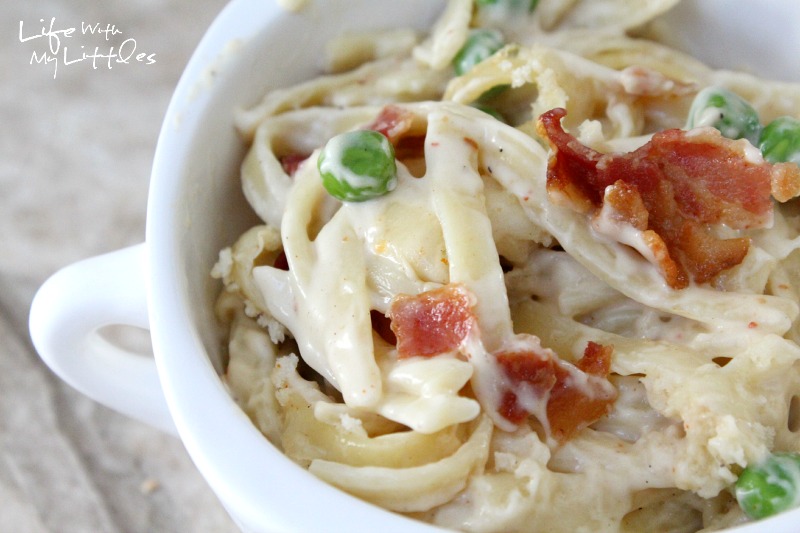 Yield: 4 servings
Fired-Up Fettuccine Carbonara Bake
Prep Time: 20 minutes

Cook Time: 10 minutes

Total Time: 30 minutes

Fired-Up Fettuccine Carbonara Bake: A quick, easy, and yummy pasta recipe that is simple and full of spicy, cheesy flavor!
Ingredients
1 jar Ragú Classic Alfredo sauce
1/4 tsp. chili powder
3/4 c. shredded pepper jack cheese
12 oz fettuccine noodles
1 c. frozen peas
1/2 c. shredded pepper jack cheese (for topping)
1/4 c. bread crumbs
4 slices turkey bacon, crisp-cooked and crumbled
Instructions
Cook fettuccine according to package directions, adding peas in during last 2 minutes. While fettuccine is cooking, heat the Ragú Classic Alfredo in a medium saucepan on the stove. Once hot, stir in the 3/4 c. shredded pepper jack cheese and the chili powder. Stir until smooth.
Remove the sauce from the stove and mix in the noodles and peas.
Pour into a square baking dish and top with 1/2 c. shredded pepper jack cheese, bread crumbs, and crumbled turkey bacon.
Bake at 375 for 15 minutes.
Serve and enjoy!!

I absolutely loved this recipe, and I am sure you will, too. I am definitely going to incorporate it into our meal rotation and make it over and over again. It's just one of those easy pasta recipes that you keep coming back to!