Do you want to build a snowman? This easy felt snowman is the perfect way to build a snowman inside over and over! And it couldn't be easier to make! What a fun winter craft for toddlers!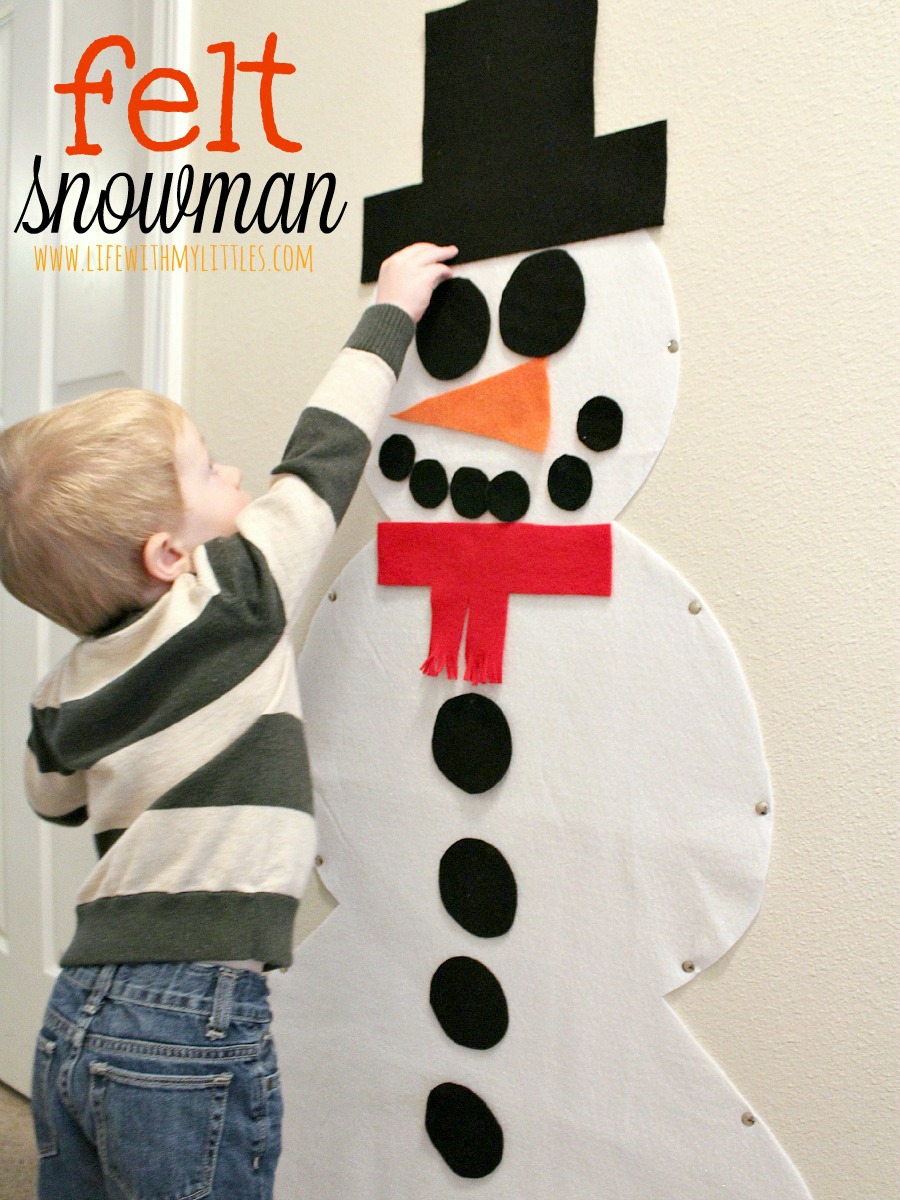 This year I made new felt Christmas trees for both of my toddlers. They love playing with them, and I thought it would be fun to give them something else to play with after Christmas is over (we aren't one of those "keep your tree up after Christmas" kind of families).
I decided to make a big felt snowman for them to play with, so they could build their very own snowman indoors, over and over again! It turned out so cute, and I am excited to share the tutorial with you today!
It's seriously super easy, and doesn't require any sewing or gluing. First, you need to grab 1 yard of white felt, 2-3 sheets of black felt, 1 sheet of orange felt, and 1 sheet of red felt. If you want you can do some tan or brown felt for arms, too.
Next, cut out five big black circles (for eyes and buttons), six little black circles (for the mouth), a carrot nose, and two brown arms.
To make the body of the snowman, cut your white felt in half so you have two big squares. Then fold on in half hotdog-style.
Now cut your snowman out! You really don't need a pattern. Just do three half-circles, making it bigger with each circle. Open him up and you've got a snowman!
Now you want to make your top hat and your scarf. You'll want to wait until you have your snowman cut so you know how big your scarf and hat need to be. I just did a T for my scarf, and cut the end so it looks fringed.
For the hat, I just cut two rectangles out of my black felt page so it made a hat.
And ta-dah! You have all of your pieces! To make them stick, you'll need some spray adhesive like this one. Just follow the directions for a temporary hold, and then the pieces will stick to your snowman's body! Don't spray the snowman!
To put the snowman up on the wall, I used little silver thumbtacks. I've never had a problem with my kids pulling them off, and they work great!
Now all your pieces will fit on your snowman and your kids can have fun building a snowman, even when there's no snow outside!
And don't forget to check out the simple tutorial for DIY felt Christmas trees, too!